LHS football team suffers another loss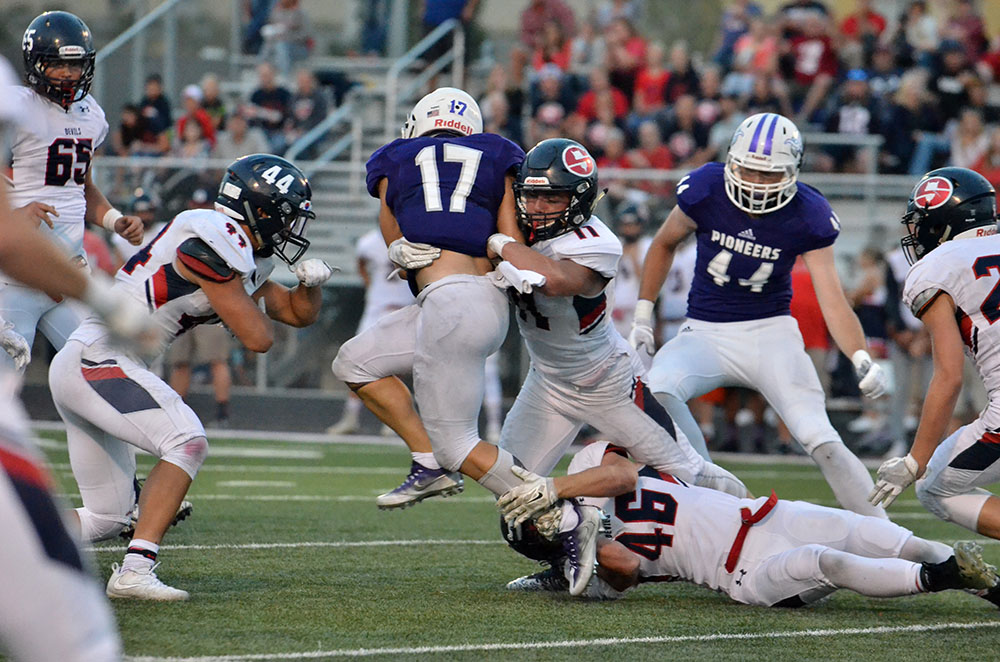 The LHS Pioneer football team took the field last week looking to recover from a loss to Lone Peak. In the pre-game they seemed confident, excited and energetic for the first region game against the Springville Red Devils. The Pioneers were down a little, however, with tight-end Dallin Holker being out of the game due to injury. But Lehi took the field, and opened the game with what everyone was anticipating–an opening drive resulting in an effortless touchdown.
Springville wasn't about to let that go unanswered though, because not long after, the Red Devils scored a touchdown of their own, tying the game 7-7. Springville's defense then shut down the Lehi offense, forcing them to punt. Lehi's snap to Wyatt Mosher was bobbled, and recovered by Springville in the end zone, which gave them a two-point advantage over Lehi. Springville even dug into the play book to find a double pitch pass play with a longball pass to connect for a 35-yard gain. It was easy to see the momentum was moving from purple to red.  Ending the first quarter with a 7-9 score.
Springville opened the second quarter with a quarter back keep on a 4th and inches goal line stand for a touchdown. Lehi did manage to block the extra point, keeping the damage to only an 8-point difference. The Pioneers finally seemed to be getting their legs underneath them for a drive down the field, when the flags started to fly. Lehi kept at it, and called for a pass in the end zone to try to close the gap. The ball from Cammon Cooper was intercepted in the end zone by Red Devil Tyler Strong.
The third quarter was quiet. Lehi's defense managed to shut down the Springville attack. While Springville was also able to keep Lehi from scoring.
The fourth quarter was a bit more eventful. The Red Devils distanced the score even further with a field goal to put the score at 18-7. Cooper, however, decided to take matters into his own hands and scored a touchdown on a quarterback keep. Lehi then succeeded with a 2-point conversion, making the score 18-15. The Pioneers went for the onside kick, which Springville successfully recovered. With the clock winding down, the Red Devils assembled victory formation and quarterback Ty Eriksson, who was a key player in the Red Devil win, took two knees to end the game. This loss was the second in a row for the Pioneers. They hope to turn the tide 7:00 p.m. on Friday at Maple Mountain.