Skyridge wins, moves to 4-0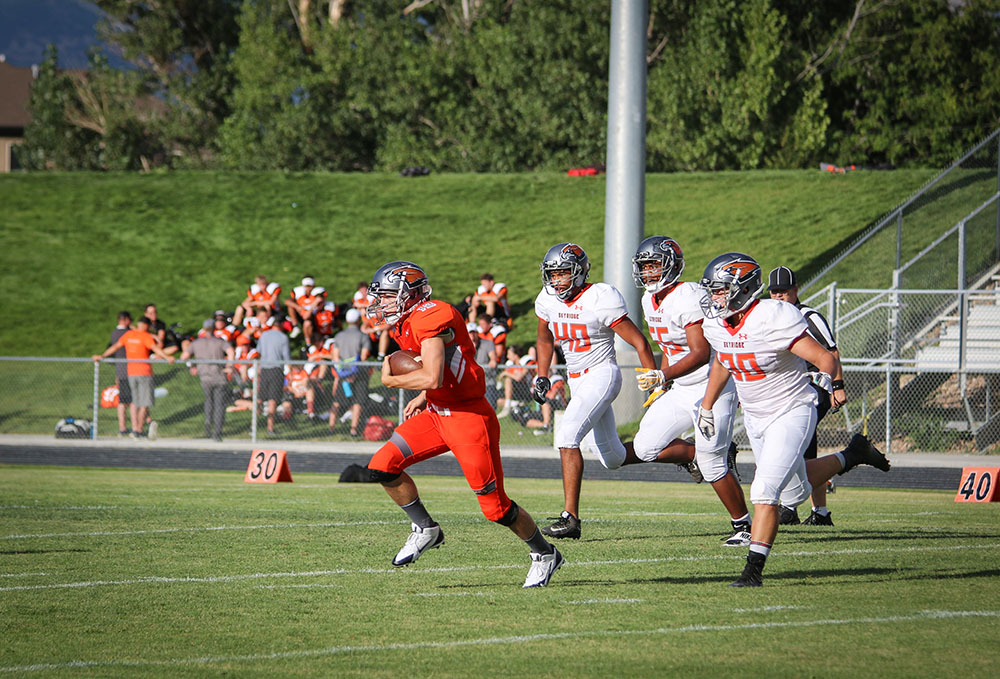 Skyridge took the field on Friday against the Viewmont Vikings in Bountiful, and fans were wondering if they had the ability to come back to Lehi with a win. After having three impressive games under their belt, and putting up some rather impressive numbers, one can only wonder how long it will last.
During the first quarter of the game it didn't seem like Skyridge had much left in the playbook to keep up with the reputation that they're building. The offense didn't seem that crisp. With misread balls, dropped passes, and the infamous flags, they were off to a slow start. Luckily, they're defense kept the Vikings from big plays.
It was the second quarter when things got a little scary. Viewmont struck first blood with a 25-yard completion in the end zone for a touchdown, which was followed by the extra point. Putting the Vikings up 7-0. However, Skyridge put their heads down and went to work, and with only one-minute remaining in the first half, a 25-yard pass was made to Ma'a Notoa. With the extra point, the Falcons and Vikings ended the first half 7-7.
During the 3rd quarter, Notoa would come to life, rushing for 182 total yards, and ended up scoring all three touchdowns for the Falcons. One of those carries was an impressive 70-yard rush, giving Skyridge the 21 points they would score that night. The Vikings weren't entirely quiet. They answered with a 60-yard pass for a touchdown to end the third quarter at 21-14.
Going into the fourth quarter Viewmont's defense was not about to let the score get any further out of hand. They managed to shut down the Falcon offense the entire quarter, giving them an opportunity to tie things up. With five minutes to go the Vikings kicked a field goal to put them a touchdown away from winning.
The Falcons didn't give in, though. With smart time management, and tough defense, Skyridge won the game with a 21-17.
Skyridge plays at home in their Homecoming game on Friday at 7 p.m. against the Spanish Fork Dons, with hopes to continue their impressive winning streak.