Lehi High Volleyball gives cancer the boot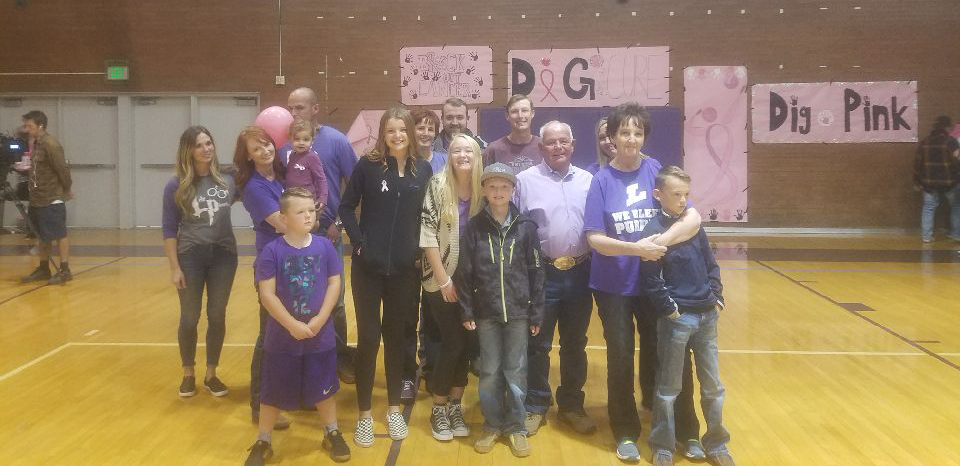 On Thursday, October 5, at Lehi High School, the LHS Volleyball team themed their game against Payson High School as, "Dig Pink, Giving Cancer the Boot." Members from the community and student body wore pink in support of longtime LHS staff member Peggy Lewis, who was diagnosed with cancer in June.
All last week, the student body at LHS raised money for Peggy. During the volleyball game a silent auction was held with baskets donated from various businesses in Lehi, and a miracle minute where student council members ran around the gym and collected money. A grand total of $2,063.54 was raised for Peggy to assist her in paying for treatment, but she has politely declined and prefers to use the money to create a scholarship for any LHS student affected by cancer.
After the second set in the volleyball game, the Lewis family was asked to come to the middle of the court while the miracle minute took place. A short introduction about Peggy was read and the Lewis family sported their purple colors as their Lehi pride runs deep. Peggy graduated from LHS in 1969 and married her high school sweetheart, Stan Lewis, who served as LHS student body president. All five of Peggy and Stan's children and two grandchildren have graduated from LHS, and many more grandchildren will do the same.
Peggy serves as the scholarship coordinator in the counseling office at LHS, as well as committee member for the Lehi Civic Improvement Association, and Round-Up Rodeo committee. She said, "My family and I are so grateful and honored to be supported by everyone. Our world was rocked the first weekend in June when I received the diagnosis. We have learned many things, my family has become closer, and we live and enjoy every day. We are so humbled and grateful for the love and support from our family, friends, Lehi High School, and the Lehi community. It has become very clear to us that we are not alone in this journey, there are many families affected by cancer, we want to show our love and support to those families. My whole family consists of LHS Alumni. We are so proud to be pioneers. As a family, we would like to give the money that was graciously donated back to students at Lehi High School whose life has been affected by cancer in the form of a scholarship."
For more information on how to apply for the scholarship, students can go to the LHS counseling office.