Lehi Families' Parking Lot Party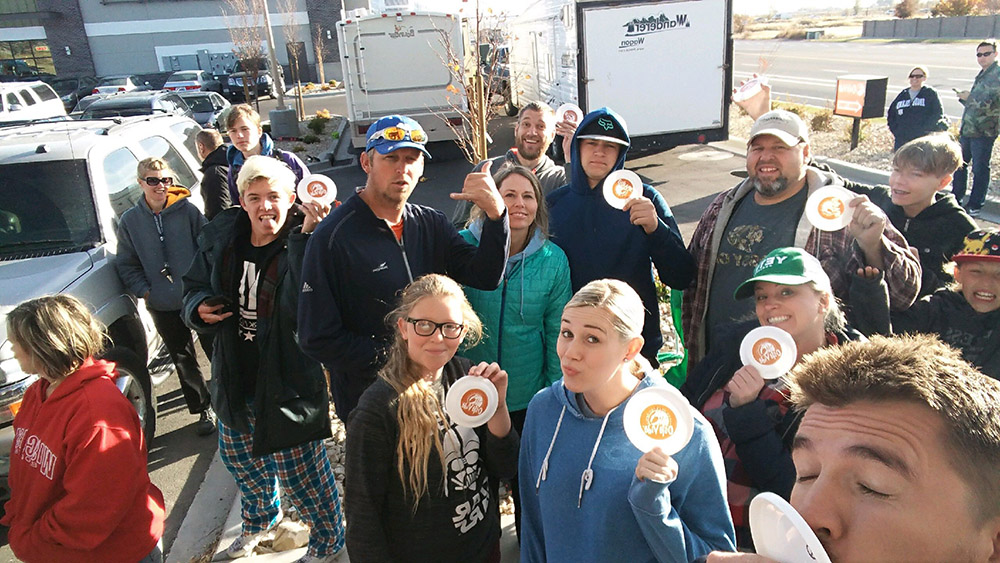 Its become a tradition for several Lehi families to camp for free food. If you think that sounds like no fun, you'd be wrong. Often, when a fast food chain announces a new restaurant and offers a chance to win free meals to the first customers, the Johnsons, the Elys, and the McKinnon families will pull out the tents, sleeping bags, and tailgate barbecues and settle in for a night in the parking lot. The parents and kids bring along board games, big screen TV's, lawn chairs, coolers, a motor home, and propane heaters, so they can wait in style.
Just last Sunday and Monday, these intrepid campers braved cold overnight temperatures at the new Costa Vida in Saratoga Springs to be one of the first 50 people to earn a free meal every week for a year. The restaurant offers these "golden tickets" to create awareness of their grand openings.
According to Katelyn Ely, "This is my fourth time camping out for free food. Second time for Costa Vida." Ely and her friends barbequed, watched a scary movie and chatted with other friends Sunday night, then camped in the parking lot to be one of the first customers to walk through the door at Costa Vida when they opened Monday morning at 10:30 AM.
Edyn Johnson, another mom and camper said, "We have so much fun. It's not just about the free food, it's about creating a memory and having a good time with friends." Many people asked Johnson if she worked for Costa Vida because she created a list of all the campers and was helping to keep track of "who got there first."  The Johnsons, Elys, and McKinnons were rewarded for their efforts – someone in each of their families will get a free meal at Costa Vida until October 2018.
"Costa Vida is our favorite restaurant so it's a no-brainer! We're so lucky to have so many locations close to us. My winnings will go straight into my belly in the form of burritos!" said Ashley McKinnon.