Delores Annie Deveraux Peck Lensch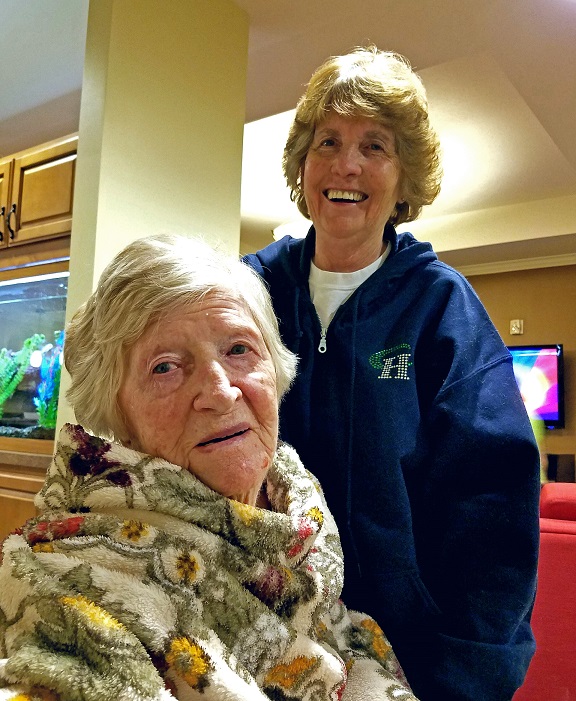 Delores Annie Deveraux Peck Lensch
1927-2018
Long-time Lehi, Utah resident Delores Annie Deveraux Peck Lensch was born May 17, 1927 in Ogden, Utah (a year she ardently denied), spending much of her younger days in Fort Union, Utah (which no longer exists). She developed non-Alzheimer's dementia and died at the age of 90 in the early morning of March 13, 2018 at the Legacy Village Memory Care facility in Taylorsville, Utah.
Medium height, stocky, blue eyes, short curly red hair, fair skin, freckles. Those who knew her probably called her "Rusty." Second child of seven, preceded by Keith Deveraux (deceased), followed by Mark Deveraux (deceased), Don Deveraux, Patricia Lloyd, Sharon Rugg, and Kay Dyson. Until her death, Rusty was the oldest living descendent of Edna W. Deveraux and James M. Deveraux, both long deceased.
Rusty was married twice: Jarvis D. Peck (deceased) and Martin G. Lensch (widowed). These unions yielded three step-children, Mike Lensch, Mary Anna Sroufe (deceased), Margaret Gonzalez and a half-dozen children, all six of whom survive her: Susan Burgess (Glen), Christine Casey (Ron), Debra Crangle (John), and John Peck followed by Marty Lensch (Kimberlee) and William Lensch (Andrea), the last born to her at the tender age of 40.
Grandchildren, oh yes. Great-grandchildren, a fair number. Great-great-grandchildren, if you can believe it, also yes. She loved every one of them to pieces.
Rusty and Martin made a home in the old Lehi 3rd Ward, north of town on a parcel of acreage on which they dry-farmed barley and raised pigs, goats, a few cows, a flock of chickens, and too many dogs to count. Among the many things she taught her children were the various approaches to castrating pigs and how to tame a flighty horse by penning it together with a sheep. She loved animals of all kinds except for magpies and spiders, the former because they ate the peaches from her trees before she could do it and the latter, well, because they are spiders. Close friends included Lawrence and Bernice Butterfield (deceased) and Donna and Harold Jorgenson (deceased). Rusty was a dab hand at cutting and wrapping meat, milking, and making cheese, including time spent doing the latter with good neighbors Larry and Lavelle Covington.
She retired from Deseret Industries after many years as a dedicated employee, first in the Provo store and later in American Fork. Working at the DI was a lifesaver for the family leading up to, and especially after her husband's death in 1983 from a rare blood cancer. There were many times the family would have had nothing to eat were it not for the LDS Church Welfare System/Bishop's Storehouse; the DI helped Rusty pay the bills and kept the family clothed and warm.
Rusty did not wear dresses (they made her look like she was "going to do the wash"), was fond of little kids but not babies, loved breakfast, horses, bowling, open water, totem poles, good knives, seafood, Chryslers, and John Wayne. She kept livestock, dug post-holes, and lived alone well into her 80s which, since 2004, was in Almy, Wyoming.
Rusty was rather rough around the edges, and full of fight; a woman with more backbone than a whale, more grit than a mile of dusty road. She was a steady aim and packed a concealed handgun for which she held a permit. She was not a person who intended to come out on the short end of a confrontation.
Rusty didn't hold hands with anyone but would always give a hug and kiss, didn't tell jokes but loved hearing them, never turned on the radio but would call out for more if someone was playing an instrument and singing (she loved to yodel), and derided exercise for its own sake but had high esteem for anyone who did hard, physical labor and had the muscle to show for it. For her, cities were places to avoid; the country was where people ought to live.
Family was what meant something to her. She loved to see family as long as the little kids didn't stick their paws into everything even if it meant that she had to make the potato salad, which was not among her fondest chores though, truth be known, she was really good at it. Cooking in general was something one did because they had to eat. Growing up, the family had salt, pepper, and sometimes both. Her culinary limitations did not extend to cookies of which she always maintained several jars-full of store-bought varieties.
She was an original, so very much herself; one among a breed of rugged individualists who did their best with what they had, took care of many with little, and left their mark upon the world by being as good as their word–steadfast, hard-working, and responsible. There have been many on this Earth who had far greater treasures yet left a great deal less to those who loved them than did mother, grandmother, sister, aunt, and friend, Rusty Lensch.
May she rest in whatever peace suits her.
A viewing will be held on Friday March 23, 2018 from 6-8 p.m. at Starks Funeral Parlor, 3651 S. 900 E., Salt Lake City. Funeral Services will be held on Saturday, March 24, 2018 at 11 a.m. also at Starks Funeral Parlor. Guests are encouraged to use the complimentary valet parking on the south side of the building for both services. Interment to follow at Larkin Sunset Gardens, 1950 E. Dimple Dell Road on 10600 S. in Sandy, Utah.