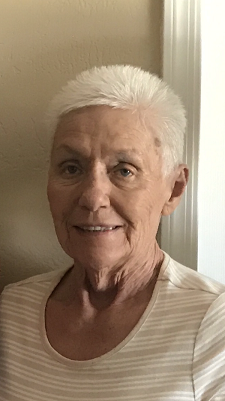 Linda Fox Evans (78) passed away peacefully at home on Monday, March 26, 2018. She was born August 7, 1939 in Toole, Utah to Edward Slinn Fox and Bertha Powell. She was raised in Lehi, Utah and graduated from Lehi High School in 1957.
She attended Utah State University for two years. Linda was a devoted daughter, sister, wife, mother, grandmother, and homemaker. She loved to garden, bake, play the piano, and serve her family, friends, and neighbors. Her greatest delight came from helping and serving others.
She married Gary F. Evans on August 7, 1959 in Lehi, Utah. One year later they were sealed in the Salt Lake Temple. They are the parents of five children, Allyson, Gary Jr., Angella, Andrea, and Isaac. They have 23 grandchildren and 20 great grandchildren.
Linda was an active member of the Church of Jesus Christ of Latter-day Saints. She served in numerous callings in the church including Relief Society President, Temple Ordinance Worker, and she and her husband Gary, served a senior couple CES mission to New Zealand (1996-1997).
She was preceded in death by her parents and her older brother Ralph Edward Fox. She is survived by her husband, Gary Ferdinad Evans, Sister, Marilyn Schiess (Dennis), and five children, Allyson Kreiger (Bill), Gary Evans Jr. (Jill), Angella Hancock (Marty), Andrea Evans, and Isaac Evans (Jodi).
Linda's optimism, humor, honesty, compassion, patriotism, pancakes, chicken noodle soup, cinnamon rolls, and testimony will be missed by all who knew her. A viewing will be held Sunday evening, April 1, from 6:30-8:30 p.m.at Wing Mortuary 118 East Main Street Lehi, UT. Another viewing will be held Monday, April 2 at 9:30 a.m. at the LDS Church at 1149 North 300 West, Lehi, UT. The funeral will immediately follow at 11 a.m. Interment: Lehi City Cemetery.