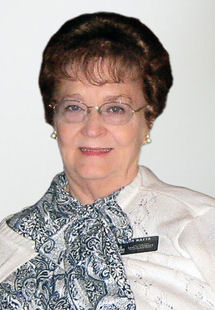 Anna Joy Woffinden Watts
1938-2018
On April 28, 2018, our beloved wife and mother, Anna Joy Woffinden Watts, age 79, passed away peacefully at home, surrounded by her family.
Anna Joy was the first-born and only daughter of Jenalyn (Wing) and Ronald Thomas "Tom" Woffinden of Lehi, Utah. She was born on October 13, 1938. She had a love of music and dance and was very talented in both. She loved sharing those and her countless other talents with everyone she met. Her talents took her around the world, touring with the Program Bureau performing group from BYU. She was also a member of the International Folk Dancers and Kia Ora Clubs during her college years. She graduated with a B.A. in Home Economics from BYU in 1961 and taught school for several years. She was the first Miss Lehi, crowned in 1962
She was a faithful member of the Church of Jesus Christ of Latter-day Saints. She served three missions for the Church throughout her life. She was a Stake Missionary assigned to the Chino State Prison for Women in Chino, California during the late 1960's. She and her husband served for almost two years in the Sweden, Stockholm Mission from 2006-2008. Then they served another 18-months in the Illinois, Nauvoo Mission from 2011-2012. She also served on three General Boards for the LDS church.
Anna Joy was a devoted wife and loving mother who taught not only by words but also by deeds and actions. She was full of charity and was always willing to lend a helping hand where needed. She always had a smile and story for everyone.
She will be lovingly remembered by her husband of 44 years, Donald, and their three children: Wendy (Jack) Wiltbank, Don (Melinda) and Nathan (Sharla). She is also survived by 11 grandchildren: JJ, Walker, Kadyn, Justin and Cohen Wiltbank, Tyler, Thomas (Tommy), Jacob, Chase, and Gracie (her "Lonely Little Petunia in an Onion Patch") and Carter Watts, as well as, her brothers Pete (Lois), Russell (Roxanne) and Jeron (Raleen) Woffinden. She was preceded in death by both of her parents and brothers Gordon and Jordan.
The family would like to thank the many doctors, nurses and support staff who helped make Anna Joy's last remaining days comfortable. Lakeview Hospital, St. Mark's Hospital, Liberty Dialysis, North Canyon Care Center, Life Care Center, South Davis Community Hospital, Independence Health Services, and South Davis Hospice.
A viewing will be held Wednesday, May 2, 2018 at Russon Brothers Mortuary, 295 North Main Street in Bountiful from 6-8 p.m. Funeral services will be held Thursday May 3, at 10 a.m. at the LDS Chapel on 900 South 400 East in Centerville, with a viewing from 8:45-9:45am prior to the funeral.