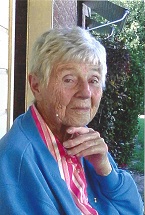 Dona Anderson
1927-2018
Dona May Hansen Anderson passed away peacefully at her home on May 2, 2018. Dona was born on November 22, 1927 in Susanville, California to Don K. and Vera Lucille Hansen. She grew up in Susanville where she graduated from high school and went on to graduate from Lassen Junior college. She then came to BYU majoring in Physical Education. Her first teaching assignment was in Lehi, where she met her future husband Melvin. They were married on May 8, 1952 in the Salt Lake Temple. Together they had two children, Donald and Melva.
Dona enjoyed gardening, horseback riding (buggy rides), family history, rodeos, camping, and picnics. She enjoyed community service with the Lehi Civic Improvement Association, working with rodeo queens. Many friendships were formed through this service. She taught school for 32 years, during which time she initiated a gymnastic program.
She is survived by her husband Melvin, her son Donald (Becky), her daughter Melva, six grandchildren, and seven great grandchildren.
Funeral services were held Saturday, May 5 at 11 a.m. in the Lehi 6th ward chapel, located at 200 S 200 W in Lehi. A viewing was held Friday, May 4 from 6-8 p.m. in the 6th ward chapel and prior to the funeral.