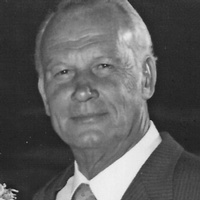 Ken Bateman
1928-2018
Kenneth E Bateman, loving father, grand-father, husband, brother, and friend passed away on August 20, 2018. Ken was born September 25, 1928 to David Bernell and Hazel Peck Bateman in Lehi, Utah. Ken was a graduate of Brigham Young University and served in the U.S. Army where he was stationed in Frankfurt Germany. Ken enjoyed his military service and was very proud to wear the uniform representing the USA.
Ken enjoyed a 40-year career with Utah Power & Light which started in American Fork, Utah. He was asked to move to Salt Lake City to lead their Sales and Marketing Division. Over his career, Ken held several executive positions with UP&L where he was associated with many businesses in Utah including serving as President of the Utah Home Builders Association as well as President of the Intermountain Electrical Association. Ken was a tremendous leader and enjoyed his many associations and friends made over his career, Ken always put people and friends first. Dad retired to St George where he enjoyed the weather and many friends.
Ken was preceded in death by his wife Bonnie Lee Bateman in 1999. He is survived by his children, Brad and Lori Bateman, Bart Bateman, Brett and Lisa Bateman all of SLC and Bobbe Jo Bateman of Phoenix, AZ. Ken is also the grand-father of seven grandchildren. Also survived by sister Lavee, brothers Lavar and Don Bateman, preceded in death by brother Ralph (Doreen) Bateman.
Funeral services were held Saturday, August 25, 2018 at Wing Mortuary in Lehi. Burial, Lehi City Cemetery.