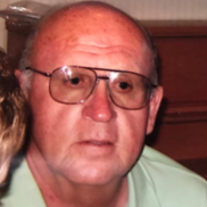 1942-2018
Guy "Herbie" Cooper Edwards, 76, passed away at his home in Lehi, Utah on Monday December 31, 2018. He was born to Herbert C. and Fern Irene Edwards on June 20, 1942. He graduated from Lehi Senior High School in 1960.
Herbie played high school softball and baseball, and also played church league basketball and softball. After he graduated, he played in the Central Utah Baseball League, and was active for many years playing city league softball. Herbie taught himself to play golf, pool, darts, and bowling, and has many trophies to show from his days playing in dart, bowling, and pool leagues. He was a fan of both the Dallas Cowboys and Boston Celtics and was an avid fan of all college sports.
Herbie enjoyed traveling with his wife and dogs with the Good Sam's Club, and spent many winters in Mexico and Arizona living the RV life.
On October 9, 1965, Herbie married the love of his life, Glenda Chilton, and stayed by her side until her passing on May 23, 2016.
Herbie worked at Geneva Steel in Orem, Utah as a Crane Operator for 20 years, a line Cook at LaCasa Dinner Club in Lehi for many years and finally as an Animal Control Officer for Lehi City.
Herbie enlisted in the United States Army and served at Fort Lewis, Washington as a General Supply Specialist from February 21, 1962 to February 20, 1964. His awards included The Good Conduct Medal, Wheeled Vehicle Driver's Badge, and the Expert Marksmanship badge.
Herbie is preceded in death by his parents Herb and Irene, brother Dean, wife Glenda, mother –in-law Donna Chilton, step-daughter Annette Kunz, and grand-son Josh Singleton.
Herbie is survived by his daughter Angela Wozniak and husband Richard, step-daughter LeAnn S. Brower and husband Bill, son-in-law Jim Kunz, and grand-children Guy Wozniak, Carly Singleton, Leslie Meehan, Roberto Alaniz, Jessie McCoy, Ashley Brower and nine great grand-children.
A Celebration of Life will be held on Saturday, January 5, 2019, from 11 a.m. to 1 p.m. at the Lehi Legacy Center (Senior Citizen Center), 123 North Center Street in Lehi, Utah. The family would like to express their sincere gratitude to the staff of Brighton Home Health and Hospice for the amazing care and respect provided in this incredibly difficult time. Funeral Directors: Utah Valley Mortuary.