Bison masterpiece created in Lehi foundry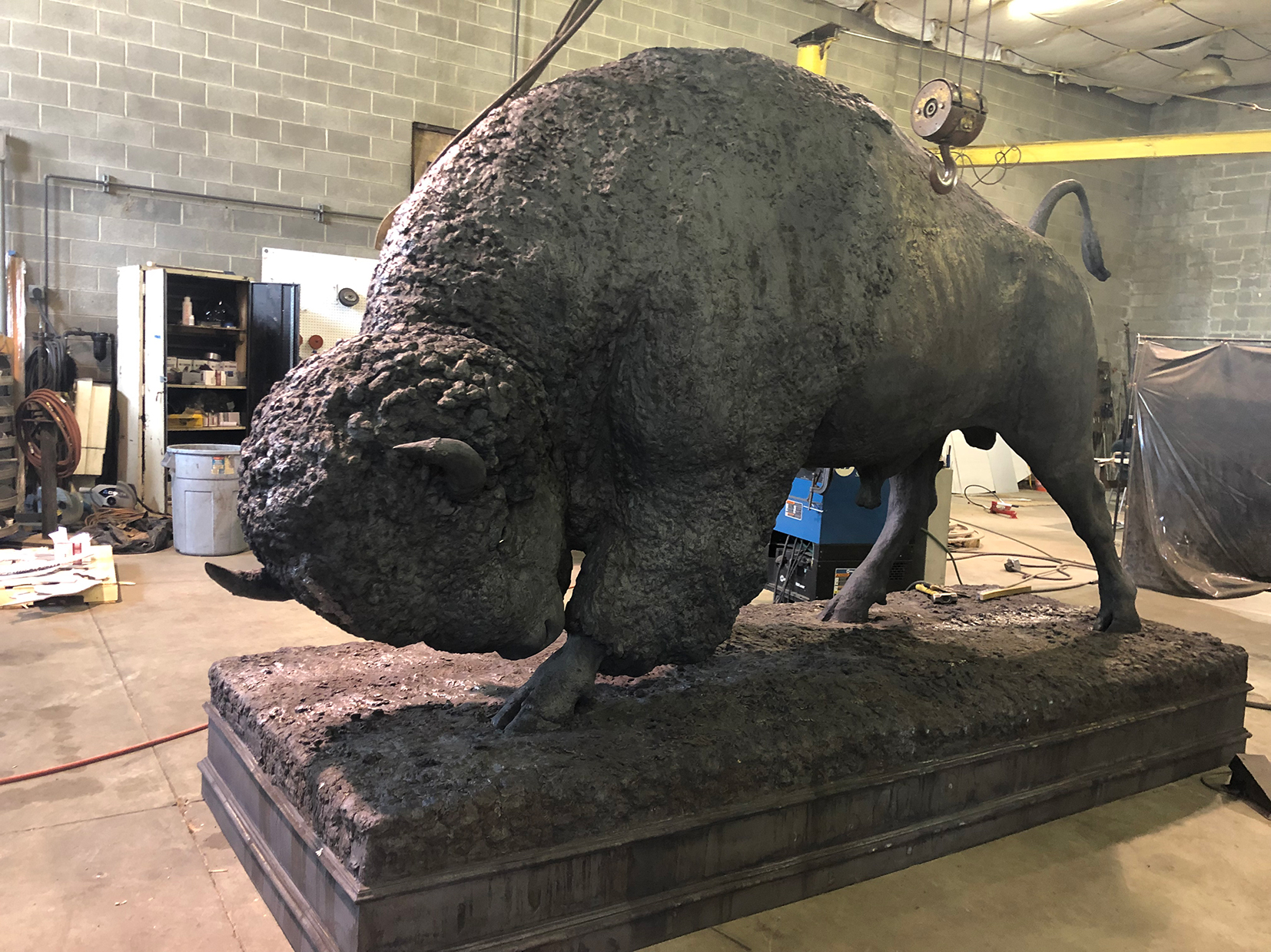 Sculpture donated as part of the Golden Spike 150th anniversary
A 3,000-pound American bison sculpture, designed by Utah artist, Michael Coleman, and being built by Lehi metal finishing expert Ed Conder, in honor of the Golden Spike 150th anniversary celebration, is nearing completion. The bronze cast sculpture is getting the final touches added by Conder, owner of Quality Metal Works, over the next few days at the metal foundry off State Street in Lehi.
"We have been working with Michael on this project since November, putting in long days to help get this project done in time for the celebration," said Conder. Over the next couple of days, Conder and his crew will be adding the final touch-ups on the masterpiece, cleaning it up and readying it for a sandblast. "The final detail is adding a patina finish which we will do next week," he said. "Then we will haul the bison to Promontory Point where it will be unveiled at the celebration."
Artist Coleman hired Conder to build the 12-foot long sculpture. "We started out with a 12-inch "mockette" of the sculpture which we sent to a 3D studio in Colorado where it was scaled and created, in full-size, out of blue foam," Conder said. "We then took the big blue foam piece to Coleman's studio in Provo where we worked on it–sometimes for 12-hour days." Coleman then covered the blue foam with clay and worked his magic transforming the piece into the American bison. The clay sculpture was covered in wax, then in a ceramic shell, and then put in a 2,000-degree oven, where the wax was melted. The bronze metal was poured in the next step, he said. The ceramic is then cracked off and over 100 pieces of bronze are then welded back together to form the sculpture.
"It was all pretty amazing to mold, cast, build, pour, and finish this project before the deadline," said Conder. "It was great to be a part of this art piece."
The statue was commissioned by Naoma Tate and the family of Hal Tate, who plan on donating the bison to the national historic park.
Coleman, a Provo native, is internationally known for his award-winning sculptures and wildlife paintings. He spent his boyhood hunting, fishing, and trapping throughout the Rocky Mountains.  Coleman named the bison "Distant Thunder" and the sculpture will be unveiled at on May 10th, at the Spike 150 celebration. The unveiling of the sculpture is just one of 150 different events happening throughout the state of Utah to celebrate the 150th anniversary of the completion of Transcontinental Railroad at Promontory Point in Box Elder County. More information about the celebration and other events can be found at the website www.spike150.org.
Artist, Michael Coleman, puts on the finishing touches of clay on his American bison sculpture. | Ed Conder

Lehi resident and metal creator, Ed Conder, created the life-sized foam mold of the bison for Coleman to place clay onto. Conder will finish up the metal work, sanding and add a patina finish to the sculpture this week. Coleman and Conder have been working on the 4,000 pound sculpture since November. | Ed Conder