Historic Lehi trees could be on the chopping block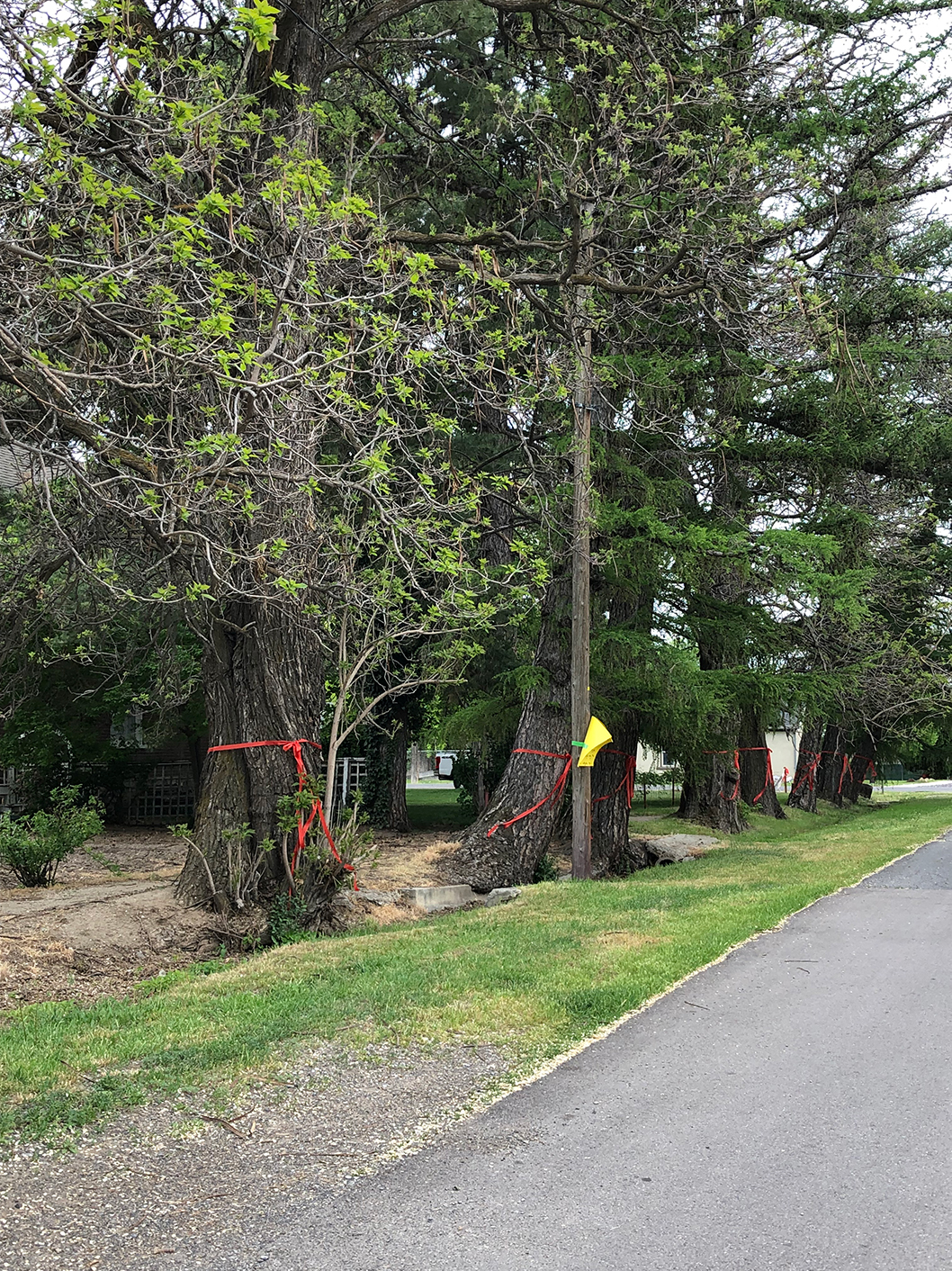 Residents begin a petition to save 150-year-old trees
On May 15, a group of about 25 neighbors met on the porch of a historic Lehi home to discuss with Lehi City officials the fate of nine 150-year-old trees lining one of Lehi's ancestral neighborhoods. The trees are five European Larch and four Catalpa trees and are on the east side of the street, technically on Lehi City property. Many residents in the area are unhappy about potentially losing the trees and have started a petition to save them.
The tree issue was the result of a grant Lehi City had prepared for UDOT (Utah Department of Transportation) to complete sidewalks in neighborhoods where safe walking areas were unavailable to elementary school children. The trees in question are located where a potential sidewalk would be installed. The grant program (SNAP) has resulted in other sidewalk completions in Lehi in past years.
In writing the grant, the areas identified for sidewalks included the block of 100 West and 600 North, where the trees are located. Homeowner, Rowena Gammon Morton, who lives in the home where the meeting was held, asked, "Why our street? For 72 years we have picked up branches and limbs. Why did the engineering department choose this street?"
Lorin Powell, head Lehi engineer, said the engineering department chose this street because "It was the result of an analysis done by our Park's Department."
Lehi City arborist, Jessica Smith, said a risk analysis had been done by arborist Britt Bingham, certified to make recommendations on aging trees. Bingham's analysis reported:
"For the most part the trees are in ok shape, but they have never been pruned correctly. It is more prevalent on the Catalpa Trees that have a lot of water sprouts from neglect of pruning and limb breakage due to snow load. My opinion would be to remove the trees due to the liability risk."
To help determine how many school-age children use the street, resident Etana Larsen said she had kept a two-day tally of children walking or biking on the street. On the first day, Larsen counted three kids walking and three kids biking between 8:21 and 9:02 a.m. The next day there were no walking children and six on bikes.
Rhea Lewis, a Lehi native, and former resident of the area, reported that when she was in high school, Mr. EA Harding, a beloved biology teacher, had taken his biology class on a walk to the neighborhood. He told his students that several trees on the block were to be found nowhere else in Utah.
Smith reassured the citizens, "We try to preserve every tree we possibly can."
Powell said the City wanted the project completed before school starts in the fall. He said there were several options including finishing other projects first, moving the curb to the front side of the tree, and eliminate the parking strip and use pavers. Powell also said, "We need to find what we can and can't do."
Sarah Nielson, another neighbor who attended the meeting said, "The City has been clearing out so many big trees, I am sorry to lose them."
Smith said, "The worst- case scenario is, we will pull out two to three trees." Residents have circulated a petition to prevent the City from cutting down the trees. Colton Jenkins, a nine-year-old in the area, signed the petition to save the trees. He said, "I don't want the trees cut down."