Myrtle Faye Hardman Petersen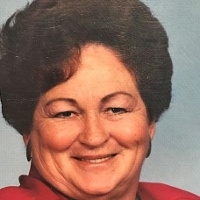 July 16, 1933-December 20, 1962
Myrtle Faye Hardman Petersen passed away peacefully with her husband by her side on Monday June 3, 2019 at the age of 85 in American Fork, Utah. She was born on July 16, 1933 to Sidney Lehi Hardman and Myrtle Emily Elton in Lehi, Utah. Faye attended school in Cedar Fort and graduated from Lehi High School. She married Clarence Wayne Petersen on December 20, 1962 and resided in Cedar Fort. Their marriage was later solemnized in the LDS Temple.
She was a gentle soul and genuine in her own way. She will be greatly missed by all who knew her especially her family.
Faye enjoyed playing softball, riding horses (she was one of the Lehi Roundup Rodeo attendants) and was a member of the Cedar Fort Riding Club. Her other hobbies included canning, ceramics, crocheting, and quilting. Faye was an amazing seamstress and taught 4-H classes in Cedar Fort. She could make just about anything.
Faye loved sports especially football and was an avid fan of both BYU and the Utah Jazz.
She was always up for rides in dune buggies, and 4-wheelers thru the desert. She was never afraid to get dirty. She was especially proud of her kids, and grandkids and their accomplishments. Faye traveled to many places supporting them in many sporting events and dance competitions. She was an active member of the Church of Jesus Christ of Latter-day Saints and served in various callings.
She is survived by her husband Clarence, children Barbara (Roger) Ivie, Joyce (Jack) Webb, Wayne (Cari) Petersen, Scott (Celeste) Petersen and daughter-in-law Terrie Petersen; 16 grandchildren, 23 great-grandchildren and her first great-great granddaughter on the way (due Sept. 2019) that she was so excited about. She is preceded in death by her son Gary Petersen, parents Sidney & Myrtle, brother Glenn Hardman, son-in-law Ron Clayburn and grandson David Clayburn.
The family would like to personally thank Stonehenge Assisted Living Facility in American Fork for the wonderful care that they provided Faye during her residency there.
Funeral services were held Saturday, June 8, 2019