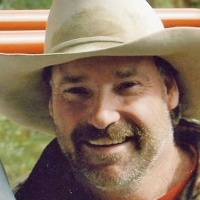 1967-2019
Rick Raynal Beal, born September 23, 1967, died of a long-term illness June 12, 2019, in Roosevelt, Utah. A survivor from birth, he faced his first lifesaving surgery from almost dying from drinking trombone oil as a toddler. He also survived many operations later that prolonged his life.
He was an award-winning backhoe operator. He started "Roading" his brother's case 680 from job to job at age 12. He won 4th place against 800 other competitors at age 15 in Century Equipment's Hoe Down Showdown in Salt Lake City. He knew the excavation world as a professional early on in his career. As a highly skilled equipment operator, he was highly sought after by construction companies in Utah Valley.
Rick loved horses, Stetson hats and Tony Llama snakeskin boots. He lived by the cowboy creed all the days of his life. He loved fishing and his little dog "Jack." He spent his last hours of life fishing with Jack in his favorite fishing hole near his ranch. Rick rode his horses all over Utah and Wyoming, along with his brothers and friends who never left his side.
He taught us all the true art of giving from the heart. He didn't have much to give others, but he gave his time, which he gave freely, winning the hearts and admiration of every person he met.
Rick is preceded in death by his parents Lawrence R. Beal and Lillian Mathis Beal, his brother Kip and his nephew Dace. Survived by his wife Shannon Ashton Beal, his children; Hagen, Lindsey, Christopher (Lauren), Dallas (Jake), grandchildren; Nicholas, Bailey and Brooklyn, his brothers; Thad (Lynda), Dave (Larena), Scott (Jimmie), Shaun, and sister Karen (Wallace). He also leaves behind numerous nieces and nephews who adored him.
His family will be forever grateful to those angels among us who took care of Rick throughout his life, especially Shannon, his wife, his doctors who performed miracles and his friends, Jason Kassing, Mike Skinner, Brian Day, Randy Brunetti, David Peters, and others who always stuck with him.
Graveside services were held at the American Fork Cemetery on Saturday, June 15, 2019.