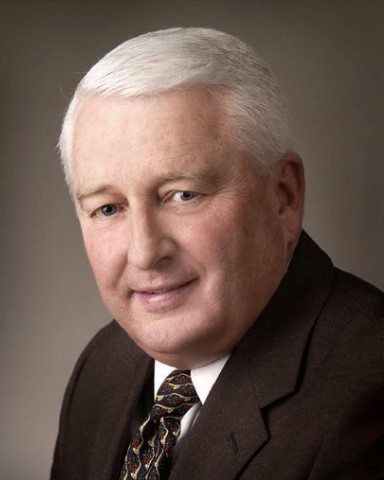 1946-2019
Larry Reed Miner passed away in his home, surrounded by his family, on June 17, 2019, after a short, valiant fight with cancer. Larry was born in the old Lehi Hospital on July 23, 1946. He was the oldest of five children born to Darwin R. Miner and Evona (Bonnie) Miner. He graduated from Lehi High School in 1964 where he had been an active member of the National Honor Society, basketball team, and school musical. He served a mission for the Church of Jesus Christ of Latter-day Saints in the Central States Mission where he served for six months as the mission secretary. Larry graduated from BYU with a composite major in Business Management, Economics, Accounting, and Statistics.  He was employed at Bank of American Fork for 45 years, concluding his career as COO. 
Larry married his college sweetheart, Betty Jean Madsen on August 5, 1970, in the Salt Lake Temple. Together they had six children. Larry's pride and joy was his family. Always busy in the community and Church, Larry did not allow these responsibilities to take away from his favorite responsibility as husband, father, and grandfather. He and Betty Jean created many family traditions that created a close-knit family where there are no "in-laws", only family. In addition to the traditional holiday traditions, every Sunday night, the driveway is full of cars as the family gathers for watermelon and outdoor fun during the summer months and indoor treats and fun during the remainder of the year. Disneyland became the family vacation tradition that brought many of the families together each summer for fond summer memories in the Southern California sun.
Larry somehow made each of his six children feel like they were his best friend and he was theirs. His quick wit, gentle guidance, and wisdom will be sorely missed. He enjoyed serving his family and was the first to volunteer to help with family projects or just quietly show up and complete much-needed work without any expectation of recognition. Larry was a hard worker and took pride in whatever he did. If Larry did it, you could expect it to be done with exactness and care. He grew a large garden every year with rows as straight as an arrow and not a weed anywhere on the acre property. He gladly shared the fruits of his garden labor with family and friends.
Larry had a strong testimony of the Savior and patterned his life after His. He served in many capacities in the Church of Jesus Christ of Latter-day Saints, serving in various callings with the youth, various positions in the scouting program, including Scout Master, as well as, high counselor, executive secretary, Bishop, counselor in a Highland YSA ward, and stake presidency member. Larry brought order and efficiency with his service and could be relied upon for anything he agreed to do. His word was his bond. Larry's level of loyalty and dedication is reflected in his family and career. Larry was the epitome of integrity, strength, patience, loyalty, understanding, forgiveness, tenacity, wisdom, courage, endurance, perseverance, optimism, determination, and goodness. Larry was a strength to those who knew him. His influence and wisdom will be sorely missed, especially by his wife and children who regard him as their rock, hero, and friend.
Thank you, Dad, for all you've done for us. As your family, we are so proud of you and are grateful for your valiant example of what a husband, father, grandfather, priesthood holder, and friend should be. We will miss your humor and look forward to the day when we can all be together again. Until then, we will strive to follow your example and make you proud. We love you, sweet Husband/Dad/Grandpa!
Larry is survived by his wife, Betty Jean (Highland), and children Kristie Curtis of American Fork, Reed (Hilary) of Heber, Scott (Colette) of Highland, Mike (Megan) of Highland, and Whitney (Chefin) of American Fork, 17 grandchildren, and one great-granddaughter. He was preceded in death by his daughter, Angela Sue Miner, and parents, Darwin and Bonnie Miner.
Funeral services will be held Saturday, June 22 at 11 a.m. in the Highland South Stake Center, 9626 North 6800 West, Highland, Utah. A viewing will be held for friends and family from 6-8 p.m. on Friday, June 21 at Wing Mortuary, 118 East Main, Lehi, Utah, and one hour prior to service Saturday morning. Interment will be in the American Fork Cemetery.