History of Lehi's bucking bronc sculpture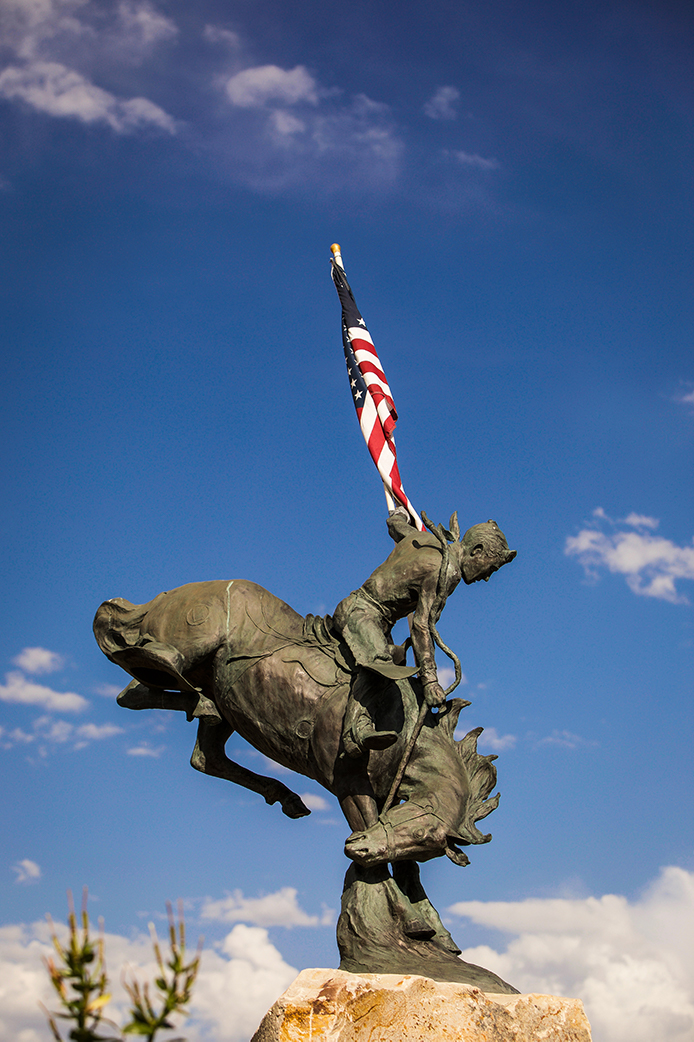 With the 70th anniversary of the Lehi Round-Up Rodeo coming up in 2007, Melvin Anderson got a great idea. The roundabout at 500 West and Main Street, "needed something to set it off a bit," said Anderson, who passed away last year. He knew exactly what that "something" should be–A bucking bronc with a strong cowboy astride in full motion—in other words, the Civic Improvement Association logo.
With the rodeo grounds just up the street, it was the perfect idea to highlight the rodeo and those who serve on the Civic Improvement Association (CIA), which organizes and presents the rodeo each year.
Anderson went to work to make the idea a reality. While at the 2004 National Rodeo Finals in Las Vegas, the avid rodeo fan and former CIA director persuaded noted bronze sculptor of rodeo, cowboy and western life, Tony Chytka, to agree to sculpt the statue if Anderson could secure the funding.
Anderson turned to Lehi Mayor Ken Greenwood, who told him to work with [then] City Council member Mark Johnson, who was all for the idea.
"That project was without a doubt one of my best experiences on the city council," remembered Johnson. "I think art is an important investment. I think that kind of thing is important, and I don't remember anyone criticizing spending the money on that."
Johnson told Anderson he would champion the project with him if Anderson would take care of arrangements with the artist. "I'll work with the city council," said now Mayor Mark Johnson with fondness. Although Johnson thought it was a good idea, he was concerned the city council wouldn't support the project since there was no budget for it. "But they did!" said Johnson.
With a quote from Chytka of $40,000 for a three-quarter size bronze statue and $65,000 for full size, the CIA and city council were happy when Chytka determined that a three-quarters size statue would be the best fit for the space. With the CIA willing to put up $10,000, Johnson said, "It made it easier for the city to step up."
On Aug. 26, 2005, the contract with Chytka was signed. Lehi artist Stan Russon provided the artist's rendering, and Lehi native Drew Downs supplied the 7,420-pound rock upon which the statue sits from his quarry near the top of Five-Mile Pass.
Chytka sent a marquette, a smaller-scaled model of the sculpture, for approval on June 2, 2005. Approval was given and production began. Six marquettes were sold for $800 each, which covered their cost plus $100 which went to the city.
"Eight hundred dollars was a lot of money back then," chuckled Johnson. "I wanted one but I knew if I brought one home, my wife would have a fit."
Therefore, when the miniature statues of the new pioneer monument, "Harvest Sun," at the Legacy Center went on sale, Johnson made sure to get one. "I wasn't going to make that mistake again," he said. The pioneer statue sits on his desk.
The biggest debate during the whole process of obtaining the bucking bronc and cowboy was which way the statue should face. No matter which direction was chosen one direction of traffic would be greeted by the hind end of the bronc. "That caused quite a stir," said Johnson, "but when the debate was over, all agreed that the statue should face downtown (east)."
On June 16, 2006, a city crew set the bronze sculpture. The following day at 2 p.m., The statue was unveiled by the Lehi Round-Up Royalty and the Miss Lehi Royalty during a short program. "I think it was a really good investment," said Johnson "Good art always is, plus the statue is really fun to see when you go through the roundabout, and it makes you remember our heritage."