Best in Show at Utah Foods Cook-Off recipe: Peach Fritters with Buttermilk Glaze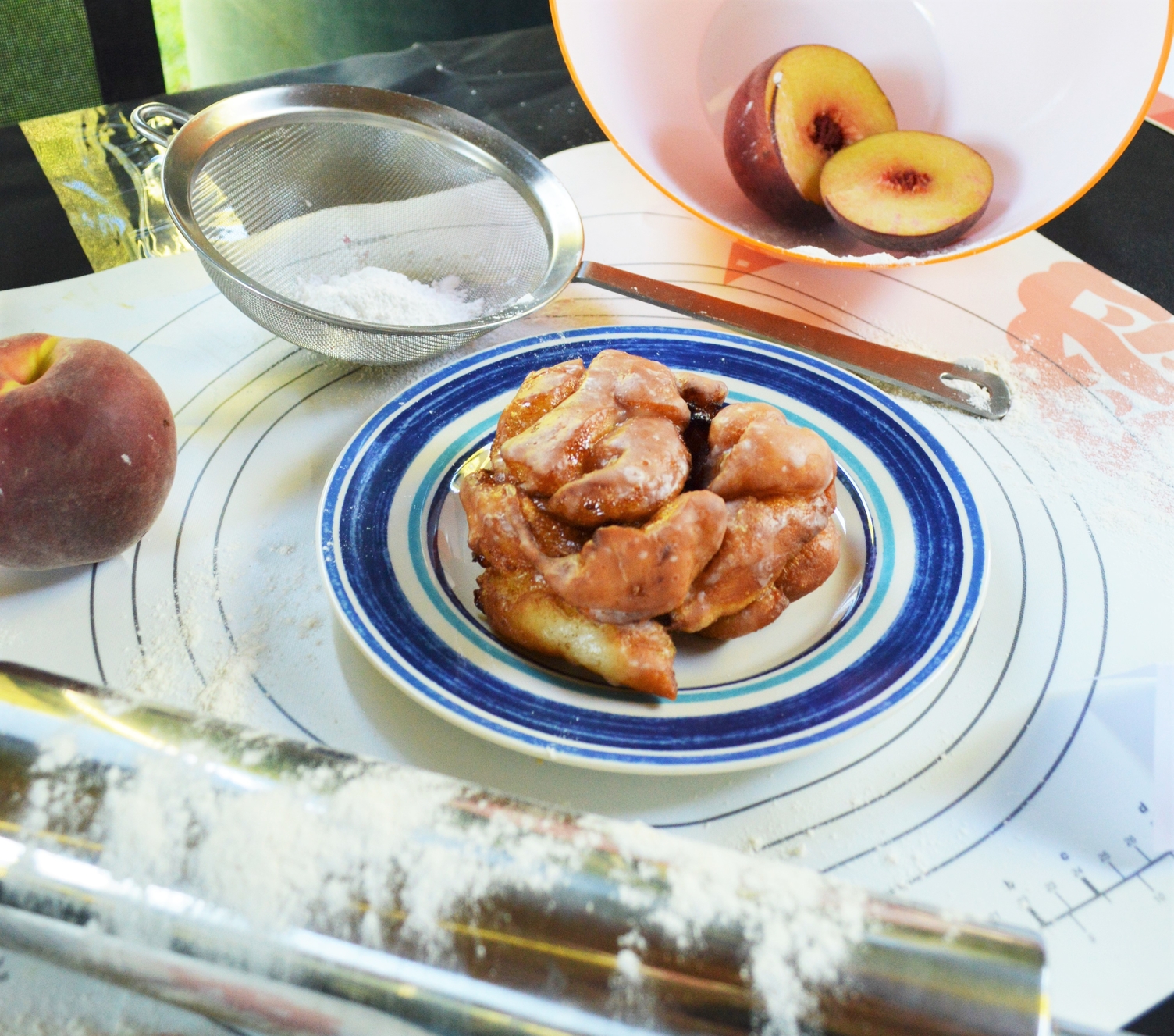 Recipe by: Molina Welcker
Ingredients
1 1/2 cups whole milk
1/3 cup water
4 tablespoons butter
5 cups all-purpose flour
1/8 tsp nutmeg
1/4 tsp cinnamon
1 teaspoon salt
2 tbsp cup sugar
1 tablespoon active dry yeast
2 large eggs
3-4 medium peaches, diced
5-6 cups Vegetable oil, for frying
Glaze
2 cups powdered sugar
5 tbsp buttermilk
pinch of cinnamon
Directions
In a small pot, heat the milk, water, and butter until the butter has melted and the mixture is warm. Remove from heat and allow to cool to lukewarm.
Mix the flour, nutmeg, cinnamon, salt, sugar, and yeast in the bowl of a mixer fitted with the paddle attachment. Add the warm milk mixture and mix to combine. Add the eggs, scraping the bowl well.
Replace the paddle attachment with a dough hook and turn the mixer up to medium and mix until the dough begins to pull away from the edges (3-4 minutes).
Spray a large bowl with nonstick spray and place the finished dough into the bowl, cover and allow to rise for about an hour.
Turn the town out onto a floured board and roll it out into a rectangle about 1/2″ thick.
Using a sharp knife or a bench scraper, cut 1/2″ vertical strips out of the rolled dough. Then cut 1/2″ strips horizontally out of the dough creating 1/2″ dough squares. Separate the squares into 16 equal portions.
For each portion divide out 2/3's of the dough for the bottom of the fritter. Place approx. 2 tablespoons of diced peaches on top then place the remaining 1/3 of dough pieces on top squishing the pieces together in order to keep the peaches contained. Place the fritter onto a parchment-lined baking sheet.
Repeat with the remaining portions of dough. Cover with greased plastic wrap and allow to rise for another 25-30 minutes.
Fry on high to 350F. Slowly drop each fritter into the oil and fry for 2-3 minutes on each side. Allow to cool on a wire rack for about 10 minutes before glazing.
Glaze
To make the glaze, whisk together the powdered sugar, buttermilk, and cinnamon. Dip the top of each cooled fritter into the glaze and place on a wire rack to allow the glaze to set.