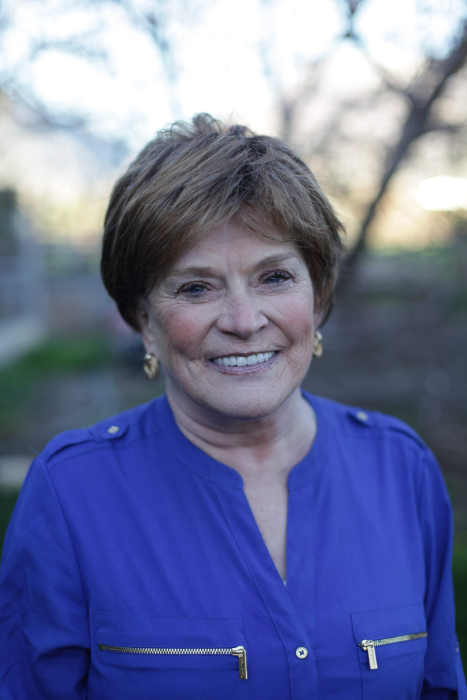 1949 – 2019
Our sweet wife and mother, Diane Larsen Hayes, 70, of Highland, Utah passed away at home surrounded by her family on July 18, 2019, following a short battle with brain cancer (Glioblastoma). She was born February 7, 1949, in Lehi, Utah, and is the daughter of Keith Linel and Betty Mae Calder Larsen. She married the love of her life, William Brent Hayes, on September 4, 1968, in the Salt Lake Temple.
Diane had a great childhood. While growing up she loved playing baseball with her brothers in Lehi's Wines Park and had many wonderful friends. They loved to sleep outside in the summer and loved learning to play the piano. She lived in Lehi until the age of 16 then moved to Highland with her family where her parents built a "dream home" on her dad's farm. She graduated from Lehi High School in 1967. She was involved in the Pep Club, was a sophomore class officer, was a student body officer, was the president of the Girls Athletic Association, and she spoke at her high school graduation because she excelled academically.
Diane attended Snow College for a short time and then moved home. It was meant to be because she met Brent at that time. Brent had prayed and told Heavenly Father he was ready for a wife. Immediately after, he took Diane to church on their first date. Everyone turned and looked as they entered the chapel as if they felt something. They were engaged by the end of the week. When Brent asked Diane if she would marry him, she said, "I SURE WILL!" Brent said, "That was the happiest day of my life! I have never felt such happiness in all my life." Diane said, "It was so serious all of the sudden." When Brent introduced her to his grandparents, he forgot her name. Diane and Brent have been married 50 years.
Brent and Diane had four kids in the first four years of marriage. This kept them extremely busy, but this was one of the happiest times of their lives. They really loved their kids. They were their world. In 1974, Brent and Diane built their home in Highland on Diane's dad's farm and have lived there ever since. Most of Diane's siblings and both of their parents lived in the same ward (Highland 1st). This was a choice experience. Later they added one more special daughter to the family. They had their kids so quickly that Diane didn't finish her education until much later in life, but it was always something she emphasized to her children that were important. She eventually graduated from Utah Valley State College with an associate degree in 1997 and Weber State University with a bachelor's degree in 2000.
One of Diane's greatest gifts was her ability to love and feel compassion for others and she looked out for them. Her locker was right next to the special needs classroom, and she knew all the students' names and they loved her. Diane had a talent for making everyone feel like they were special. If you went to visit Diane, you always left knowing you were loved. She also dealt with serious depression most of her life. Her dad told her, "Annie, you're just too good for this world." She endured to the end and graduated this life with High Honors!
Diane was also a devoted member of the Church of Jesus Christ of Latter-day Saints. She loved the Savior with her whole heart and genuinely wanted to be like Him. She had a firm testimony of the Book of Mormon and read it three times earlier this year before getting diagnosed with cancer. One of her favorite callings was when she served as the Relief Society aerobics teacher. She laughed about it for years and could still remember some of the routines they would do in the backyard several times a week with members of the ward.
She is survived by her eternal companion and best friend, Brent; their children: Lisa (Jim) Golden; Richard (Karina) Hayes; Randall (Mary Ann) Hayes; Caroline (Gary) Graydon; Emily (Richard) Kasper; 22 grandchildren and two great-grandchildren. She is also survived by her loving siblings: John Larsen, David Larsen, Madelyn Pace, and Danny Larsen. She was preceded in death by her parents, Keith and Betty, and a brother, Robert Larsen.
Funeral services will be held Thursday, July 25, 2019, at 11 a.m. in the Highland 1st Ward, 9621 North 6050 West, Highland. A viewing will be held from 9:30 to 10:30 am prior to the services at the church. Burial will be in the Highland City Cemetery.