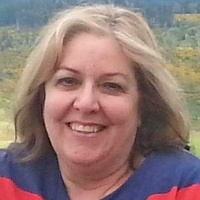 1959 – 2019
Karen Shelton Brown returned to her Father in Heaven on August 11, 2019, due to natural causes. She was born to Lynn and Carole Shelton on February 13, 1959, in Salt Lake City, Utah.
Karen grew up in the Cottonwood area and attended Cottonwood High School, of which she was very proud. She also attended college at the University of Utah and was a very avid Utes fan. She loved tailgating with her family and in earlier years, loved going to the games with her dad. She was also a big fan of Utah Gymnastics and attended the meets for years. Karen had a love of gymnastics since childhood. She was very athletic in her youth and would participate in almost any sport, especially the love of water and snow skiing.
She worked at Intermountain Healthcare and loved her job and the people she worked with. Karen married William Alex Brown in 2006 and they were later sealed in the Salt Lake Temple. Bill passed away in January of 2018. Karen was heartbroken but knew she would see her best friend again. Bill left behind four amazing children and 7 ½ grandchildren, that Karen cherished. She was a member of the Church of Jesus Christ of Latter-day Saints, had a strong testimony of the gospel, and loved the Holladay 27th ward. She served many years in the Primary and Young Women organizations. Over the years, she served in Relief Society, Girls Camp, Roadshows, and Young Women's Sports. Karen loved to cook and garden later in life and loved to make dinner for anyone who would come and sit at her table.
She is survived by her parents Lynn and Carole Shelton of Salt Lake City, Diane Heinz (Kirk) of Sandy, Lynn Shelton of Salt Lake City, Brad Shelton of Salt Lake City. She is also survived by her four stepchildren: Taylor Brown (Meg) of Sandy, Austin Brown (Chelsea) of Eagle Mountain, McKell Mitani (Zach) of American Fork, and Katelan Cross (Will) of Sandy. She had seven wonderful grandchildren: Everly, Maverick, Nash, Olivia, Imogen, Leo, and Jude. She also leaves behind nieces and nephews whom she loved and adored.
A viewing will be held Wednesday evening August 14, 2019, from 6-8 p.m. and one hour prior to the service Thursday morning August 15, 2019, from 10-11 a.m., both at the Holladay 27th Ward, 5500 South Holladay Boulevard. Services provided by Wing Mortuary.