14 City Council Candidates Profiled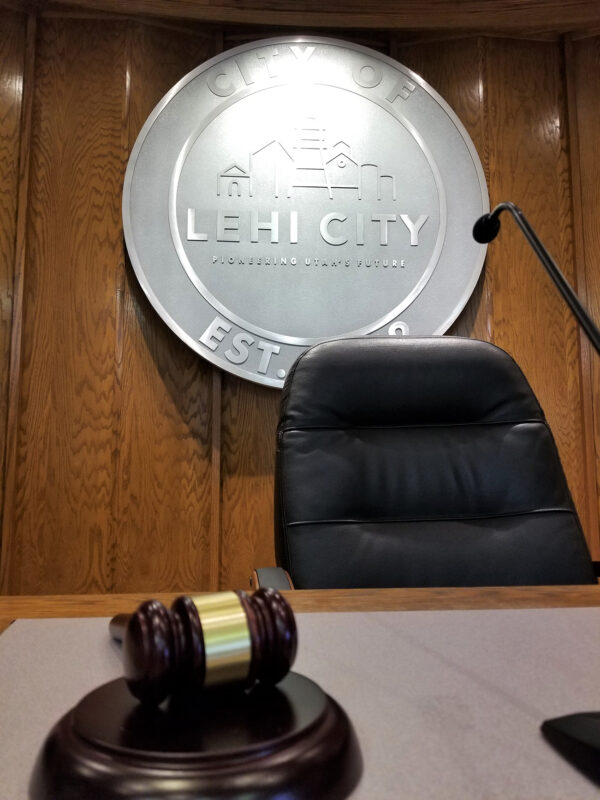 Paige Albrecht (incumbent): Lehi needs leaders with a proven ability to represent all citizens wisely and well. I prepared to hold office by serving for three years on the Lehi City Planning Commission while attending nearly all City Council meetings, and I have volunteered on many committees throughout Lehi for more than a decade–long before I was elected. Our explosive growth calls for Councilmembers who are completely ready to hit the ground running and effectively represent all of Lehi, not just one issue or area. We must protect our past and plan wisely for our future. I pledge to do so as Lehi's Councilwoman for the next four years.
Cody Black:
We have a City election coming up soon. I'm running to put a new face on the Lehi City Council. I believe we need a new perspective representing the community and someone who will truly listen to the citizens. Other than growth I believe PROPERTY RIGHTS is a big issue facing the City. It's also my belief the citizens who live here and work here usually get the bad end of the deal. I want to push for a better balance between citizens (tax payers) and big corporations (beneficiaries) to the point the citizens get the better deal. I've seen too many sweet deals for big corporations that regular folks who live here would never get. I want consistency and that is one thing I will bring.
Ammon Crossette:
Lehi is growing fast, but the decisions that affect all of us shouldn't be made so quickly. I'm not one to make choices in haste. I have no ax to grind or agenda to push. I am an artist, a creator, a husband, and Lehi is my home. The City of Lehi has many wonderful and thoughtful professionals and citizens who have made it what it is. I am just another cog in the machine who wants to do more to guide the direction of the growth coming. The focus that I would bring to the city council would be to make sure that what the city is doing doesn't infringe on any citizen's rights or ability to create wealth, start a business, or engage others legally in an entrepreneurial spirit. People should have domain over their individual financial futures, their homes, and their families. To ensure this freedom, I believe, is the highest purpose of government.
Montane Hamilton:
I'm running as I believe a different approach to handling the city's issues is needed. The city has an important role in ensuring every landowner and tenant is free to plan for the future use of their land-based on current zoning, rules and regulations.  Preference should be to leave the rules the way they are but if the zoning, rules or regulations need to change in a way that forces existing landowners and tenants to change their plans the city must show how those changes are creating value to entire neighborhoods, the city or even the state.
Tahnee Hamilton
I have been a practicing attorney for 11 years, specializing in business and real estate litigation, and family law. My husband and I own a small business in Lehi, and I have personally dealt with the residential issues and commercial frustrations over the past few years. I am dedicated, hard-working, and think "outside the box." I have a supportive husband, four children, and two dogs. I think our Planning Department and past City Council members have done a good job of making Lehi a desirable area for businesses, families, and individuals. But I also think that new ideas and fresh perspectives will help the City continue to plan better.
Matt Hemmert
I've served on the Lehi Planning Commission for just over five years. I know how many of the gears of municipal government work. But, as a commissioner, I have a limited ability to have meaningful one-on-one interaction with the public and applicants, and strongly advocate for or give opinions about issues that implicate the commission. As a City Council member, I can take what I've learned over the years of my commission service and hit the ground with experience and meaningful impact. I love this city, and I want to serve it in a way that allows me to best utilize my experience and skills.
Henry Rudolph Kneitz III
I would like to help maintain the "down home" look and feel of this town, which is why people love it here. At the same time, being involved in technology as I am, smart devices and so forth, I want the area to continue its growth. Recently it was rated sixth in the nation for growth. I want to make sure that everyone in Lehi has informed access to emergency services. Our Post office is also handling mail for three growing cities. We need to urge the acceleration of the building of a new Post Office in one of those cities. We do not want to be excessively commercialized and yet we also do not want to excessively restrict growth. The post office, for example, is extremely busy as it is handling Eagle Mountain and Saratoga Springs as well as Lehi. We need to encourage and support the building of a new facility in one of those other cities.
Katie Koivisto:
As a Lehi resident myself I have been actively engaged in attending city council meetings and other community events. I listen to the concerns of people and my stances are a reflection of what the majority of people have expressed. As a candidate and hopefully a city council member my job is to listen to everyone whether it coincides with my stances or not. As a community we are to come together to figure out what is best for our city. I have realized that for my voice to be heard I would need to participate in the political arena.
Michelle Miles:
We love the location, opportunity, and the community here. One of my greatest strengths is my ability to communicate with people of all ages, empathize, while still coming to logical decisions. I have a passion for architecture and color. I am able to enhance the lives of those I associate with and my surroundings. I enjoy remodeling and restoring older, and historic homes. I have also created several successful businesses using technology and my capacity to bring people together. I have a passion for inclusion and innovation. I believe that as Lehi City grows, one of the main problems we will experience is loneliness. I would like to see Lehi become a leading city in not only innovation, but in creativity and inclusion.
Jason Oviatt:
I am running for Lehi City Council because I want to be a voice for the families of Lehi. I think we need to focus on building the community of Lehi as fast as we are building the City of Lehi. We need to ensure that we don't lose the sense of community that brings people here in the first place. We need to make sure that as we grow, we put in the opportunities for our families and youth to be involved. We need to build more parks to support our youth in their activities. We have an amazing performing arts community and they have an undersized and outdated Arts center. We need to support them in any way that we can. I am thankful to live in a community and a country that is free, and gives us the opportunity to govern ourselves by citizens who are here to work to make us a better, stronger, and more loving community.
Johnny Revill (incumbent):
I 've enjoyed serving the great people of Lehi and hope to continue to serve the wonderful, changing community that I grew up in. My wife, Nicole, and I have chosen to raise our five kids here in Lehi because of the community that it is. We feel safe, we feel welcomed and we feel that Lehi is home. I love being involved in the community. Whether it's coaching little league baseball, Jr Jazz or flag football, emceeing the Miss Lehi pageant, announcing the football, basketball, softball or baseball games at Lehi High School or serving on the city council, as long as we are serving in our community, we are making it a better place. I learned from so many of my mentors as I grew up and saw how they helped shape this town and can only hope that some of my efforts will help do the same.
Mike Southwick
I am currently serving my 2nd term as a Lehi City Council Member and would like the opportunity to serve another term. During my 2 terms, I have worked with the Lehi Hutchings Museum as a board member. I have worked closely with the Lehi City Archives as well as the Historical Preservation Committee in helping to preserve Lehi's history.

With the growth in our city that has taken place, I believe we need to come together as a community through volunteering and working together to keep the traditions alive that have made Lehi a great place to be. I am committed to listening to the citizens of Lehi and incorporating their ideas in continuing to make Lehi City the best place to work and live.
Steven Werner:
Development concerns are really the only reason I'm running.  I believe this is the number one concern of Lehi citizens. Lehi's biggest problem by far is inorganic over-development. Local officials seem to think it's impossible to bring in too many out-of-state corporations or build too much high-density ("affordable") housing. Our growth problem, which it seems everyone is aware of, is largely being promoted and driven by certain actors, and the city council is a big one. If I win, I will by default vote against rezoning for all high-density builds. These should only be built under unusual and very well explicated reasons. The same goes for incentivizing out-of-state corporations to set up shop here. We've had more than enough growth lately. Time to slow down.
Jonathan Willis:
I love Lehi and I love the state of Utah.  I have been concerned, however, with the direction things are going at the federal and state levels and in some cases, the city level.  Local politics can impact us just as much or more than the higher levels of government and it can be frustrating sitting back watching things happen.  Instead of sitting back and watching, I finally decided to get off my seat and run for office to try and change things for the better.