Kassadee Jo Jones takes Miss Rodeo Utah 2020 crown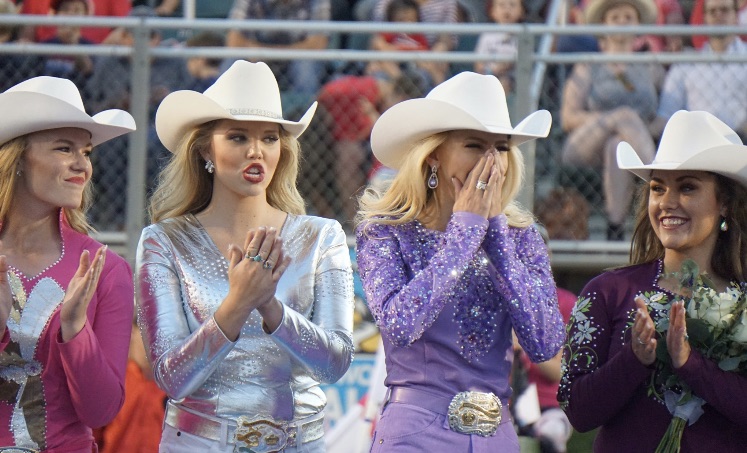 As the dust settled in the Ogden Pioneer Days Arena on the evening of Wednesday, July 24, spectators and anxious parents from around the state awaited the results of the Miss Rodeo Utah 2020 Pageant. After a week of grueling competition, the 12 contestants stood atop the trailer stage in the middle of the Ogden rodeo arena and nervously waited as the announcer conducted the coronation ceremony. After awarding the various categories, Kassadee Jo Jones, a Lehi native, was crowned Miss Rodeo Utah 2020 and the grandstands boomed as she took her first ride around the area on her red roan, Frontier.
"I am humbled and honored to take on this new role. I have worked hard for this, and I feel really prepared to serve the state. Tradition is important to my family and hometown, and it's something I hope to implement into my reign," Jones said.
This is Jones' third time competing in the Miss Rodeo Utah Pageant. She will act as a lady in waiting as Miss Rodeo Utah 2019, Mckaylie Richins finishes her reign. Jones will officially assume her role January 1, 2020 and represent the great state of Utah to audiences all over the nation.
Jones managed to take home five of the six judged category awards in addition to the title. She won the personality, appearance, public speaking, written test, and horsemanship awards. Kassadee was also given a truck and trailer to use while traveling to rodeos when she takes over at the start of the new year, and a scholarship to Weber State University, among other prizes.
Over the weeklong competition, Jones and the other contestants competed in a myriad of judged events including horsemanship, both traditional and freestyle, personal interview, horsemanship interview, impromptu speech, on-stage question, written test, fashion show, and judging activities.
In the horsemanship category, contestants complete a reining pattern on their own horse and then draw at random another contestant's horse to complete a secondary pattern. Jones rode the horse of a family friend in the competition, standing at only 13.3 hands (average is 14 or 15) named Wizwic. "He's a cute little thing," Jones said of the horse. In the freestyle portion of the competition, the contestants competed using their own pattern. Jones snatched the horsemanship award; the prize Jones is perhaps most proud of.
Throughout the week, Jones wore over 20 different outfits for the various events and competitions. Many of the outfits were made by hand by her mother, Kellie Jo, and her sister, Kadee. Kellie and Kadee, along with a few family friends, made Kassadee's stunning pink fashion-forward outfit, modeled in the fashion show competition of the pageant. Complete with knee-high matching pink boots, the pink dress was adorned with a sheer pink cape with pearls and white cowboy hat. "I felt like rodeo barbie in that dress and I loved it," Jones said.
Her mother and sister also made her kelly green horsemanship shirt, complete with sequins and over 500 Swarovski crystals. Kadee spent 10.5 hours beading the green horsemanship shirt and said, "That shirt may as well be my first-born child. As much work as it took to finish the bead work, Kassadee looked absolutely radiant in the arena and it was worth it!"
Kellie Jo sent hours sewing Kassadee's outfits, and with the help of close family friends, they made clothing that caught the judges' attention from day one, "Every time I walked into the room, the judges would ask me if my mother made my clothing, they loved hearing stories about each outfit," Jones added.
During the impromptu speaking portion of the competition, contestants were given ten minutes to write, memorize, and give a speech, Kassadee highlighted her time at the Mascot Miracles Rodeo where she helped her new friend, Iris, who suffers from Short Bowel Syndrome, run the barrels with stick horses. Jones described how difficult it was for Iris to finish the home stretch, but together the finished the race. "Iris is the best example of a hero in my eyes," Jones reflected.
After being crowned, Jones took a commemorative photo with Martina Wardle Larsen, and Desiree Cooper Larsen, the two other queens from Lehi who have worn the Miss Rodeo Utah Crown.
"I just want to thank the Ogden Pioneer Days and Miss Rodeo Utah committees for all their hard work. I am so excited to take on this title, and I hope to leave a legacy of lasting service during my year," Jones concluded.
Jones will compete in the Miss Rodeo America Pageant in December of 2020 in Las Vegas, Nevada. Mckinley Drake of St. George won first runner-up, Katelyn Huffman of Fort Duschene won second runner-up, Autumn Patterson of Taylorsville won third runner-up, and Jayna Scadden of Farmington won fourth runner-up.
Green homemade horsemanship shirt. | Kadee Jones

Desirae Cooper Larsen, Kassadee Jones, Martina Larsen, and the three Miss Rodeo Utah's from Lehi. | Courtesy Kadee Jones

Kassadee during the fashion show in her custom made gown. | Jayden Madsen