Lehi Arts summer musical hits the right notes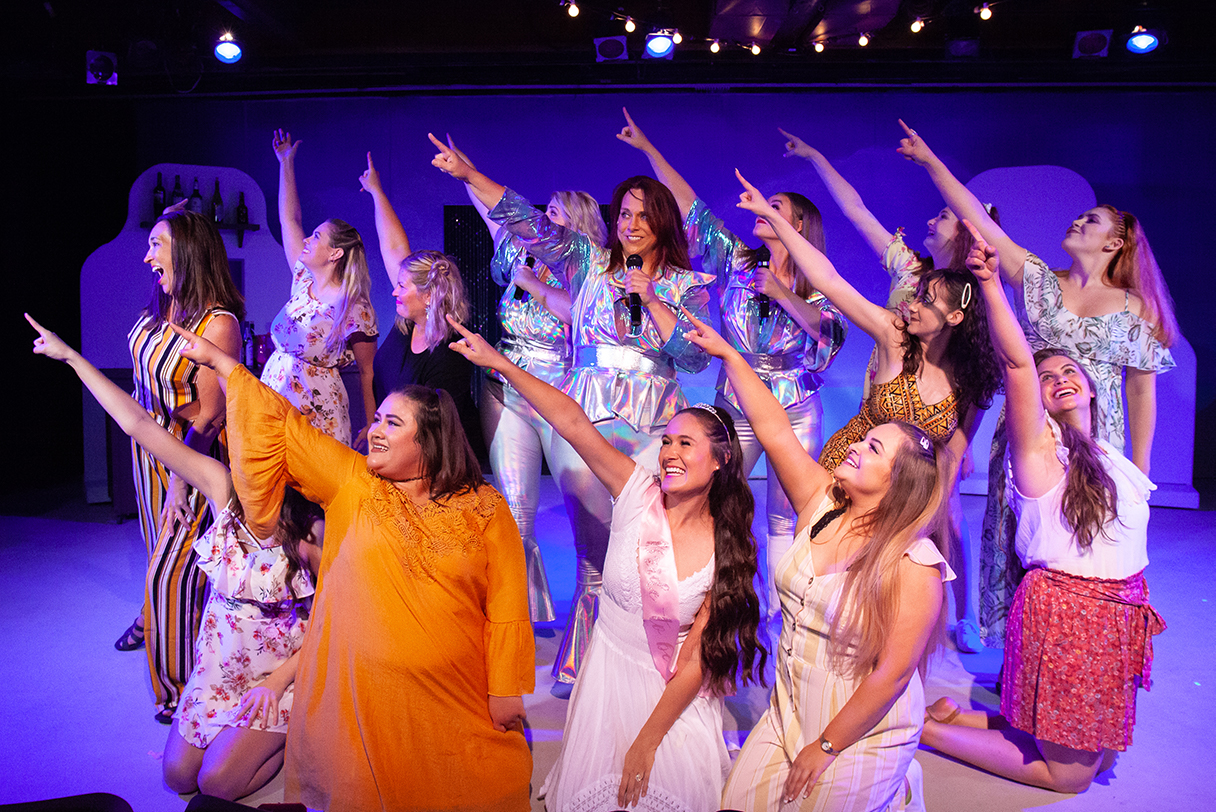 The Lehi Arts Council production of Mamma Mia! is playing tonight, Thursday, August 8, through Saturday, August 17 at the Lehi Arts Center, 685 North Center Street, beginning at 7:30 p.m. Shows are Thursday – Saturday and Monday evenings. Tickets are available online at lehicityarts.org or at the door for $10 to $12.
The fan-favorite musical Mamma Mia! is the story of a young woman, Sophie, who is about to get married and contacts the three men who could possibly be her birth father and persuades them to come to Greece just in time for her wedding. Sophie's mother, Donna, isn't in on her daughter's plan and the appearance of her three former lovers comes as a not-welcome surprise. The songs in Mamma Mia! are catchy hits by the 1970s Swedish band ABBA, with a few additional songs written especially for the musical.
Mamma Mia! at the Lehi Arts Center, directed by Jeremy Showgren and choreographed by Tyne Valgardson Crockett and Madison Valgardson, is campy fun. The ensemble numbers make use of every inch of space in the tiny theater, which includes the aisles and actors popping up behind the audience. As always with Lehi Arts productions, the singers are exceptional. Whether it was a duet or the whole ensemble, every song was beautifully performed. "Dancing Queen" was a standout number, as well as "Super Trooper," with the outrageous costumes and high-energy choreography. Donna's duets with each of daughter Sophie's potential dads are very sweet thanks to the splendid singing voices of Greg Felix as Harry, Michael Carrasco as Sam, and Jay Hafen as Bill.
Colleen Carassco, who has acted in and directed several Lehi Arts productions, plays the role of Sophie's mother, Donna Sheridan. Carassco's strong vocals and chemistry with the cast made her scenes a delight to watch, especially those with fantastic girlfriends Rosie, played by Ashley Ramsey, and Tanya, played by Bree Stobbe, and love interest Sam, played by Carassco's real-life husband, Michael Carrasco. Donna's duet with Sophie, played by the lovely Jordyn Crowley Watts, "Slipping Through My Fingers" is especially moving. "Donna's story and lyrics are so relevant and personal to me at this stage of my life, that it has been very therapeutic and emotional to portray her on stage," said Colleen Carrasco. "Working with Jeremy Showgren and my Lehi Arts family has been a valuable learning and growth experience for me. ABBA music makes my soul happy!"
Jay Hafen as Bill, Michael Carrasco as Sam, and Greg Felix as Harry in the Lehi Arts production of Mamma Mia! | Kim Fillmore

Colleen Carrasco as Donna Sheridan in Mamma Mia! | Kim Fillmore

The ladies in Mamma Mia! singing "Super Trooper." | Kim Fillmore

Ty Pew as the groom, Sky, and Jordyn Crowley Watts as Sophie in Lehi Arts production of Mamma Mia! | Kim Fillmore