Skyridge falls 27-28 to Pleasant Grove in Region battle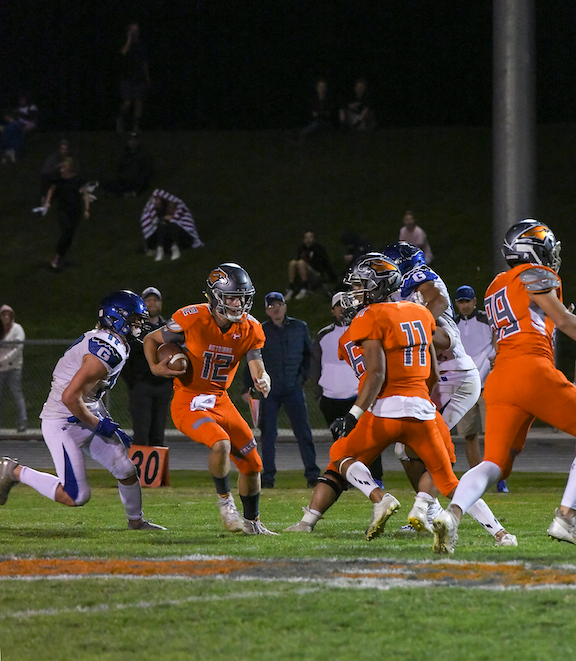 In an intense game filled with nail-biting moments, the Skyridge Falcons countered every spectacular moment by the Pleasant Grove Vikings with one of their own. In the end, the Vikings outlasted the Falcons 27-28 for a comeback win in the fourth quarter.
"It was a physical and hard-fought game. Our guys battled until the end and the Vikings came out one point better," said Skyridge head coach, Jon Lehman.
The Falcons started strong with a touchdown by Malae Tanuvasa on a 100-yard interception return in the first quarter. The Falcon offense executed well as Dylan Samuels scored on a 28-yard pass from quarterback, Emmett Call in the second quarter. The PAT failed and the Falcons ended the half with a 13-14 score.
The third quarter was well played by the Falcon defense, holding the Vikings to zero points. The Falcon offense ignited in the third quarter with a 47-yard touchdown run by Call. Tanuvasa scored his second touchdown of the game with an 8-yard run. The Falcons ended the third quarter with a 27-14 lead.
The Vikings poured rallied in the fourth quarter and scored 14 points on runs from Rex Connors and Evan Robinson during the last eight minutes of the game for the win.
Lehman said, "We did a lot of things right tonight. We adapted and adjusted to all the things they were throwing at us. Emmett made some nice plays with his legs. We had the wind as a disadvantage during the fourth quarter, but we competed all the way until the end of the game. We played a very good and physical team tonight."
With the loss, Skyridge falls to 1-1 in Region 4 play and 5-1 overall. The Falcons will regroup this week in preparation for the next region game scheduled for Thursday, October 3. Kick -off is at 7p.m. against the Lone Peak Knights in their final home game of region play. Come early to support senior recognition prior to kick-off.