Lehi Pioneers fall to Timpview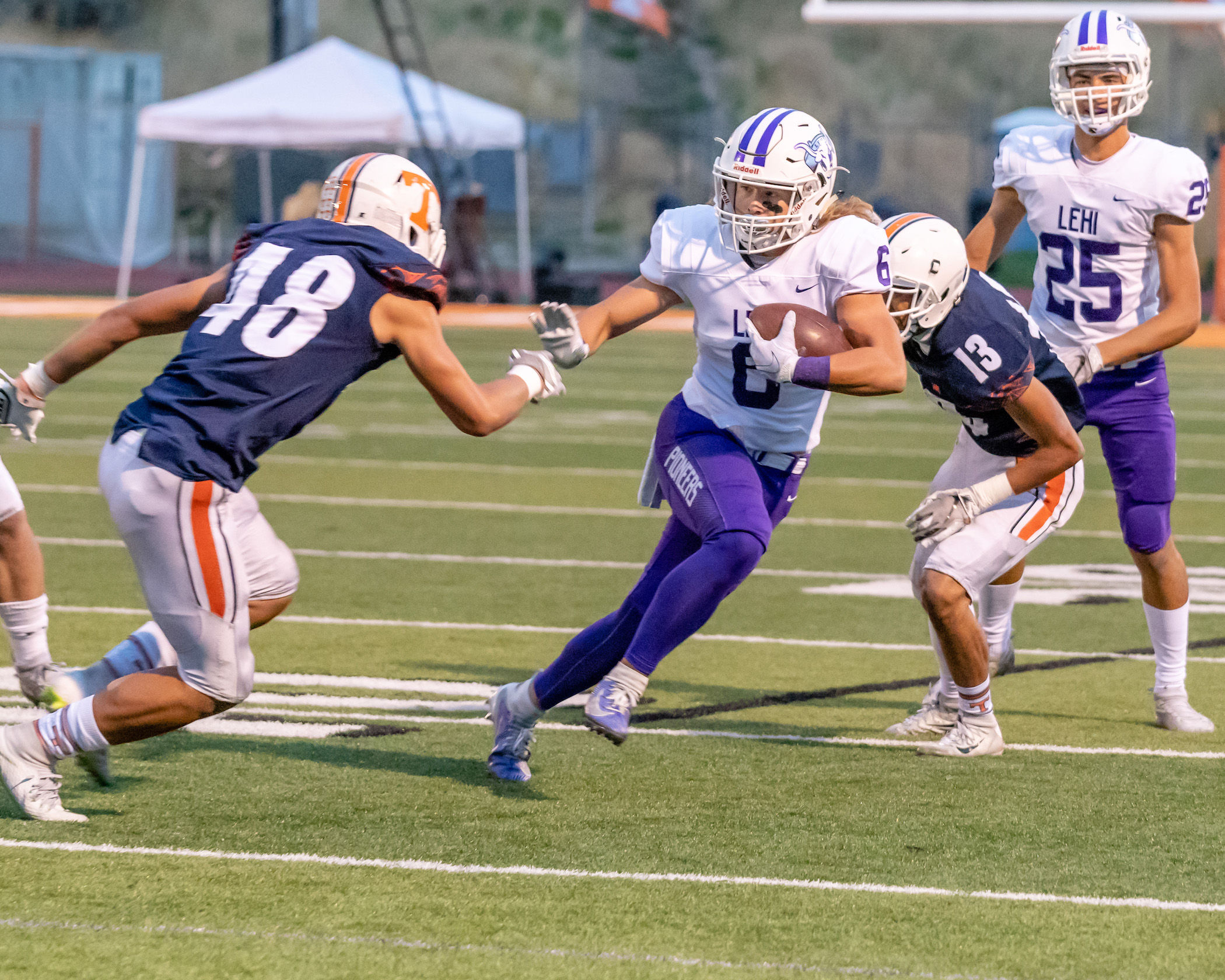 The Lehi Pioneers' five-game winning streak came to an abrupt halt in Provo when they lost 28-9 to the Timpview Thunderbirds on Friday, September 27. With this loss, Lehi is now 5-2, overall, and 2-1 in Region 7.
The Pioneer offense had a first half of stalled drives and missed opportunities. After moving the ball into Timpview territory, LHS was unable to sustain their first two drives and turned the ball over on downs. On Lehi's third possession, Carsen Manookin took the ball down the Pioneer sideline on a 60-yard run to the Timpview 25-yard line. That drive ended in a missed field goal. The Thunderbirds took over possession and moved the ball down the field scoring on a 20-yard pass. Lehi punted the ball on their next drive. However, Christian Moody intercepted a Timpview pass giving the ball back to the Pioneers close to midfield. Lehi was unable to take advantage of the turnover and punted the ball. With about a minute left in the half, Kadiyon Sweat intercepted a pass giving Lehi's offense the ball at the Timpview 17 yard line. The Pioneers finally got on the scoreboard when TJ Roskelly hit a 21-yard field goal. Timpview led 7-3 at the end of the first half.
In the second half, Timpview leveraged an obvious size advantage to dominate the line of scrimmage. Thunderbird running back Sione Moa had 247 rushing yards on 21 carries (11.8 yards/carry) and scored three touchdowns. On the night, the Thunderbirds had 341 rushing yards and 60 yards through the air. Matt Bulpitt intercepted a pass with about six minutes left in the game giving Lehi the ball at the Timpview 25-yard line. The Pioneers scored their first touchdown a few plays later when Creyton Cooper connected with tight end Charles Jacob who weaved his way between the Timpview defensive backs to score a 17-yard touchdown. The point after kick was unsuccessful. The final score was Timpview 28, Lehi 9.
The Pioneers hope to return to their winning ways when they travel to Sandy to take on the Alta Hawks in a region game this Friday at 7 p.m. Alta is 3-3 on the season (2-1 in region). The Hawks have wins over Desert Hills, Mountain Ridge, and Timpanogos and losses to Skyridge, Orem and Corner Canyon.