LHS struggles with parking shortage during remodel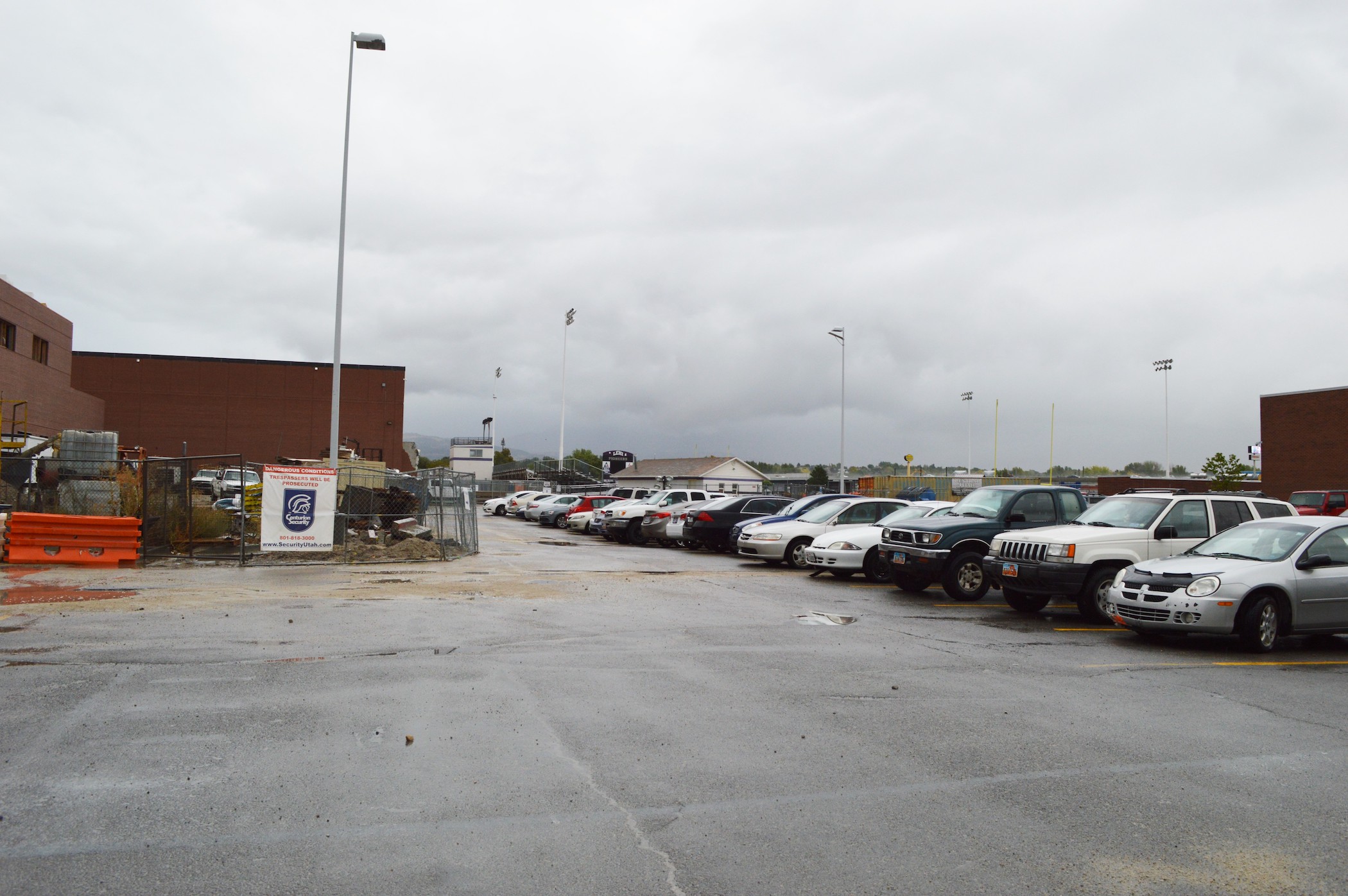 Students and faculty at Lehi High School have been dealing with parking challenges for many years, but the current remodeling process at the school has recently created even bigger hurdles.
While LHS is under construction, what used to be a parking lot is now full of heavy equipment, piles of rock and gravel, and deep potholes. Cars parked without permits at The Church of Jesus Christ of Latter-day Saints building at 1920 North 500 West near the school are issued $15 tickets from the school, payable to myschoolfees.com. Despite the possibility of getting a ticket, many students take their chances and park at the church when they arrive late to school. The parking lot at the Lehi Outdoor Pool, where students are permitted to park, remains empty every school day because students don't want to walk around the fence and down the block to the high school.
Students at Lehi High School have been encouraged to carpool, ride bikes, and take the bus to school, especially during construction. More parking stalls will open up as sections of the remodel finish in October and November.
Last year, at the October 11, 2018 Lehi Planning Commission Meeting, Frank Pulley Jr., Director of Physical Facilities for Alpine School District (ASD), presented the concept for the final build out of Lehi High School. Members of the Planning Commission pointed out that the finished school can accommodate 2,000 students, but that the final plans were short on parking by 298 stalls. At that time, Pulley told the Planning Commission that they would have to limit the number of parking permits issued to students. When former Commissioner Heather Seegmiller asked if they [ASD] had any other ideas to alleviate the parking situation, Pulley answered, "Not at this time." Pulley also said ASD has no plan to extend 300 North through to 850 East to help the traffic flow, but they may consider it later. Since that October 11, 2018 meeting, ASD has not moved on extending 300 North or presented new parking solutions for Lehi High School.
Before the remodel of Lehi High School began, there were 342 parking stalls on campus. When construction is complete, the planned number of stalls presented to the Planning Commission last year, was 635 stalls. During construction, students are permitted to park on Main Street, faculty parking stalls, and at the Lehi Outdoor Pool. Faculty and construction workers may also park at the LDS church nearby. No one without a Lehi City parking permit is allowed to park on the city streets surrounding Lehi High School. For the first three weeks of the 2019-2020 school year, Lehi police officers gave out warnings to cars parked in front of neighboring homes. Now cars will be ticketed if they are illegally parked on city streets. Students without proper permits are also ticketed if their cars are parked in the church parking lot.
"The homeowners around here are the ones who have pushed us to patrol these streets. The kids were leaving garbage in mailboxes, on the street and blocking driveways," said Officer Smith from the Lehi Police Department. Smith issues several parking tickets every morning, but the number has gone down significantly since the first weeks of school.
"Parking is pretty rough, but it's not as bad as I thought it would be. If you want a good spot you need to get to school about an hour early," said one LHS senior.
"This is great training for dealing with parking on a college campus or a workplace. There aren't many circumstances where you're guaranteed a parking spot," said one Lehi parent.
"I think the students are adapting well. It's just hard. We hope everyone will stay positive and bear with it. In the end it's going to be better," said LHS Vice Principal Eric Lofton.