Two LPD officers recognized for domestic violence response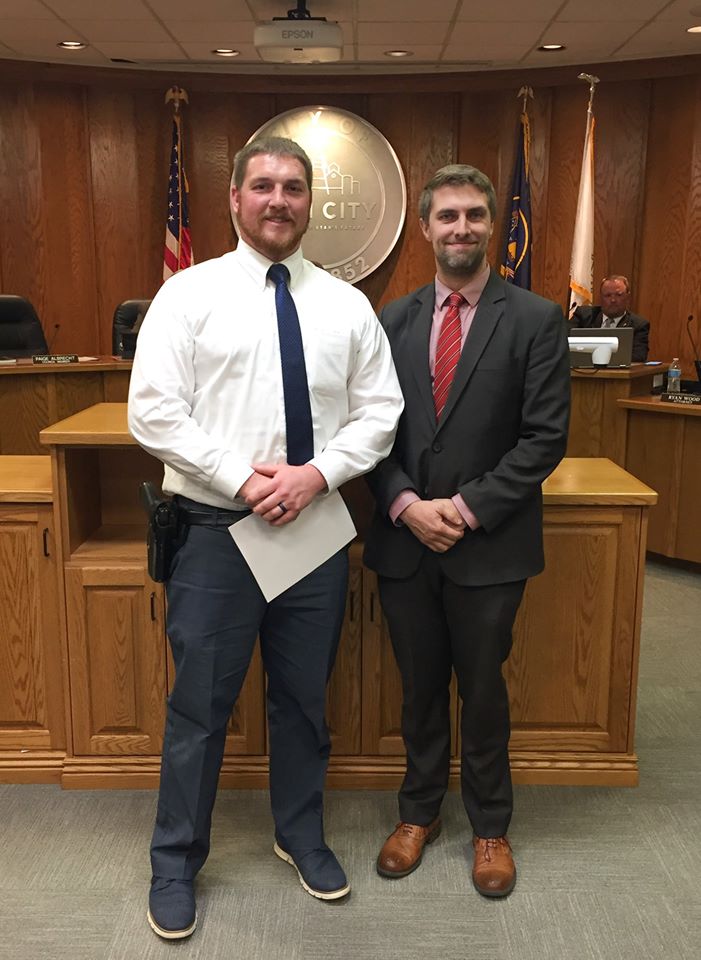 Mayor calls for slow down on Lehi Block T.O.D. project

The Lehi City Council met in council chambers for a 33-item agenda on Tuesday November 19. All members were in attendance, except for Paige Albrecht, who was noted as excused by Mayor Mark Johnson.
LPD officers recognized for service in domestic abuse call
Lehi City Police officers, Justin Holland and Jeff Wilson, were presented "Letters of recognition" by Carl Hollan, Deputy County Attorney for the Utah County Attorney's Office. The Lehi officers were credited with potentially saving a resident's life after using their expertise to identify a woman's need for help in escaping her physically abusive husband. Hollan brought perspective to the situation and said, "It wasn't the first time he had hurt her, but thanks to Officer Holland and Officer Wilson, who arrived on scene, this would be the last time that he would hurt her. I believe what these officers did that night may have saved her life." Officer Holland was in attendance to receive his award.
City struggles with short-term rental policy
In the work session, Kim Struthers, Director of Community Development for Lehi City presented the current code situation surrounding Bed and Breakfast permitting along with short term rentals like Airbnb rentals. The City has seen an uptick in Bed and Breakfast permit requests and Struthers would like to see the definition narrowed regarding such use and requested the Council provide feedback in what they would like to see regarding short term rentals within City limits. Currently short-term rentals (stays less than 30 consecutive days) are only allowed in Planned Community and Resort Community zones, while Bed and Breakfast locations are allowed in all residential zones.
Struthers presented some concerns that frequently arise regarding short term rentals which included parking, noise, and safety. Councilman Chris Condie was first to provide feedback saying "On one hand it's their home and their property and I am for the least amount of regulation possible, but on the other side of it, this person that I know who was against one being next to him, had people coming at 11, 11:30 at night and his bedroom is right above where the guests have to go in."
Councilman Mike Southwick provided input by voicing support for time restrictions and maximum occupancy. Councilman Johnny Revill expressed concern with oversight and enforcement and said, "People are going to do it anyway." Revill also acknowledged how St. George only allows Airbnb rentals in townhomes and condos but said he has stayed in single family home rentals multiple times in recent past. Struthers received feedback from the Council and will present a revised plan for adoption at a future meeting.
Lehi Block area T.O.D. put on hold
The Council agenda concluded with discussion surrounding the Lehi Block property and its Transit Oriented Development (TOD) status. Mayor Johnson said, "I am very concerned, that there is no immediate timeline for the Trax work to begin and I am very uncomfortable, personally, from an infrastructure standpoint, to move ahead with any future TODs until we have a guarantee from the state of Utah regarding funding on these projects." The developer shared a mutual agreement with the Mayor's comment and expressed willingness to go back to the drawing board and create a phased approach that will allow the project to grow with the infrastructure and needs of the City.
Councilman Paul Hancock shared his support of a phased project "You build it for what's capable now and then when the Trax hits you come back and ask for the density and TOD, I think it will be a fantastic product." The Boyer and Gardner Company representatives reassured the Council they agree with the slow down but expressed the need for a zone change allowing the construction of office and retail buildings now. The agenda item concluded with Councilman Johnny Revill saying "I appreciate a developer coming in and having this kind of attitude and not pressuring us. I appreciate that, thanks!"
Storm Water utility fee increase request
Dean Lundell, Lehi City Finance Director, was the next presenter on the agenda to discuss the request for a rate increase in Storm Water utility fees. The current system is led by seven employees and consists of 177 miles of pipe, 23 miles of open ditch and 55 acres of detention with a total book value of $47,838,030. The department is requesting five new employee positions (one program engineer, two street sweeper operators and two jet vacuum operators) and are requesting to purchase a jet vacuum combo machine. Lehi residents currently pay $3 per month for their Storm Water utility fee and the proposed increase presented was a tiered model with 2020 at $4.75 monthly, increasing every year until $6.00 on July 1, 2025. Commercial property rates are charged based on the amount of hard surface infrastructure on each parcel.
Dance Studio Receives Zone Change Approval
The most contested issue of the night was regarding the dance studio proposal by Aspire Creative Arts Group at 2900 North and 1200 West. The proposed dance studio permit and concept plan has been a contentious issue for several weeks in both Planning Commission and City Council. Neighbors surrounding the proposed project have continually battled the project but ultimately failed Tuesday after a 2-2 vote was broken by Mayor Johnson voting to approve the project, making the vote 3-2. "This is a property rights issue and I am voting as I was sworn to do and that is to protect the Constitution" said Johnson. Councilman Johnny Revill and Councilman Mike Southwick voted against the project. The revised concept plan was recently approved by the Planning Commission and with the result of the City Council zone change approval, the project will proceed.
Public Comment
During the public comment portion of the meeting, former Mayor Ron Smith brought to the attention of the Council an issue that the Lehi Roller Mills is struggling to find a home for an old wheat grinder. The wheat grinder is from 1912 and no longer is used. The Lehi Roller Mill doesn't have any available space to store the machine any longer. The wheat grinder is approximately six feet long, four feet wide and six feet tall, weighing nearly 600 pounds. The Mayor and Council expressed their desire to find somewhere for the machine and the importance of keeping City artifacts. Councilman Mike Southwick, who is the Council liaison for the Hutchings Museum, also noted an upcoming board meeting and his commitment to adding the topic on the agenda. The Mayor and Council will be scheduling a time to view the machine and then find a home for it.
Other agenda items included:
Consideration of Resolution #2019-74, a resolution of the Lehi City Council adopting an amendment to the design standards for fiber conduit. Petitioned by Lehi City. Unanimously approved.
Consideration of Resolution #2019-66, amending the Lehi City Fee Schedule to include a new rate for solar power. Petitioned by Lehi City. Unanimously approved.
Consideration of Resolution #2019-70, approving an amendment to an agreement between Waste Management of Utah Inc and Lehi City. Petitioned by Lehi City. Unanimously approved.
Consideration of Resolution #2019-69, approving an Interim Licensing and Operating Agreement between Newtron Holdings Inc dab "Lime Scooters" and Lehi City. Petitioned by Lehi City. Unanimously approved.
Consideration of Concept Plan approval for the West Lehi Elementary Plat B, a 5-lot residential development located at 1100 West 1450 South in a proposed RA-1 zone. Petitioned by Alpine School District. Unanimously approved.
Consideration of Ordinance #70-2019, a General Plan amendment on 20.75 acres of property located at approximately 4300 West 1800 North changing the land use designation to Light Industrial and Commercial. Petitioned by Boyd Brown. Unanimously approved.
Consideration of Ordinance #72-2019, approving the Victorian Crossing Zone Change, approximately 1.96 acres of property located at approximately 1000 South 2300 West changing the zoning from R-1-22 to Neighborhood Commercial. Petitioned by Matthew Porter. Unanimously approved.
Consideration of Preliminary Subdivision approval for the Mitchell Grove, a 20-lot residential development located at 1193 West 1500 North in an approved R-1-Flex zone. Petitioned by Mark Hampton. Unanimously approved.
Consideration of approval for the Outlets at Traverse Mountain Plat D, an amendment to lot 6 of Outlets at Traverse Mountain Plat B located at 3745 North Outlet Parkway. Petitioned by Jared Osmond. Unanimously approved.
Consideration of Resolution #2019-72, an intent to annex the Refractory Annexation, approximately 27.65-acres of property located at approximately 2200 North West in a proposed TH-5 zone. Petitioned by Duane Rasmussen. Unanimously approved.
Consideration of Ordinance #74-2019, the Gordon Zone change, approximately 1.63 acres of property located at 2300 West 871 North changing the zoning from A-1 Agriculture to Neighborhood Commercial. Petitioned by Breezy Anson. Unanimously denied.
Consideration of Resolution #2019-68, a resolution of the Lehi City Council appointing a Board Member (Jennifer Wirth) to the John Hutchings Museum Board of Trustees. Petitioned by Lehi City. Unanimously approved.
Consideration of Resolution #2019-73, a resolution expressing Lehi City's intent to adjust the municipal boundary line with Highland City. Petitioned by Lehi City. Unanimously approved.