Commissioner Bill Lee hosts Lehi town hall to oppose property tax increase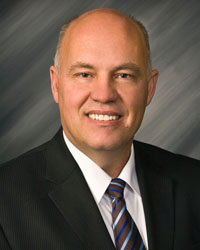 Utah County Commission to decide on potential tax increase on Wednesday

Utah County Commissioner Bill Lee hosted a town hall in the Lehi City Council Chambers on Tuesday night to discuss a looming Utah County property tax increase. In front of a full Council Chambers Lee expressed his dissatisfaction with the proposed tax increase that is expected to be passed Wednesday by fellow Utah County Commissioners Tanner Ainge and Nathan Ivie.
Lee began the evening with a brief opening statement before taking questions for nearly two hours. In Lee's opening statement he acknowledged the permanency of the proposed property tax raise by saying "A lot of things we do on the Commission can be overturned or changed down the road but taxation always goes up, so for me, I take it very seriously." He concluded his opening statement, "Some history on this is it started off at 127% and then in that same Commission meeting, we had to put a cap and that's where the 100% came from, it was a 2-1 vote and I was the dissenting vote."
Residents voiced concerns and dissatisfaction with the proposed increase by asking the Commissioner some of the following questions:
Question: "Do you believe that without the tax increase, that we won't have to reach into the fund balance?"
Lee: We do have a fund balance, of about 20% or $18 million. Think of it as a "rainy day fund" or savings account. The state requires that we keep 5% in there and hold that to not be used in case there is a major catastrophe. That accounts for about $3 or 4 million and we have $18 million in there now. One of the reasons we've dipped into that account (and there are multiple) but one that I've brought up over and over is the I.C.E contract in the Sheriff's department with $4.5 million in revenue. Dropping that contract was supposed to be neutral, meaning $4.5 million in expenses would be removed, but we never saw it. You can't take $4.5 million in revenue away and then still have the expenses– that will throw any budget into a spin.
Question: "Do we do desk audits on each department? Can we get by with 75% of the employees we have?"
Lee: We do financial audits each year, but it is just looking for fraud to make sure everything checks out, it isn't so much a performance audit or a need audit. Our County per capita in the sense of how many employees we have compared to other Counties around the state, we're the fewest. For the most part, we're very efficient in the way of how many people that we have, but I'm not saying there's not ways we can cut back.
Question: "When we all face a financial hardship, we cut back, government is the only one who has the luxury to steal more money from us. Can you please communicate to the other Commissioners that we need to examine every single service and ask if it's the proper role of government? 100% in one year is absolutely unacceptable,"
Lee: Here is my frustration. We were in the very tail end of getting department head requests in–II got my last one Friday, and then Tuesday morning on the Commission agenda was the proposal to raise property taxes. I sat in that meeting not knowing what this proposal was going to be like. They built this financial tower of terror, they said we've got to have this, this is what we need to fund additional programs, this is our additional asks and then it went all the way up to $36 million and therefore we need to raise taxes. So, my frustration is we never first went through and looked at what we were going to take off and not fund. It was this tower of terror that was built to promote that we need to raise taxes. We should be looking at everything we can do to not raise taxes and then after going through that entire process, we go to the public and show where we are short.
Question: "How do we save the equestrian center from being sold from under us? We can't hold events there and make money because of the strict restrictions you have, so how are you setting it up for revenue?"
Lee: When we look at a tax increase, it is important to look at all of our programs and determine if it should be funded and if it is a proper role of government. When the equestrian center came up, on paper it looked to be very underutilized. When we got the analysis back, it showed it was subsidized by $60-80,000. We held a public meeting, and nobody came, so all three of us voted it as surplus. Once it came out, we were looking to sell it, we started to have conversation and dialogue. Where this winds up, I'm not sure. One thing that I don't appreciate is another Commissioner saying Commission Lee wants to sell this off to make payroll, totally false.
Question: "Why are you not at 0%, why are you at a 15% tax increase?"
Lee: I am trying to be as realistic as possible with what's going on. I do see some needs; I'm not going to sit here and tell you I don't. I don't like the conversation going all the way to 100% and I don't think we've gone through the process enough. I would like to have more time to do more scrutiny on what we're trying to accomplish. The time is up, Wednesday is the day.
Question: "With onetime expenses like paying our officers for the missing overtime retirement or purchasing body cameras, why don't we bond or have a temporary tax for one-time purchases? It is wrong to have a permanent tax for these expenditures"
Lee: "I like what you're saying. We can go out and do a bond and it goes to the people. This is the part that I like, it goes to the people on a ballot for a vote and if the people say yes its justifiable, then it raises taxes for that period of time and when it's paid off, it goes off. I love that kind of budgeting."
At the conclusion of the event, Commissioner Lee thanked the audience for participating and said, "I hope I don't see you again anytime soon," with a chuckle. The Utah County Commission will be meeting to decide the property tax increase on Wednesday December 11 at 6 p.m. The meeting will be held in the Commission Chambers located at 100 East Center St. in Provo.