Sharon Marie Zimmerman de Paula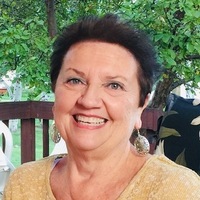 1942-2019
Sharon Marie Zimmerman de Paula, 77, loving wife, devoted mother, grandmother, and great-grandmother passed away Tuesday, December 24, 2019, from complications of a stroke. She was born prematurely at only three pounds on July 20, 1942, to S. Rex and Ardell Marie Dean Zimmerman in the old Lehi hospital in Lehi, Utah. Born 3 and ½ months early, she was not expected to survive the night.
Sharon loved growing up in small-town Lehi and was proud of her roots. She graduated from Lehi High School class of 1960. She graduated from BYU (Elementary Education/English), class of 1967, and three days later married Lin Z. de Paula in the Salt Lake Temple on May 29, 1967. She taught 4th grade at Forbes Elementary for two years before becoming a mother to five children – Rebecca, Angela, Nicole, Tiffany, and Matthew.
Sharon was a valiant and faithful woman of God. She was a devoted member of The Church of Jesus Christ of Latter-day Saints and happily served in various callings. She and Lin served three missions together: Brazil São Paulo MTC (2003-2005), New York, New York South (2007-2009), and Brazil São Paulo North (2014-2016).
The family was always the primary focus of her life; her love was unconditional. She looked forward to every family gathering and outing and made every person feel welcomed in her home.

Sharon's love for music began at an early age. She was a well-known piano teacher for over 50 years, inspiring hundreds of students. She and Lin, together, sang in the Mormon Tabernacle Choir for 18 years. She loved sharing the gospel of Jesus Christ through music.

She was an avid sports fan. She was a tech-savvy genius. She was an excellent cook and a skilled seamstress. She enjoyed traveling, playing games, reading, visiting with friends, hosting parties, and family dinners in the canyon. She lived life to the fullest. She had a keen sense of humor and unmatched wit. In spite of physical pain and limitation, she was never without her unforgettable smile.

She is survived by Lin (husband of almost 53 years), Rebecca Salleh (Mustafa), Angela Wilson (Daniel), Nicole Afa (Frank), Tiffany Nuga, Matthew de Paula (Rachelle) as well as 18 grandchildren, five great-grandchildren and four brothers; Dean, Scott, Kyle, and Kurt Zimmerman.  She was preceded in death by her parents, her sister Kathleen, and her son-in-law Samuel Smith.

Funeral services were held Monday, December 30, 2019, in Highland, Utah. A viewing was held the evening prior, Sunday, Dec 29.