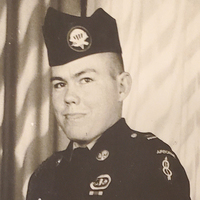 1943-2020
George Irving Barber age 76, passed away peacefully on February 12, 2020, at his home in Lehi with his loving wife by his side. George was born July 20, 1943, in Thermopolis, Wyoming.
George was retired from the United States Army, where he served his country with honor for 21 years. He married his eternal companion Jackie Beebe on March 4, 1999.
He is survived by his siblings, Les (Lou) Barber, and Maryetta Foster, his children: Kimberly (Steve) Weber, Karma (David) Vance, Bobby (Neva) Hopkins, Cody (Candice) Hopkins, Buck (Tiffany) Hopkins, and Mechelle (Darren) Beratto, He is also survived by 22 grandchildren and 17 great-grandchildren. George was preceded in death by his mother Lucinda Katherine Atkinson, father, Irving George Barber, brother Dorrance Barber, daughter Katherine Elaine Nilles, and son Kevin Lee Hopkins.
A viewing was held Friday, February 14, 2020, at the Lehi East Stake Center LDS Church. Funeral services were held Saturday, February 15, 2020. Interment, Lehi City Cemetery