Top Lehi stories of 2020: (#10) Area high school teams saw success, when they got to play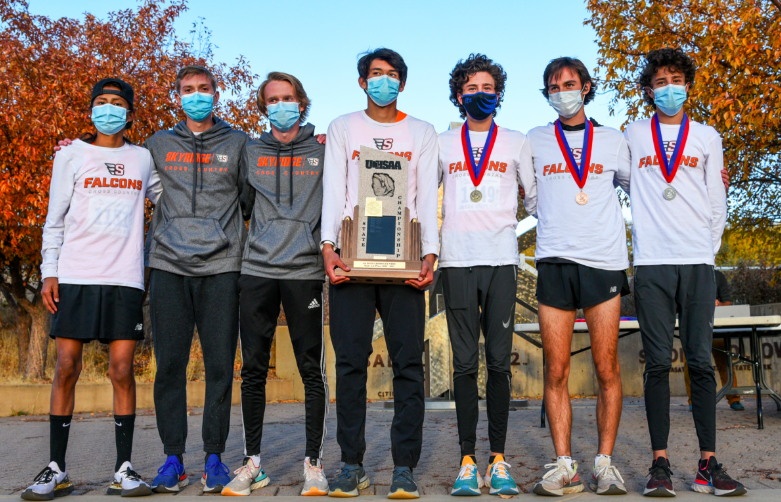 As it turned out, the biggest sports story of the year wasn't about team or individual accomplishments, but about what never happened – the entire spring prep sports season was cancelled as schools were closed to help contain the COVID-19 pandemic.
A few players got to participate in some make-up events at the end of the academic year, but for most, their dreams had to be sacrificed in the fight to keep as many as possible free from the devastating and potentially fatal effects of the virus.
Fortunately for them, the winter sports teams were able to complete their seasons right before the mayhem started.
In boys basketball, Skyridge was eliminated from the 6A tournament after suffering a one-point loss to region foe Lone Peak in the quarterfinals. Lehi was upset in a 5A first-round nail-biter.
In girls basketball, the Falcons reached the 6A semifinals but then lost to runner-up Fremont. The top-ranked Pioneers were upset by Springville in the semifinals.
In the 6A tournament, Falcon grapplers Joshua Millward (132), Hadley Cowan (138) and Mahkyi Smith (145) all earned silver medals and the team had three other state placers. In 5A, Lehi had two wrestlers who finished fourth.
In 6A swimming, Skyridge sophomore Katelyn Andrist won a gold medal in the 200-yard freestyle.
In the drill competition, teams from both schools qualified for the state event but did not place.
Moving to the fall season, the Falcons won Region 4 crowns and their first state titles in boys cross country and girls tennis. Both golf teams finished fifth in their respective state competitions.
Skyridge runners Creed Thompson, Davin Thompson and Seth Wallgren finished 2-3-4 in the state race.
Falcon netters Lucy Droubay in second singles and Jaya Cluff in third singles won individual 6A gold medals, while Savannah Johnson in No. 1 singles and Payton Carroll and Kylee Sperry in No. 1 doubles earned silver.
Skyridge reached the 6A semifinals in football; the only losses all year were to the two teams who played for the title. Lehi bowed out in the 5A second round by a single touchdown.
In girls soccer, the Pioneers won the Region 7 championship but were upset in the second round of the 5A state tournament. The Falcons were eliminated by one goal in the 6A first round.
In volleyball, Lehi reached the 5A quarterfinals despite a midseason team quarantine. The Falcons exited the 6A tournament in the second round.