Lehi boys hoops beats Skyhawks on the road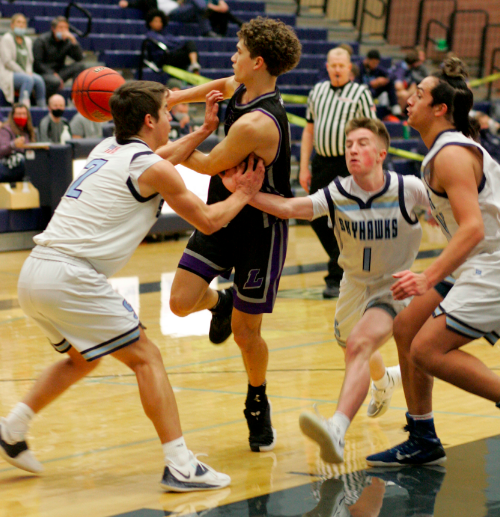 The Lehi boys basketball team visited Salem Hills on Dec. 30 and earned a 60-45 victory in their final tune-up before the start of region play.
The Pioneers won the tip and started by attacking the paint. Senior forward Peter Amakasu drove to the hoop for a layup to get things started. He grabbed a defensive board on the subsequent Skyhawk possession, but the opponent got the ball back on a tie-up.
Amakasu then blocked a Salem Hills attempt and came away with the ball, sending it to senior guard Tyson Hawkins upcourt, who fed it to freshman center Grayson Brousseau down low for a layup.
Back at the Skyhawk end, it was senior forward Blake Hill's turn to reject a shot and Amakasu later rebounded a miss. The turnover was punctuated by a reverse layup from Brousseau to give Lehi a 6-0 start just two minutes into the contest.
The host team didn't reach double digits on the board until there was just 2:14 left in the half and trailed 14-30 at the break.
Salem Hills showed some energy after returning from the locker room and cut the deficit in half during the third period, but the Pioneers withstood that run and the later fourth-quarter press to notch a comfortable win.
Amakasu finished a high-octane effort with 13 points, seven rebounds, three assists and three blocks. Senior guard Noa Gonsalves also scored 13 with five rebounds, six assists and three steals.
Brousseau was perfect from the field and 4-of-6 at the line for 11 points with three rebounds and a couple of steals. Hawkins dropped in 11 as well with five assists. Hill added nine points, five boards, three assists and three blocks for the visitors.
The team shot somewhat below their normal scoring efficiency, but the Pioneers registered an assist on every single field goal.
"I thought we made an excellent defensive effort in the first half," said Lehi Coach Quincy Lewis. "We were a little bit rusty offensively coming off the break, but I was pleased to be able to get a win on the road.
"It was fun to see Grayson have a nice game and Tyler Trane made an impact for us off the bench," the coach concluded.
The Pioneers finished their preseason slate with a 7-2 record. Region 7 play started Tuesday and continues through Feb. 19.