Skyridge wrestlers have success in multiple duals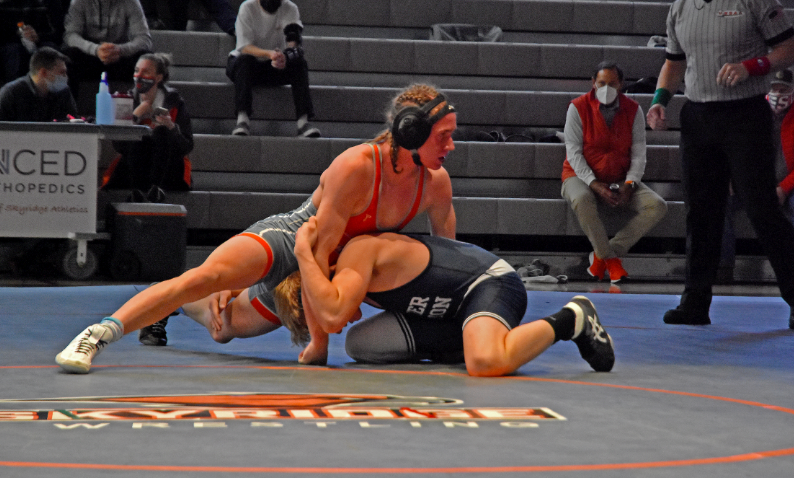 The Skyridge wrestling team posted a 3-1 record in dual competitions during a lively week.
Jan. 5 Skyridge 58, American Fork 24
Falcons Erol Yellowhair (106), Kyle Bohrer (138), Josh Millward (145), Mahkyi Smith (170), Matt Taylor (220) and Parker Elswood (285) all scored falls against the Cavemen, while Billy Ferguson (152) won by 12-2 major decision.
Jan 6 Skyridge 41, Altamont 37
Against the Longhorns, Bohrer and Millward won by pin and Tyler Rex (132) by technical fall 21-4. The other points came from forfeits.
Jan. 6 Riverton 42, Skyridge 32
Brayden Jacobson (120), Ferguson, Smith and Taylor scored falls against the Silverwolves, while Millward posted a major decision 11-2.
Jan. 7 Skyridge 41, Corner Canyon 30
Closing out the week against the Chargers, Millward, Ferguson, Taylor and Elijah Teriipain (285) tallied pins over the Region 4 opponent, while Lance Roberts (120) earned a 10-8 decision and Smith scored a technical fall 16-1 in the second period.
"We had a busy week," said Coach Lyle Mangum. "We went 3-1 this week but it should have been 4-0; we got a tough call against Riverton.
"The kids are coming together as a team and are wrestling well," he continued. "Beating Corner Canyon was good, and some very young kids stepped up."
Millward continues to be undefeated at 27-0 and appeared in the all-star matches on Jan. 12 with Smith. "It's a fun time to be a wrestler at Skyridge High School," Mangum said. "They have been working hard. "We are getting more football players out that are seeing how it would benefit them to play multiple sports. It has been proven that multi-sport athletes do better overall and this is starting to show here," he concluded.