Skyridge girls hoops drop two in preseason tilts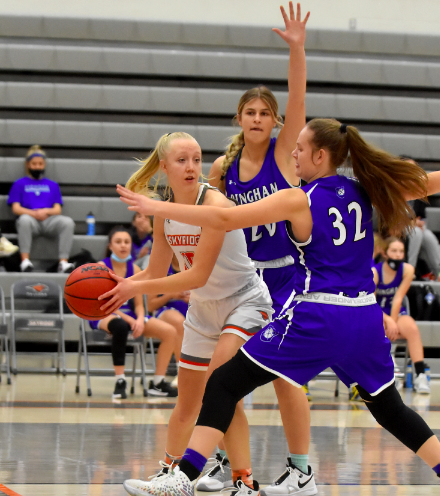 The Skyridge girls basketball team bowed to Bingham on Jan. 5 at home and then fell to Herriman on the road Jan. 8.
Bingham 58, Skyridge 40
The Falcons struggled to find the hoop throughout the contest against another tall roster. The Miners led 16-9 after the first quarter and 33-17 at the break and never allowed Skyridge back into the game.
Senior guard Ally Blackham led the effort with 16 points, five steals and three deflections. Senior guard Taylor Arnell also netted eight.
"Bingham is a tough team that defends well," said Falcon Coach Shaylee Nielsen. "They held us to a really low shooting percentage which caused us to play a lot of transition defense.
"We were never able to really set up in our usual defense so we didn't defend as well as we normally do," she added. As a result, it hampers the team's most effective offensive approach.
"Our game against Herriman was very similar," Nielsen continued. "We are having a hard time scoring the ball, which is not allowing us to set up in our usual defense. We need to be more efficient on offense and find a way to get easier looks to get our confidence up in our shooting."
Herriman 77, Skyridge 43
Skyridge fell behind the Mustangs too, trailing 5-16 after the initial period and 18-41 at the break, which proved to be too big of a hole to climb out of.
Freshman guard Cambree Blackham netted 13 along with six boards and five steals. Ally Blackham had 10 points, four rebounds and three deflections.
"Herriman is a very talented team," Nielsen said. "They have two Division I players and some great shooters. I've got to give them a lot of credit, they played well and didn't allow us to do what we are good at.
"We played a really tough preseason schedule and I think it will really pay off for us going into region play," the coach added. "We have learned a lot about ourselves and what we need to work on. Our girls are working hard and doing what they need to do to be ready for a tough region schedule."