Falcon grapplers win at All-Stars, fall at PG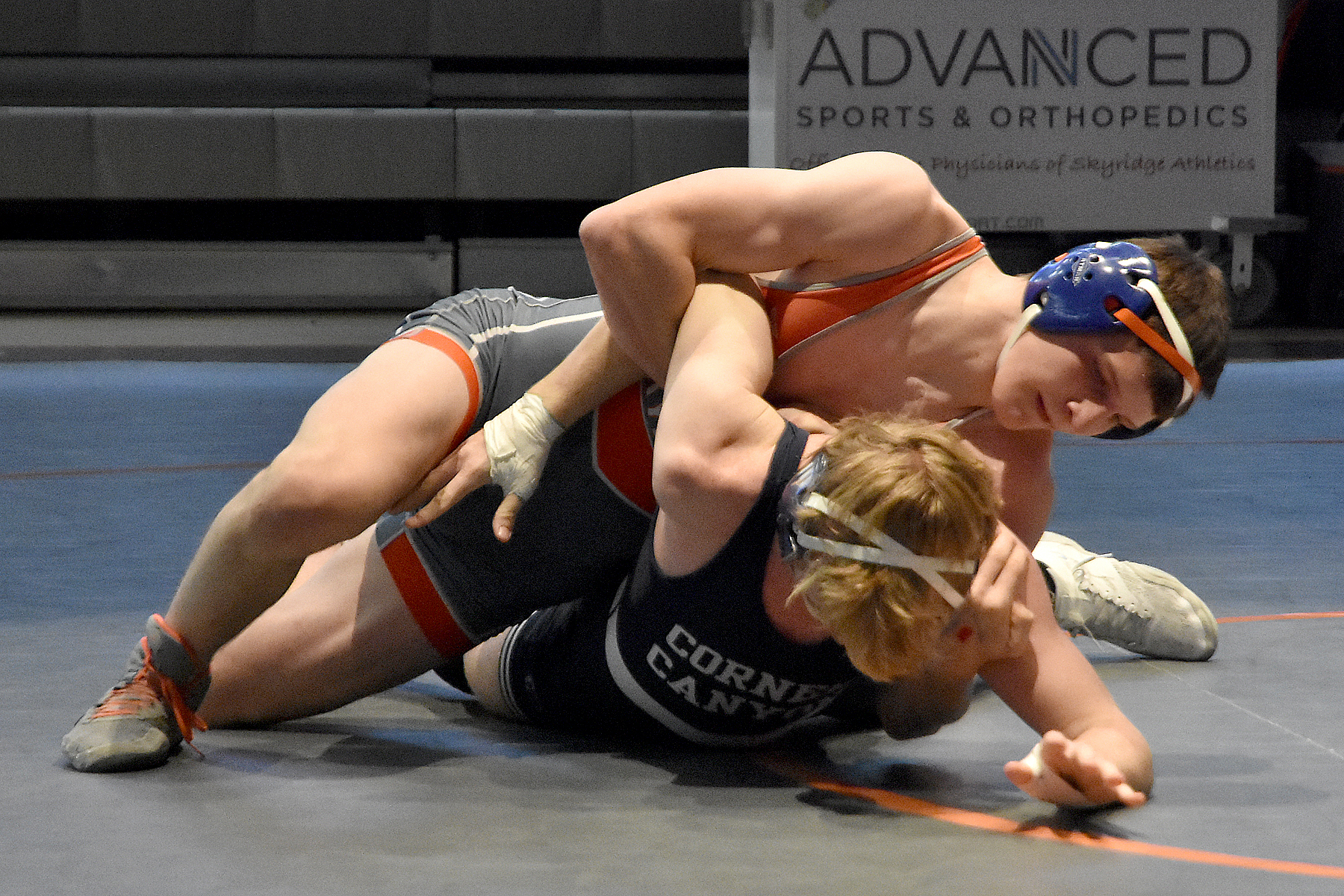 Beky Beaton | Lehi Free Press
The Skyridge wrestling team sent two representatives to the Ross Brunson Utah All-Star Duals wrestling tournament on Dec. 12 at Telos in Orem and both won convincing victories. The next night, the Falcons went to Pleasant Grove and bowed to the Region 4 leader 53-20.
At the All-Star event, senior Josh Millward faced off against Conway Christensen of Murray in the 145 weight class and sophomore Mahkyi Smith was matched with Brock Guthrie of Mountain Crest in the 170 weight class.
"Josh won his match against the second-ranked kid in the state 16-3," said Coach Lyle Mangum. "Josh is just wrestling at a very high level right now. He was very composed while on the mat.
"He is a two-time state runner-up, so he is driven to reach the top this season," the coach added. "Mahkyi had a great match against a very tough kid," Mangum continued. "He won 13-3 and was in control the whole match.
"He is gaining momentum and after taking second last season as a freshman he would like to step one spot higher," the coach said.
The two all-stars also won their bouts against the Vikings in close contests. Millward earned a 4-0 decision over Alex Emmer and Smith outdueled Kollin Slade by 4-2 decision at 160.
In other action, Erol Yellowhair defeated Parker Bowen by 7-6 decision in the 106 weight class, Cayaen Smith scored a fall (2:23) over Jake Closson at 170, and Parker Elswood pinned Cole Pilling (5:05) in the 220 weight class.
"Against Pleasant Grove, we wrestled with a lot of heart," Mangum said. "The kids are in shape and they battled the whole match. Pleasant Grove has a stacked lineup, so it is good to wrestle against such good competition.
"Josh Millward got the signature win against Alex Emmer and felt good about his match," the coach added. "We will wrestle Westlake at home on Thursday (Jan. 21) with second place in the region up for grabs that day."