Falcon boys basketball wins on road, falls at home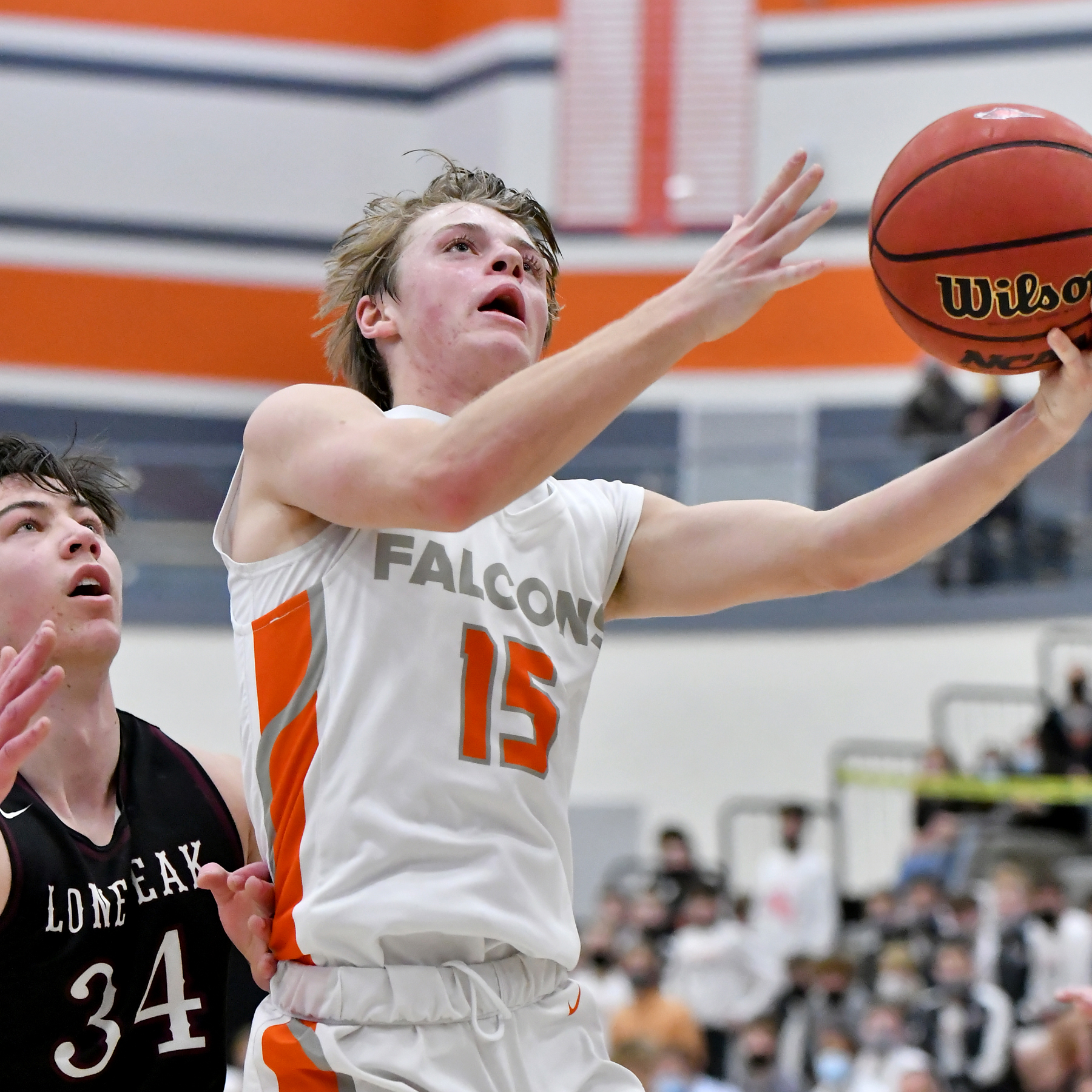 Beky Beaton | Lehi Free Press
The Skyridge boys basketball team continued with the ever-unpredictable league play last week, topping Pleasant Grove on the road Jan. 26 but then losing to Lone Peak 79-68 at home on Jan. 29.
After last week's contests, the Region 4 teams now own the top six spots on the 6A RPI list. Skyridge is No. 4 there and also in the statewide poll rankings.
Skyridge 75, Pleasant Grove 63
Both teams got off to a hot start in this one. The Vikings had a slim 21-20 advantage after the first quarter, and still led 37-33 at the break.
However, the Falcons broke the game open in the third quarter, mounting a 26-8 scoring spree which left them in control for the remainder of the contest. Of note, the visitors canned just two 3-pointers on the night.
Skyridge got good scoring from the starters, who spread the ball around effectively. Senior forward Dallin Yates led the effort with 22 points, followed by junior forward Colby Carter with 17, senior guard Parker Christensen with 15 and senior guard Duncan Reid with 14.
"It was a great win on Tuesday at Pleasant Grove," said Skyridge Coach Jeff Gardner. "We had a big third quarter that turned the corner for us.
"We had a balanced attack offensively and did a great job finding the open man," he continued. "It was our best defensive effort in region play. We did a great job getting to shooters and made it tough on them to score."
He added that his players were solid in the fourth quarter as well, executing and making free throws to seal the win.
Lone Peak 79, Skyridge 68
"Friday we had a tough loss to Lone Peak," Gardner said. "We started slow, falling behind 10 points in the first quarter. We didn't shoot the ball well and struggled to consistently get stops."
The game was no blowout. Although down 11-21 at the end of the initial period, the Falcons closed to 31-34 by halftime. The Knights stayed just ahead of them for the rest of the evening and took advantage of their opportunities to close out the win.
"We turned the ball over 14 times and lost the battle of the boards," the coach said. Those factors are difficult to overcome against any of Region 4's talent-laden teams.
Reid and junior guard Nick Holland each had three triples and Christensen made two after the long-distance drought earlier in the week. Reid finished with 21 points, Christensen had 18 and Holland 17, while Yates netted 10.