Skyridge girls earn huge hoops upset at LP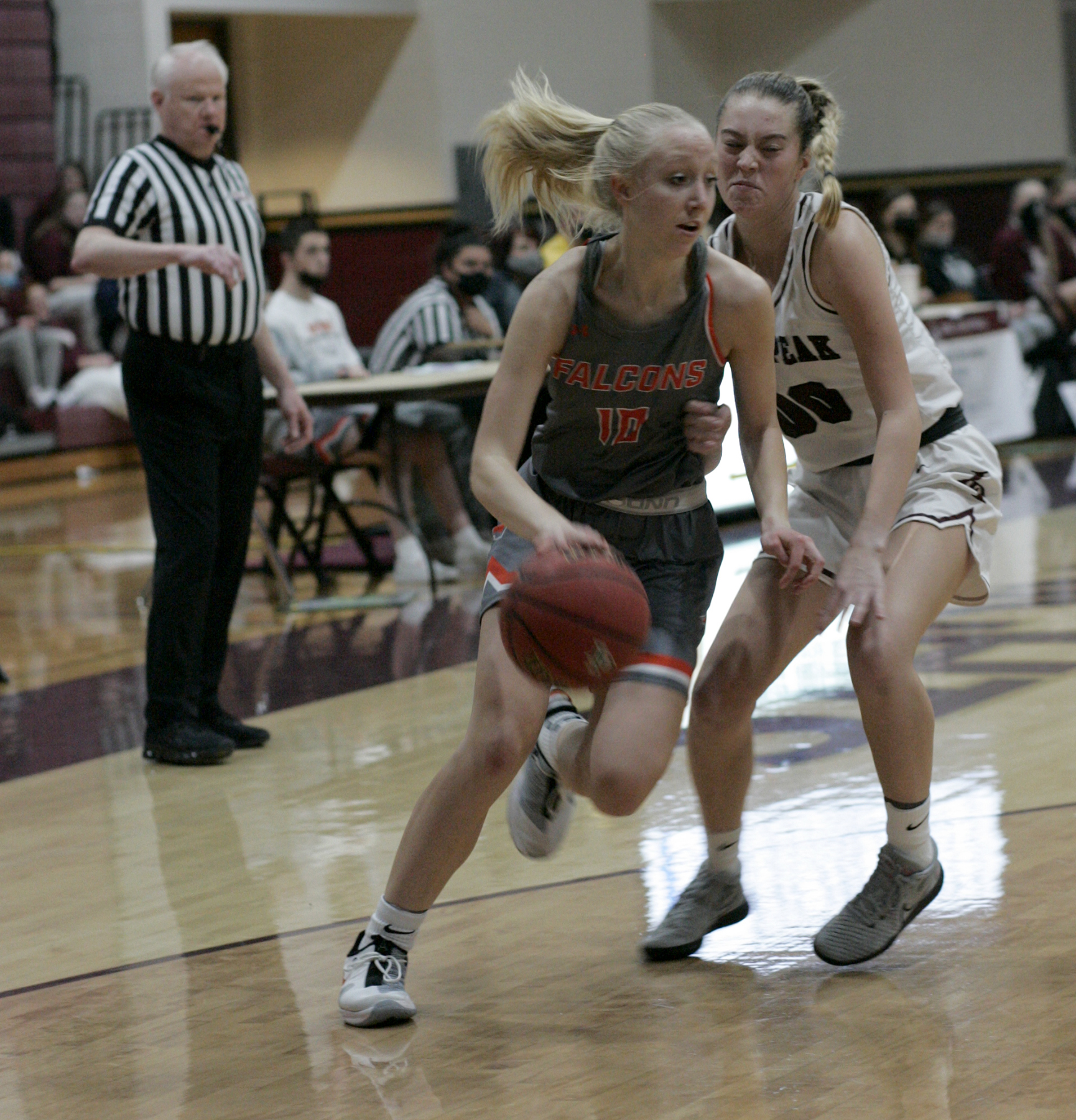 Beky Beaton | Lehi Free Press
The Falcon girls basketball team won both Region 4 contests last week, topping Pleasant Grove at home on Jan. 26 and then surprising No. 3 Lone Peak on the road Jan. 29 to vault themselves back into the top five in the state 6A rankings.
Skyridge 51, Pleasant Grove 42
Things didn't start out well against the Vikings. Skyridge was behind 10-16 after the first quarter and trailed 28-30 at the break and 35-38 at the end of three quarters.
Something clicked in the fourth, however. The Falcons outscored the visitors 16-4 down the stretch to make the victory look a lot easier than it was.
"Pleasant Grove was a really gritty win for our team," said Skyridge Coach Shaylee Nielsen. "We played far from perfect, but our hustle won the game for us.
"We caused turnovers and got some big offensive boards when we needed them down the stretch," she continued. "Our two smallest guards led us in offensive rebounding and really came up big for us. "Cambree Blackham hit a corner three to put us up by three late in the game and then she and Ally (Blackham) hit clutch free throws to secure the win.
"Pleasant Grove is a great team, and we had a hard time containing Eva (Ongoongotau, 21 points) in the first half, so we were really happy with the win," the coach said.
Freshman guard Cambree Blackham led the scoring with 19 points including three triples and was 6-for-8 (75%) at the line. She also had six rebounds and three assists.
Senior guard Jade Wallace added 13 points on 63 percent shooting, including three from long distance, and made three assists and four deflections. Senior guard Ally Blackham contributed nine points, eight boards, seven steals, two blocks and six deflections.
Skyridge 55, Lone Peak 45
The Falcons made a determined start against the Knights. Lone Peak opened scoring with a trey, but then Skyridge knocked down eight points in a row.
Senior guard Taylor Arnell scored off an inbounds play and then grabbed a defensive rebound which was converted by Cambree Blackham on the other end. Arnell scored after a steal, then made a theft herself and fed it to Ally Blackham, who gave her team an 8-3 advantage just 1:44 into the contest.
The Knights did recover from this run and led 17-16 by the end of the period. However, the Falcons nearly doubled them up in the second quarter and had a 27-23 margin at the break.
The defense was rugged after they returned from the locker room and both squads could only manage single-digit scoring in the third. Skyridge held on for a slim 3-point advantage entering the final stanza.
Lone Peak rallied and tied the score at 39-all with 5:10 remaining. Arnell sidestepped a defender and sank a triple to give the Falcons the lead again, and they withstood furious pressure from the home squad and made tough shots and free throws down the stretch to secure the win.
"That's the team we've been waiting for all year," Nielsen said. "We showed resilience. We didn't give up and showed what can happen when we believe in ourselves and our teammates. When things get tight you have to fall back on your preparedness, and we did that.
"Our leadership was phenomenal tonight," she continued. "This is a fun rivalry, and we have great respect for their coaches and players. This is a big one for our league record and our confidence going forward. We didn't want to peak a month ago and we're still improving."
Arnell finished with 12 points and had an active floor game as well. "She stepped up big for us," the coach said. Cambree Blackham scored 13 and Ally Blackham added 10 points for the visitors.