Lehi drill team finishes season with a flourish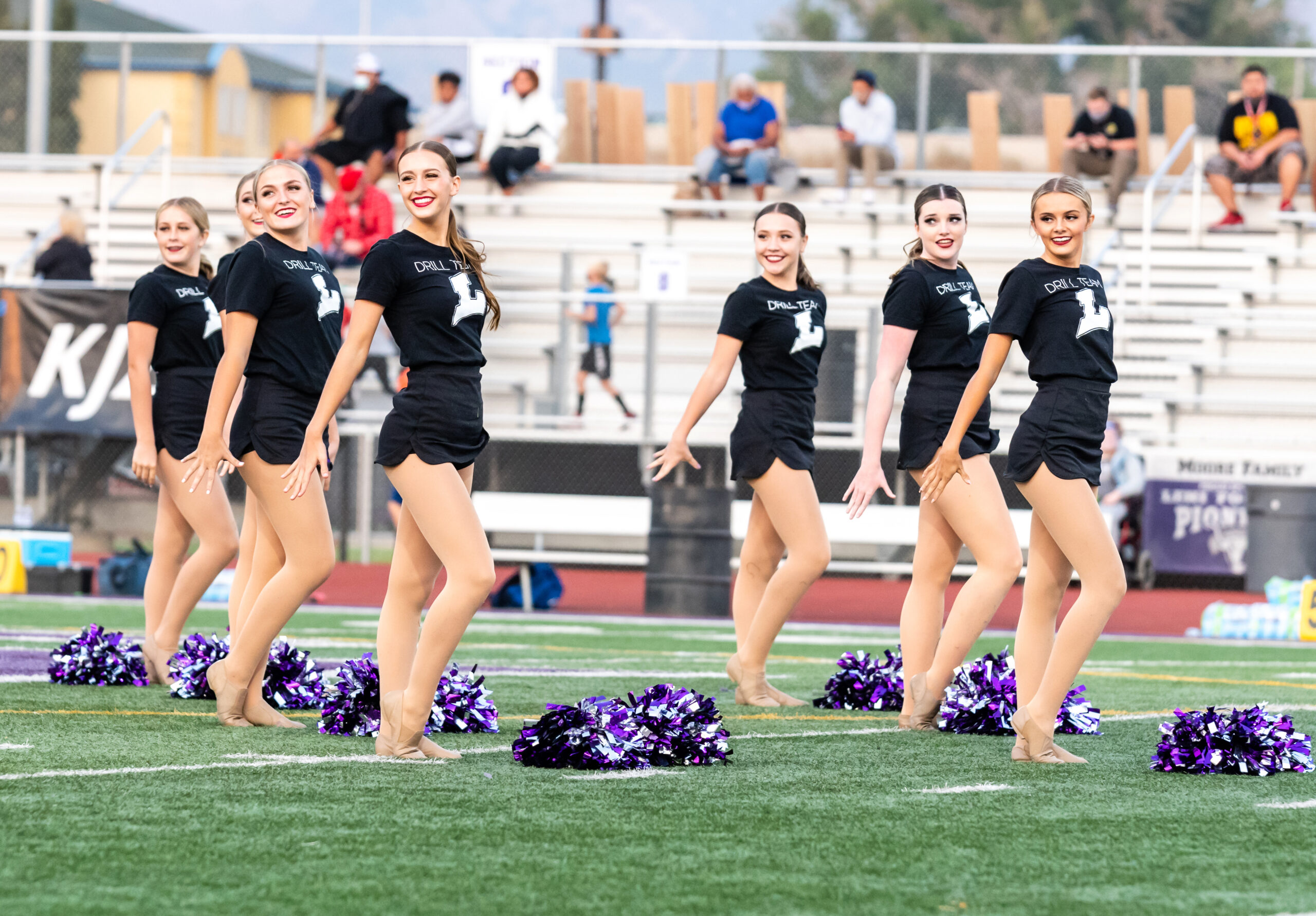 Jennifer Thomas | Lehi Free Press
Setting its focus on a repeat performance of winning the region title, the Lehi High School drill team did not disappoint as they were crowned Region 7 co-champions in the 5A classification on Jan. 30.
After a tough competition filled with difficulties and a penalty, the talented Pionettes shared the 2021 title with the Mountain Ridge High School drill team.
Earning the region championship for the second year in a row is exactly the boost the Pionettes needed as they prepared for the state semifinal competition held on Feb. 3 at Utah Valley University in Orem.
After three strong performances in the military, dance and show categories, the Pionettes made it to the state finals along with only seven other talented teams.
"After the competition is over at semis, waiting to hear the results is incredibly stressful," said Caitlin Thomas, assistant drill team coach. "I know how hard this team works and how much they deserve to compete in the finals, but I always worry the judges won't.
"So, when this team finally heard their name announced as one of only eight teams in the entire state to compete in the 5A finals, it was a combination of happiness, joy, excitement and relief," she said.
"These girls are really talented and hardworking and it's those moments – the ones where they are cheering and screaming and hugging each other – that make coaching all the hours, tears and effort worth it," added Thomas.
The Pionettes have demonstrated mental toughness which has allowed them to overcome doubts, worries, injuries and circumstances that can prevent success in a unique and challenging year for high school athletics. Among other things, COVID protocols have made practices as a whole team difficult.
Head Coach Kati Marsing said, "This drill season brought with it many challenges that gave us every opportunity to make excuses. But this team did not let anything stand in their way of winning. One of the many strengths these girls have shown is the ability to adapt.
"We adjusted and modified all year long as uncontrollable situations came our way. Just when they'd have confidence in a routine, another curveball was thrown at them which required the team to re-learn and adapt again," she continued.
"Another strength I admire from this team is their level of determination. They knew what their goals were and they never stopped until they achieved them," she said.
The Lehi drill team performed in the military category at state finals with high energy and great precision. Their movements were sharp, clean and in sync.
They displayed their grace and technique in the dance category and their costumes sparkled and lit up the dance floor. They performed complicated choreography with energy, including a difficult team turning section.
The Pionettes strongest state performance was in the show category as they danced on top of white boards and desks during their back-to-school routine. Their high energy and seemingly flawless transitions made this routine a crowd favorite.
The Pionettes achieved every goal for this season and more as they heard their name announced once again at the state finals as fourth-place winners in the show category.
"In the world of drill team, making it to the finals is a win. Hearing your name announced as winners in a category is not only incredible, it's a bonus," Thomas said.
"There is so much talent and it's incredibly competitive. This team has worked hard to turn this program around and to be successful. They are now seeing the results of their hard work and I could not be more proud," she added.
Bridgette Casey, drill team vice president, said, "This year when state came our routines were ready and our team was closer than ever and when we went out on the floor we didn't care about the placements because we danced for each other."
Marsing said, "State is always an amazing experience. There are so many solid teams in the 5A classification that it truly was an honor to move on to State Finals. These athletes put in the time and the effort to perfect their routines and it paid off.
"Bringing home a fourth place in our show routine is an incredible accomplishment in such a highly competitive sport," she went on. "The girls deserve this win and I could not be more proud of what they left on the floor at state."
Additional coaches are Chelsea Kogianes, Sam Taylor and Morgan Baxter. They are led by team president Gentrie Andersen.
Casey said, "Drill team is an incredible experience at Lehi High School. My favorite part of drill is the friendships that we make that last a lifetime as well as always having someone there for you because this team is a family."