John Wallwork selected as new principal of Skyridge High School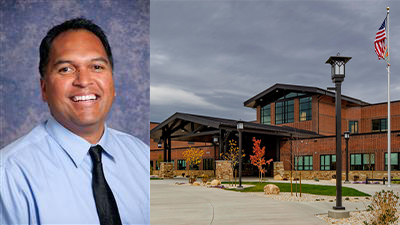 The Alpine School District has selected John Wallwork as the new principal at Skyridge High School. At the end of this school year, Principal Dr. Joel Perkins will assume responsibilities in administration at the District.
Wallwork has spent 20 years in education as a teacher, assistant principal, and the last eight years as principal of Chiawana High School in Pasco, Washington.
Wallwork was born in Auckland, New Zealand. His parents are of Samoan descent. His parents divorced, and he lived with his grandparents in Samoa before moving with his mother to Hawaii. After several years in Hawaii, he moved with his mother to Shelton, Washington, where he attended elementary, junior high and high school.
Wallwork has always been athletically inclined and was a three-sport athlete playing football, basketball, and baseball in high school. After graduating from Shelton High School, he attended Ricks College (now BYU-I) for one year before serving a mission for the Church of Jesus Christ of Latter-day Saints in Paraguay. Wallwork graduated from college with a teaching degree in history and social studies with a minor in Spanish. He returned to Pasco, where he lived and worked in education.
With two family members living in the Provo area, he decided to bring his considerable educational experience and find work in Utah. "I was excited to interview for a position in Alpine School District," Wallwork said. "I found my philosophy of education greatly aligned with those of Alpine. I love collaboration and communication with parents and those in the educational community. I had heard of the success of this district and truly wanted to be part of it. I have been very impressed with those I have talked to in the district office."
Wallwork is married to his wife Cajia, and they are parents of six children, 24-year-old Wyatt, 20-year-old, Tealani, 19-year-old Israel, 16-year-old Nyah, 10-year-old Kekoa, and 7-year-old Ziva. The Wallworks adopted two children at birth, one from Baltimore, Maryland, and the other from Lancaster, California. When asked why he applied for the position at Skyridge, he replied, "I wanted to be closer to our older children and other family members."
Those who have worked with Wallwork are lavish in praise of his abilities. "He is an experienced and innovative educational leader focused on engaging with students, educators and community to meet learning objectives and drive student progress and achievement," Dr. Jenny Rodriguez, Director of Teaching and Learning in Pasco School District, wrote. "John works collaboratively with staff to meet the needs of students, families, and faculty. John is particularly effective working with families, always treating parents as partners in supporting student's needs."
"We are looking for a home in this area. I am a huge believer in living in the community where I work. I am excited to be in this unique place," Wallwork concluded.