Pioneer girls win battle to earn ticket to semis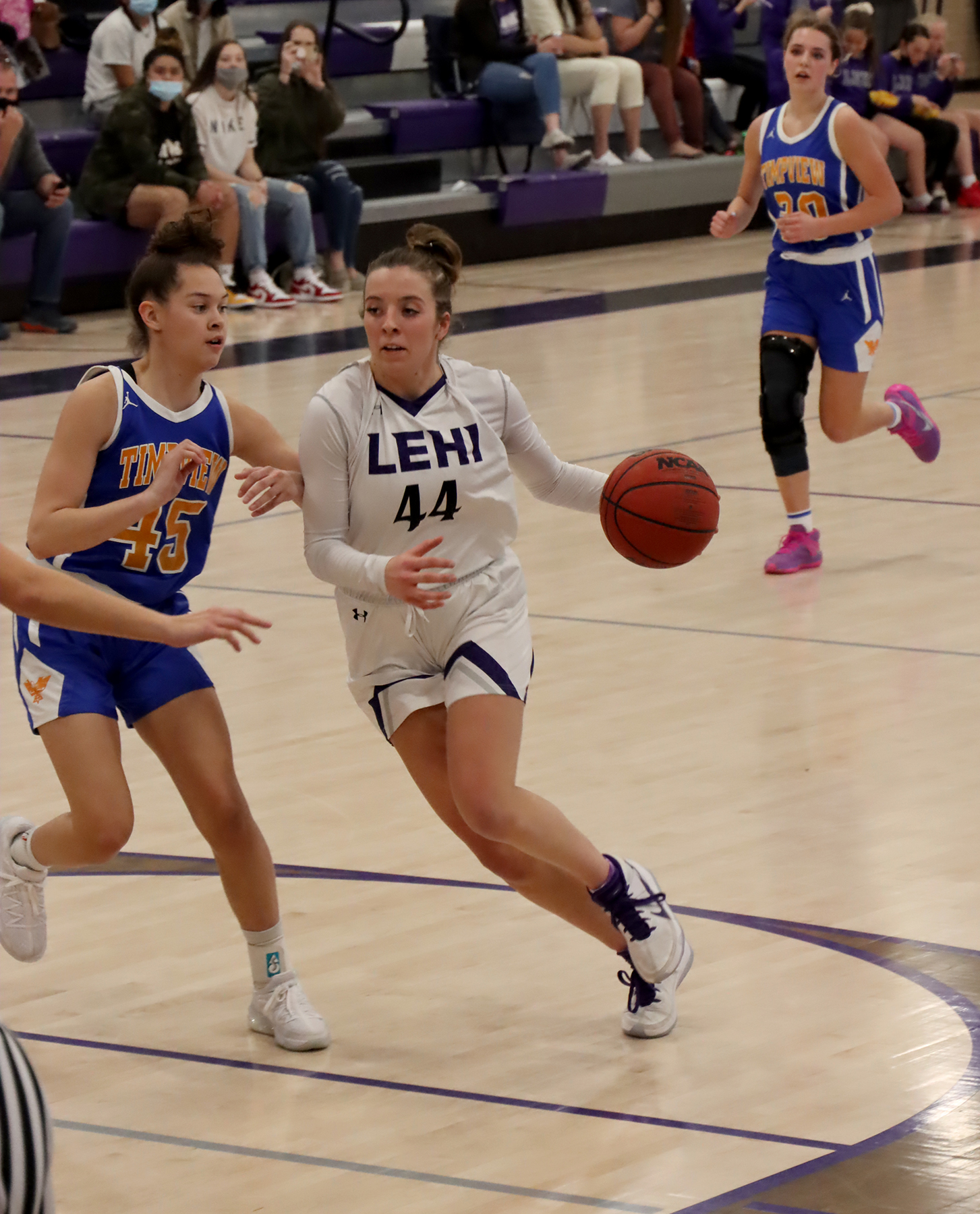 The No. 2 Lehi girls basketball team engaged in a bell-to-bell battle with Region 7 rival and No. 7 Timpview in the quarterfinals on March 3, but the Pioneers made just enough plays down the stretch to come out with a 46-43 victory to move on to the state semifinals.
Pioneer Coach Sean Seastrand had anticipated a tough game for his troops since the teams were so familiar with each other, and that's exactly what he got even though Lehi had won comfortably in the previous meeting on Feb. 9.
Junior wing Jamisyn Heaton got off to a hot start against the Thunderbirds on both ends of the floor and helped lead her team to a 16-12 advantage at the end of the first quarter.
Timpview battled back to a 25-all tie heading into the break. Rugged defense from both teams led to limited scoring in the third period, and the squads were knotted at 33 heading into the final stanza.
Lehi started the fourth with a steal that led to a layup by junior wing Brinly Whiting off a give from senior guard Maddie Warren.
The Thunderbirds answered with a trey that gave them a brief advantage, but the Pioneers got it back quickly with a triple from senior guard Macie Warren, and Maddie Warren sank another from long distance after a Whiting pass to push Lehi ahead by five.
Timpview matched that score to reduce the gap again. Macie Warren took a defensive board coast-to-coast for a driving layup to make it 43-39 with 1:29 to play. Maddie Warren then made 3-of-4 free throws down the stretch to secure the win for the Pioneers.
Maddie Warren finished with 19 points including three triples. Macie Warren added 16 points with five rebounds. Heaton chipped in seven points with six boards and three steals. Whiting grabbed four rebounds and junior wing Maci Wall had three.
"What an intense game this was," said Lehi Coach Sean Seastrand. "We knew it would be hard to beat Timpview a third time, especially with one of their best players coming back.
"It proved to be a great matchup as both teams pretty much played even," he said. "We were fortunate to have some great plays down the stretch that made the difference for us to pull out a win."