Pionettes earn accolades in virtual competition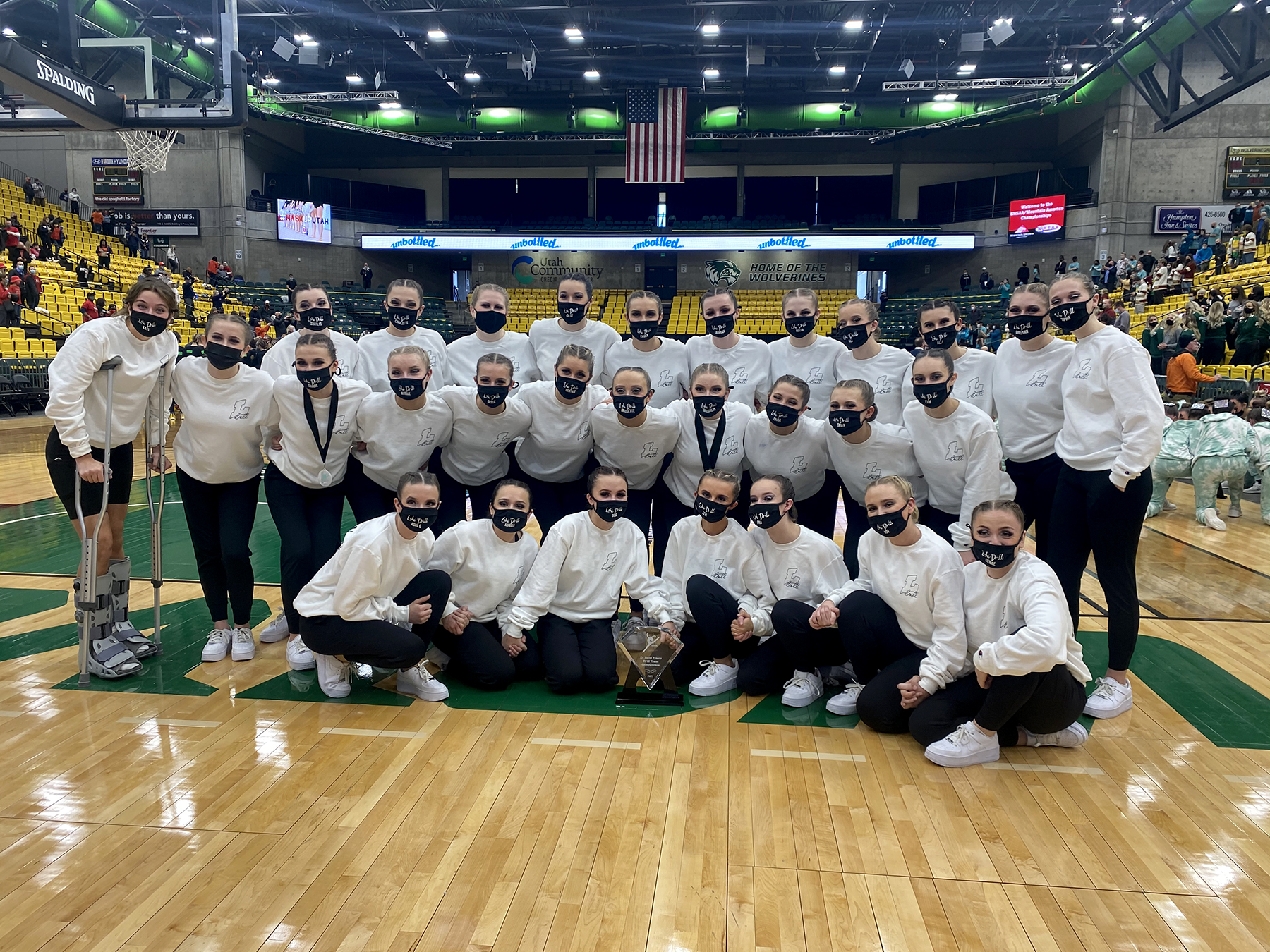 There was no trip to Florida or a big stage with bright lights and a large crowd to applaud, but for the talented Pionettes, there were stomachs churning as they anxiously waited for the results of the Contest of Champions.
The Lehi High School drill team was prepared after a year of sore feet, aching muscles, hours of practice, tears and dedication for this very moment. The many hours of dancing together paid off as the Pionettes earned multiple awards competing against other teams from around the country.
Kati Marsing, drill team head coach, said, "This year had had its challenges, but this team has pulled through all the difficulty. I am grateful that they came together after an irregular practice schedule because they have exceeded expectations with their achievements.
"I am very proud of them and so happy to now hold two national championship titles," she added.
"I'm so proud of this determined team. The hard work they have put in this year finally paid off with a national championship," said Sam Taylor, assistant drill team coach.
This 2021 national-level school dance and drill competition looked different this year. The competition was a virtual event allowing for teams to safely compete while following safety guidelines that schools have in place.
The event's website says, "The Contest of Champions is an open and independent dance and drill competition that requires no qualifier or bid to participate." In other words, any team around the country that pays the fee can enter, regardless of their results in other competitions.
The Lehi drill team submitted the required unedited videos in their chosen categories of military, jazz and novelty/character.
"Nationals is always so rewarding. I was grateful for the opportunity to compete one more time after state finals," said Brooklyn Ward, Lehi drill team dance captain.
"Nationals was different this year, but it was so exciting and fun to gather as a team to watch the awards ceremony and especially thrilling this year to hear 'Lehi' called for so many incredible awards. I could not be more proud of this team," said Ward.
The Pionettes placed first in the Jazz medium category, first in the novelty/character large category and second in the military large category.
The drill team also received the "Best in Category" award for their jazz and their novelty/character routines. This award means that they received the highest score out of all the competing teams. They also won the "America's Choice" award in choreography for their novelty/character routine.
This routine is a high energy and fun dance with a back-to-school theme in which they dance with backpacks on chalkboards and desks. The routine was choreographed by Shannon Mortenson, former Copper Hills High School drill coach. The award is selected by the judges and voted on by peers.
It was an exciting award for the team which has worked so hard to perfect the very technical and animated choreography. This routine is what earned the Pionettes a fourth-place trophy at state.
"The key to this successful season has been teamwork," said Caitlin Thomas, assistant drill team coach. "These girls have … ended with an incredible season of unity, friendship and now a national championship. It has been an unforgettable year."
"This team has so much drive," added Ward. "What has made this team successful this year despite all of the challenges we have faced is our willingness to work hard, commitment to the team and each other and persevering through all illnesses, injuries, and challenges.
"We pushed ourselves in and outside of practice and this is a great reward for all our efforts," she said.
Tryouts for the 2021-2022 Lehi High School drill team will be held March 29- April 1. More information can be found on Instagram @lehidrillteam.
"The best part about drill team is the opportunity to be a part of a great program during high school and grow not only as a dancer but as a person," said Ward. "I'm grateful for all the friendships I've made with my teammates and with the coaches and for all the support I've received from them over the years."