Pioneer softball tops two to start region play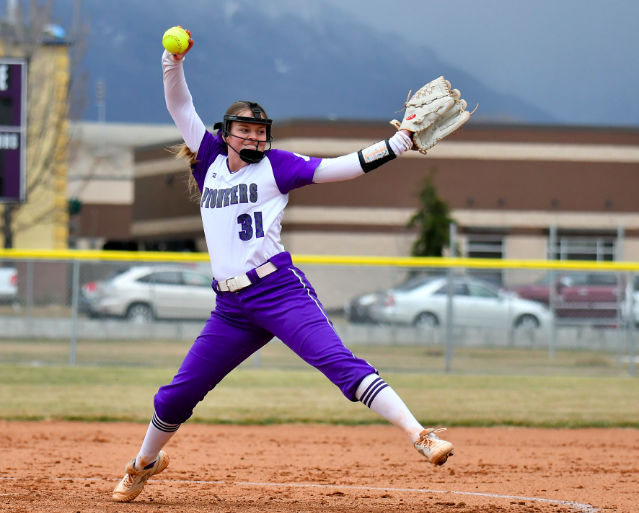 The Lehi softball team got the ball rolling in Region 7 play last week, beating Orem on March 16 at home and then triumphing at Timpview on March 18. The next day, they dropped a non-region game at North Sanpete.
Lehi 10, Orem 1
The Pioneers got the league season off to a strong start by overwhelming the Tigers. Junior Grace Humes threw a two-hitter, striking out seven with just three walks.
Lehi plated one run in the bottom of the first but secured the lead for good by pushing six more across in the bottom of the third. Orem got their only score in the top of the fourth. The home school made no errors in the contest.
Senior shortstop Avery Takahashi was 2-for-3 with a triple, two runs scored and three RBI. Junior infielder Jamisyn Heaton added a solo home run.
Lehi 10, Timpview 5
The Pioneers got the early advantage with one run in the first and two in the second, but the Thunderbirds countered with four runs in the bottom of the third. Lehi tied the score in the top of the fifth, only to fall behind again by one run in the bottom half.
However, the Pioneers exploded for six runs in the top of the sixth but gave up nothing after that to secure the win over host Timpview.
Freshman Emerson Fuller got the start on the mound against the Thunderbirds and only gave up three singles in two innings. Humes relieved her and fanned 10 while giving up six hits but no walks during the rest of the game.
Junior catcher Kenadee Beck smacked one double and two home runs in four plate appearances, scoring twice and providing three RBI.
Heaton had a pair of doubles, driving home two runs and scoring twice herself. Takahashi had three hits and two runs scored. Freshman outfielder Madison Salisbury hit two singles with two RBI and a run scored.
North Sanpete 12, Lehi 10
The Pioneers had built a 10-0 advantage going into the bottom of the sixth against the Hawks but gave up four runs in the bottom half and then eight more in the bottom of the seventh to absorb the loss.
Heaton was 2-for-4 with a home run, three RBI and a run scored. Senior center fielder Ellie Cram was 3-for-4 with a pair of doubles and scored twice. Beck hit a double and a home run.
"We got off to a good start in region play," said Lehi Coach Tim Kennedy. "We still have some things to work on this early in the season and are looking forward to our second week of region play."