Nolan Johnson, Lehi's renaissance man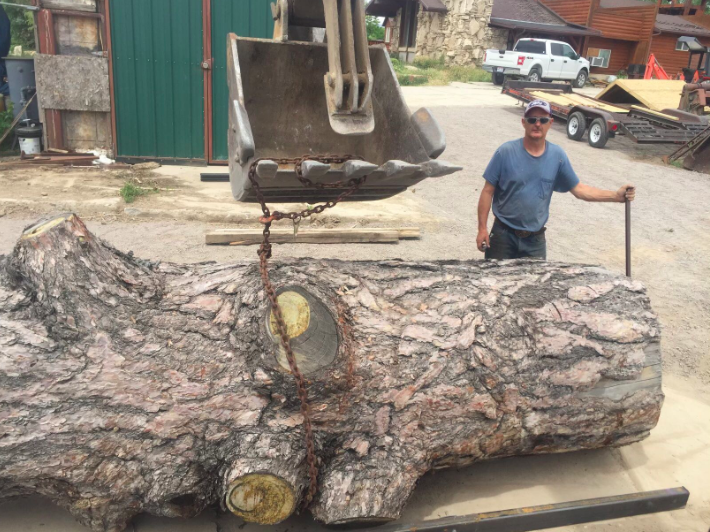 Every time Nolan Johnson passed the 100- foot, giant ponderosa pine log lying in a vacant field on State Street, his creative juices started to flow. He knew he could make the log into something wonderful, and indeed he has.
Johnson said his creativity probably came from his Danish grandfather, who immigrated here and settled in Elsinore, Utah. He was a stonemason and would quarry stone from the surrounding mountains, eventually building a stone home for his family. Johnson remembered watching his grandfather create chisels out of molten metal and use them in shaping stone.
"Even his chisels were masterpieces," Johnson said. His dad continued in the tradition of his father and was noted for creating clocks, furniture, fireplace mantels, and other handmade items. Many historical buildings in southern Utah have Johnson creations within. "There must have been more hours in a day back then," Johnson quipped, "My father and grandfather worked more hours than there are in a day." His uncles helped make the stone bridge at Zions National Park and helped with This is the Place Monument. Johnson has made a replica of the Zion bridge in his yard.
Johnson grew up in the Millcreek area of Salt Lake City and was fascinated by the sawmill just off Highland Drive. Much later in his life, Johnson rebuilt the handrail and the mechanism controlling the creek water pouring over the spillway at the mill. "I also made the gong that is still in use today."
"I have gotten quite nostalgic lately and find myself yearning for the days when quality craftsmanship was valued. People these days don't appreciate fine workmanship and the labor and talent that goes into creating works of art and even utilitarian objects."
Johnson recounted the days when he contracted with the production company filming one of Mary Tyler Moore's movies in the Salt Lake Area. He was asked if he could build some lanterns to use in a mine shaft scene. He made several and was told that some of the crew had taken them for their own and could he make some more. The second batch of lanterns were kept under lock and key. "I make stuff that rarely gets recognized but is very important. I love to make unique objects that can't be bought at Walmart," he said. "I do a lot of labor of love projects."
Johnson has built props for IMAX movies, Tuachan productions, and other entertainment venues in the Salt Lake City area. He has made commissioned pieces for nearly every university in Utah, University of Utah, Weber State University, Southern Utah University, the Uintah Tech School, Salt Lake Community College, and the Utah School for the Deaf and Blind.
Johnson's latest creation is a buckboard made from the giant ponderosa log he noticed in the field on State Street. "It started as grow boxes, and then I envisioned wheels on the grow boxes and ended up creating a buckboard. I love giving rides to my grandchildren and neighbors. I have a short attention span," said Johnson. "I really never know exactly what a project will look like until I am done."
Johnson works with almost any medium. He uses metal and is a master welder and builds with wood, stone, chalk, paint, etc. "Change is as good as a rest," he claims. "I like to try my hand at many things."
Johnson's wife, Candy, passed away in 2016. He is trying his hand at being both a grandmother and grandfather. "I love my family and try to involve them in my projects. The buckboard has been so much fun. I think I will build one for hauling cargo. Who knows what it will be when finished? I just like making people happy with my work."