Little Shop of Horrors delivers emotional punch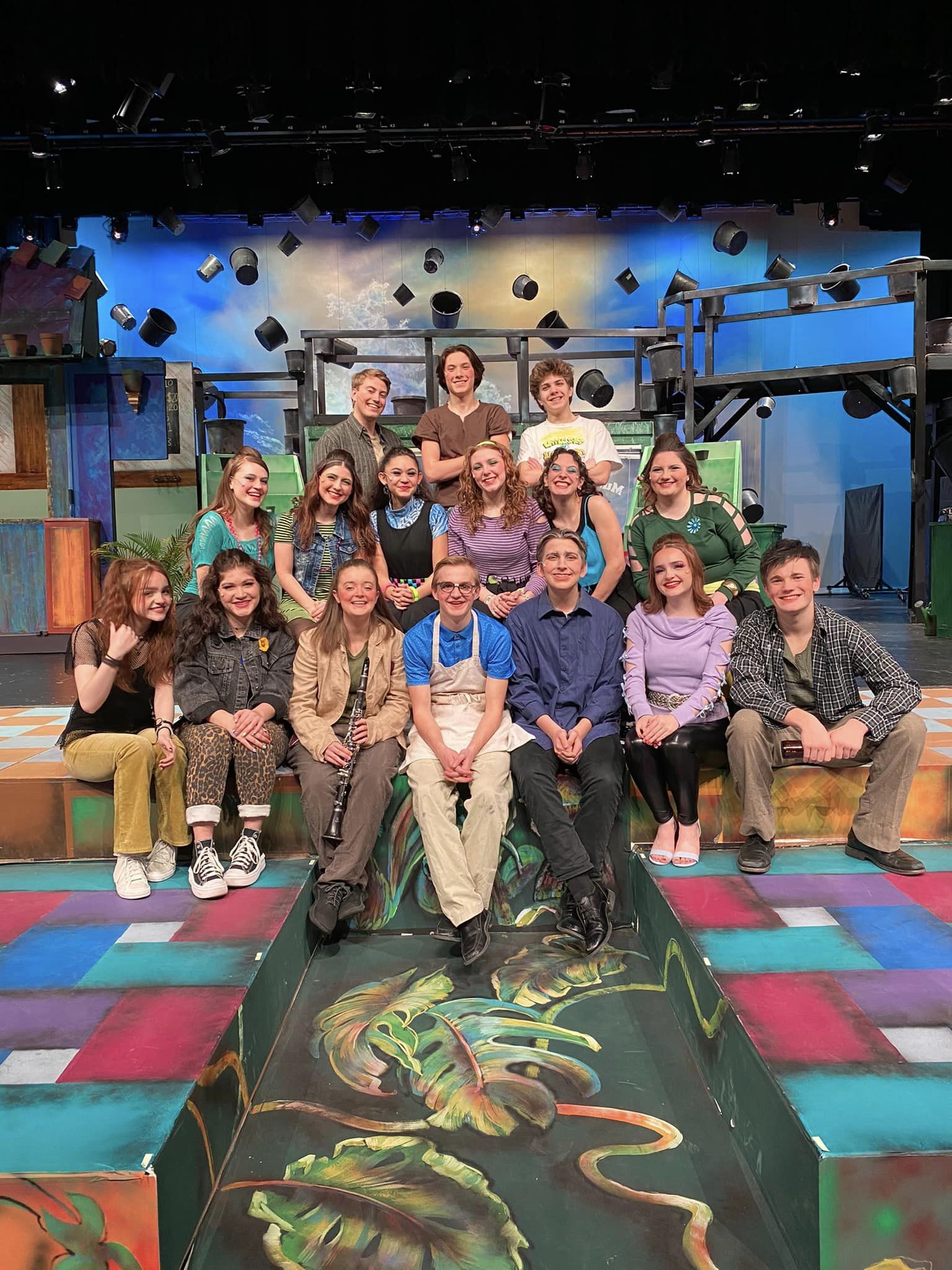 Jillian Rose | Lehi Free Press 
A small but mighty cast delivered an outstanding performance of Lehi High School's production of Little Shop of Horrors. In fact, the size of the cast might be the secret sauce that makes this iteration so endearing to audience members. The cast's comradery is almost palpable—felt in each scene, each song, and each interaction. "It is so different being on stage when you're close to every single person. It brings out the show more," said Belle Mowrey, who played Crystal.
This theme carries through to the two leads of the story. Seymour and Audrey, played by Andrew Olsen and Elie Archer (respectively), offer a performance filled with chemistry and artful comedic timing.
The cast's research and devotion to their characters shinethrough in their performance. "[Seymore] is so different from who I am," said Olsen. "He's more logical, more introverted. That has been both challenging and rewarding."
Isabelle De Oliveira, who plays Ronnette, described her experience preparing for her role. "As the urchins, we all try to get more knowledge of skid row and what life is like there."
When reflecting on her character arc, Archer said, "Audrey has a hard time. The song Suddenly Seymore is a big discovery for her. It's a big pivot in the story. She finally realizes she has worth."
Filled with silliness and charisma, each musical number brings something to the show. The Urchins, with eye-catching costumes, drive the intent of every scene with their powerful pipes, guiding the story along. Talmage Howlett, who plays the twisted Orin Scrivello, gives a larger-than-life and delightfully vicious performance. "We listen to Talmage laugh his head off and go crazy. It's just a fun experience getting to watch it," said Michael Thurgood, who plays Burnstein.
Equally as impressive as the musical numbers is the set design by the talented Randy Blackburn. A firework display of pots and plants Illuminates the sky, as inspired murals and draping plants frame the stage. Cinema footage rolls on a loop with scenes of snapdragons and other curious plant life. Whether it's a meticulously vibrant plant scene or a dingy dentist's office, the set takes the audience into the moment.
If there's one message to glean from the show, it's that actions have consequences. While a little dark and morbid, this show has such an amazing moral about not getting lost in your quest for fame and fortune. Understanding what's really important to you and how your actions affect others," said Director Mindy Nelsen.
Ella Henderson, who plays Chiffon, added, "The show is really fun and silly. It uses that "funness" to talk about really important subjects."
The jokes land, the set inspires, the music satisfies, and the message is clear: Pursuing the wrong things in life can misdirect your focus. Be true to yourself and kind to the people around you. If all else fails, don't feed the plants.
The last showing is on Tuesday, February 7.