Skyridge presents Matilda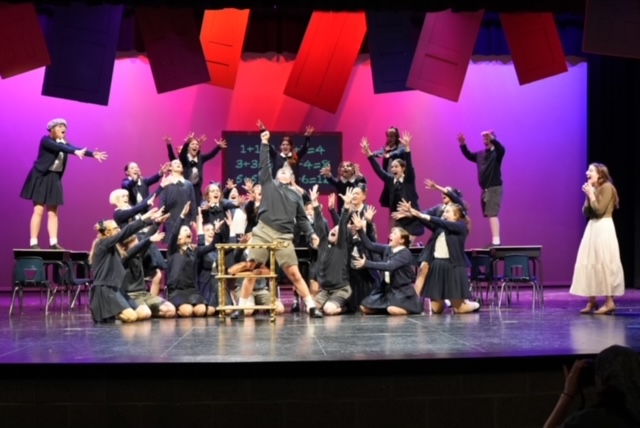 Jillian Rose | Lehi Free Press
What do you get when you mix a great cast with colorful costumes and a slew of catchy songs? You get Skyridge'sproduction of Matilda. Theater Director John Brown has been there since the school's beginning and explains the vetting process for choosing the musical.
"The selection process is always primarily what's best for the kids," he shared. "The experience they are going to have. What's going to be good for them? We always ask ourselves if we have the voices and actors to pull it off."
And this year, they certainly do. Musical goers will see an abundant cast of 60-plus performers. "We have a lot of fun endearing characters," said Brown. "The audience can expect some unique songs and outstanding costumes."
Starting at the beginning of the year, substantial preparation from the cast and their supporters has contributed to the show's creation. With Skyridge's talented musical dance theater class, Brown didn't have to look far to find a group of kids that worked well together and were bound to have a good experience.
Beyond the sensory experiences, the show also offers a time to reflect, "We feel that it is a little bit of a child's perception of being an adult and an adult's memory of being a child," said Brown.
As far as an underlying message, Brown hopes that audience members can find their own truth from watching the musical. "Good art asks questions. What was it like to be a child? What are the roles of teachers and educators in a child's life?"
With plenty of support from parents and the administration, the show's cast is excited for opening night. Tickets can be purchased through skyridgetheatre.com or on Skyridge High's webpage. Matilda opens Thursday, February 23, 2023, and will continue for six shows until Tuesday, February 28, 2023.