Lehi's future is bright for boys volleyball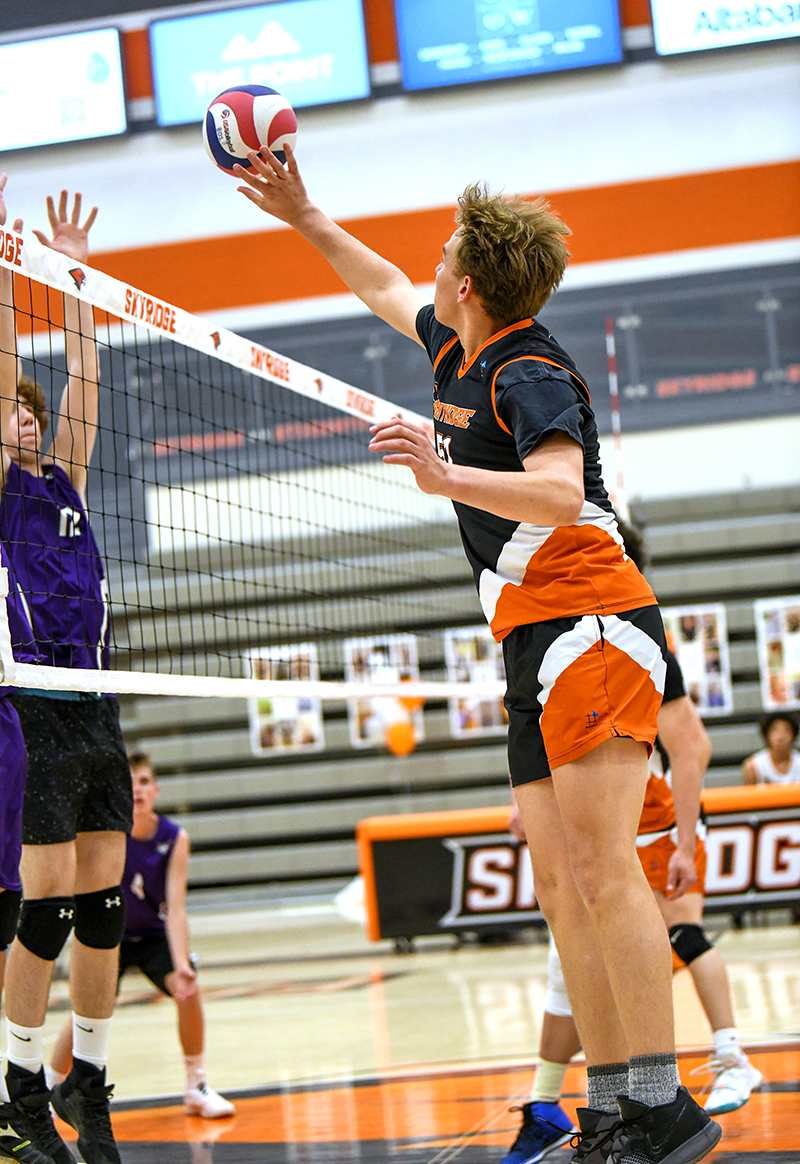 The Utah High School Activities Association will be adding boys volleyball as a sanctioned sport in the 2023-24 school year. This is exciting for the local club teams as they are full of anxious athletes who want to play for their schools.
Lehi-area athletes will be ready as the club teams from Skyridge and Lehi have both been trained and coached well for the past several years.
On Friday (April 28), club teams from Skyridge and Lehi High School rivaled for points in an energetic match at Skyrdige High School. After some dramatic spikes, assists, and digs, Lehi High School fell in four sets to Skyridge 3-1.
Lehi endured well without all of their players and showed skill and strength with a back row attack. The players challenged during all four sets with energy and successful digs.
The strength of the Skyridge team was their back set technique and their aggressive spikes. The Skyridge players had a great volley rhythm and moved quickly to the net.
"A lot of our players were not here tonight but they played well regardless," said Lehi head coach Seth Frazier. "This was a growing season for our team. We have a lot of sophomores on the team who are really skilled.
"Most of the players should return next year as the majority of them are sophomores and juniors," he said. "We only had one senior on the team so next year will be a really big year."
Skyridge coach Chelsea Franz said, "There are a lot of great athletes on the team this year. They have picked up all the technique and on-the-court culture so quickly.
"They have learned how to move with each other and have really grown together as a team this season," the coach continued. "These players are a big family, and they hype each other and encourage each other in a great way."
Frazier added, "Volleyball will change a lot next year as it will be a sanctioned sport and a lot of boys will come out to playfrom across the state. I played in California, and it was a big sport there. Next year I feel like it will be a competitive sport in Utah with so many opportunities to play.
"We are prepping for next year and we have so many good players that are younger and will return," he said. "I am so excited for the future of this team.
"It was so fun for our large group of seniors this year to have this rivalry match that ushers in volleyball as a sanctioned sport," he said. "The seniors have set the bar for the younger players and have showed them the expectation."
Franz said, "I'm happy for boys volleyball to be a sanctionedhigh school sport. This team has so much potential from the younger players to the junior-aged players. It will be such a nice development with so many talented athletes."
Lehi moves to 6A Region 4 next year so these programs will be in the same region along with all other sanctioned sports.