Lehi Pioneers roll in second half to beat Herriman Mustangs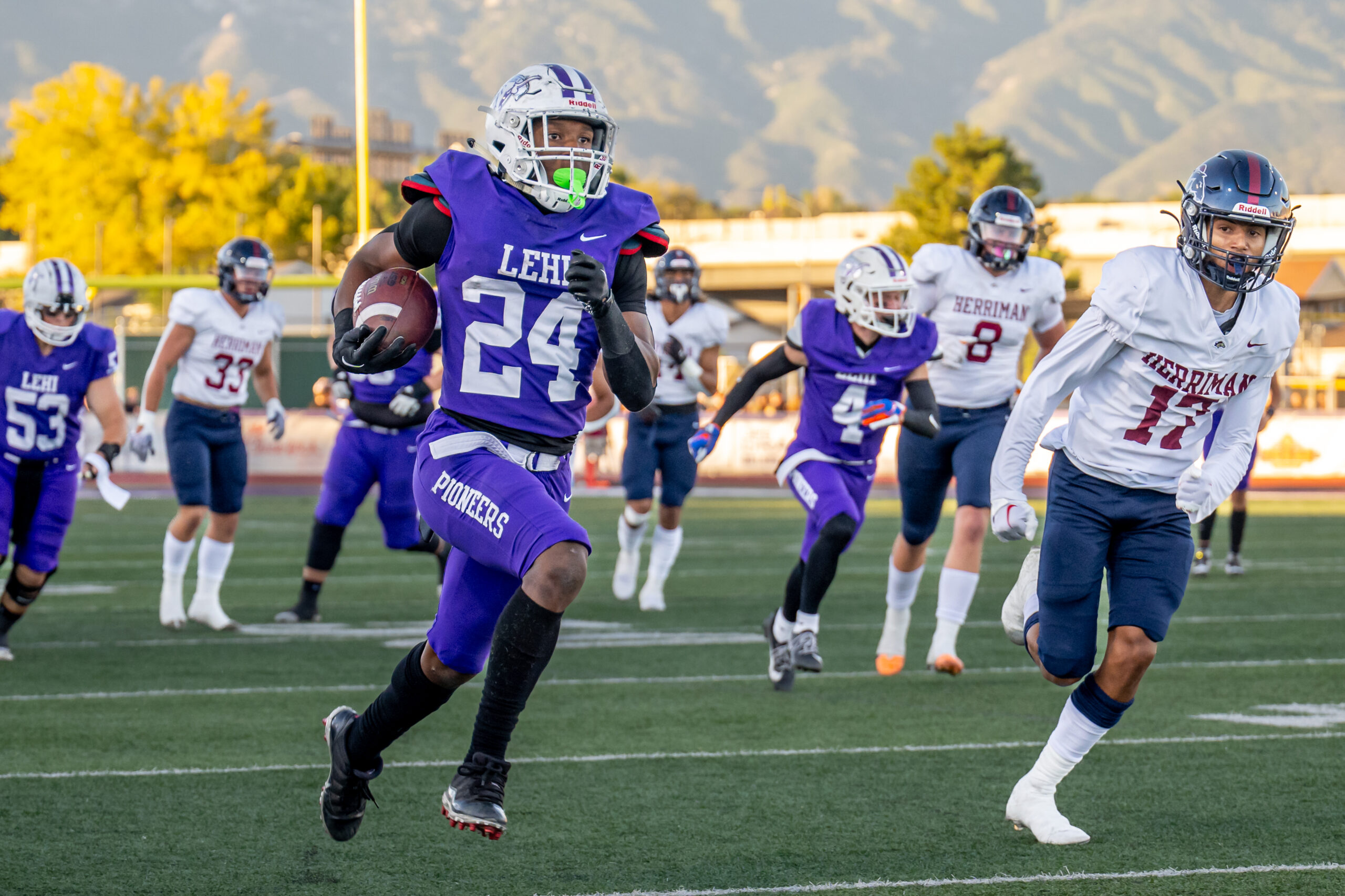 The Lehi High School football team broke open a close game after the break with a pair of huge defensive plays and some long passes to beat the visitors from Herriman 48-28 Friday night (Sept. 8) at home.
The teams went back and forth trading scores in the first half, with both moving the ball seemingly at will. After two quarters of lively action, the board was knotted at 21-all.
The Pioneers got the ball to start the third quarter. The Mustangs elected to kick it out of bounds rather than risk a return and the home squad started at their own 35. Lehi marched down the field with chunk plays both on the ground and in the air to quickly reach the 10-yard line.
Lehi junior quarterback Jett Niu then connected with senior tight end Grayson Brousseau for the touchdown, and the Pioneers took their first lead of the contest 28-21 just 2:22 into the second half.
The first big turnover came at the hands of senior defensive back Max Ray, who intercepted the ball and returned it to the Herriman 33-yard line. The advance was stopped inside the red zone and the Pioneers elected to kick a field goal instead.
Junior kicker Gavin Fenn's effort was good from 38 yards and just like that, the advantage widened to 10 points with 6:38 still left in the period.
This time it was the visitor's turn to answer and they did, narrowing the gap to 28-31 at the 2:01 mark of the third quarter.
However, Lehi slammed the door shut after that and went on to add 17 more points to the home team tally in the remaining 14 minutes of the contest.
The Pioneers struck quickly again as Niu found senior tight end Kaleb Moore for a 64-yard score before the end of the period.
Then came big defensive play No. 2. The ball was knocked loose deep in the Herriman end and was recovered by junior linebacker Carson Wren at the 8-yard line. Three plays later, Moore caught a 10-yard pass to make it 45-28 just six seconds into the fourth quarter.
On the subsequent Mustang possession, they elected to go for it on fourth-and-11 and were stopped short by junior linebacker Paul Latu. That eventually led to a Fenn 33-yard field goal to complete the tally for the night.
For more information and photos from this contest, check out the Sept. 14 issue of the Lehi Free Press.
In related news, Brousseau became the second Division I commit from this team when he chose Utah State earlier in the day.
Next week the Pioneers (5-0) open their Region 3 schedule at heavyweight American Fork (5-0) on Friday (Sept. 15) at 7 p.m.