Lehi's Greg Lewis honored for 35 years of weather observations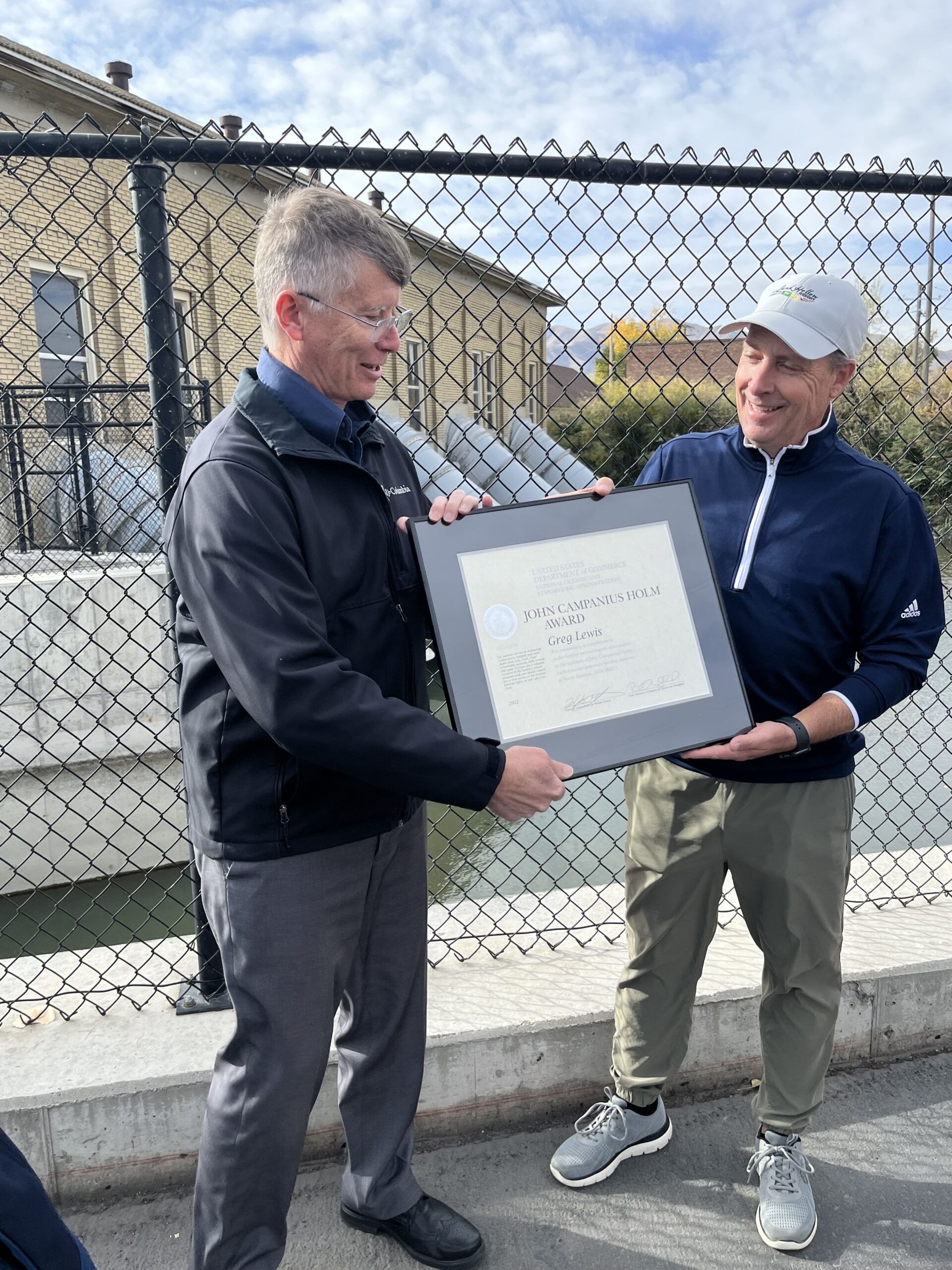 Everybody talks about local weather, but who gathers this information in Lehi? On October 26, Greg Lewis, a lifetime Lehi resident and son of Gary and Rhea Lewis, was honored with the John Campanius Holm Award for 35 years of outstanding weather observations.
According to Dr. Grant Cooper, Director of the National Weather Services Western Region, "Lewis has dutifully recorded daily temperature and precipitation at the Utah Lake Lehi water pumping plant site since 1987. For the first 25 years, he also took evaporation measurements. This information is critical in the calculations done for Utah Lake every month. Greg's unbroken reporting record has ensured the contiguity of this Historical Climate Network station initially established in 1904."
Lewis has resided near the pump site since 1985 and has seen many changes over the last 39 years. He recalls one weather event that stood out when a massive thunderstorm and gust front moved through. Heading home to take evening observation, he recalled, "The wind hit hard, had to be 70-plus mph. Looking in my rear-view mirror, I saw all the huge power poles start falling right behind me, at least ten poles, and all the lines were gaining on me. I finally made it to my driveway and cheated death. The power lines set our field on fire, and the flames were racing towards our homes. The fire department couldn't reach us because of the downed power poles and the lines scattered across the road. Luckily, the flames dodged our homes. We were out of power for days." Lewis didn't miss a single observation, even during this event.
The Lehi weather station is located at the water pumping plant on the shore of Utah Lake. Lewis's observations enable the office to more accurately assess conditions near this important recreation area and provide important safety information to emergency managers along the heavily traveled I-15 corridor and to marine staff at Utah Lake.
Lewis and Perry Smith, both employees of the Utah Lake Water Users Association, monitor the level of water in the lake. "In 1983, the lake was seven feet over the compromise level (The compromise level was agreed upon by water users and farmers many years ago). If the compromise level is above 4,489.04 elevation, the water is discharged from the pumps. If it is below that level, no water is discharged. The water is used primarily by Bluffdale, Kennecott Copper, and farmers along the Jordan River," said Lewis. Smith and Lewis keep the screens clean so the water can flow freely from the lake if conditions warrant.
The John Campanius Holm Award is named in honor of a Lutheran minister who was the first person known to record systematic weather observations in 1644 and 1645 in the American Colonies. The award is given to a maximum of 25 Cooperative Observers nationwide. After holding this award for at least five years, the observer may receive an even higher honor. According to Lisa Verzella, the local meteorologist who nominated Lewis, "Greg will be nominated for the prestigious Thomas Jefferson Award, the highest in the nation."