Lehi the Heart of Global Ancestor Research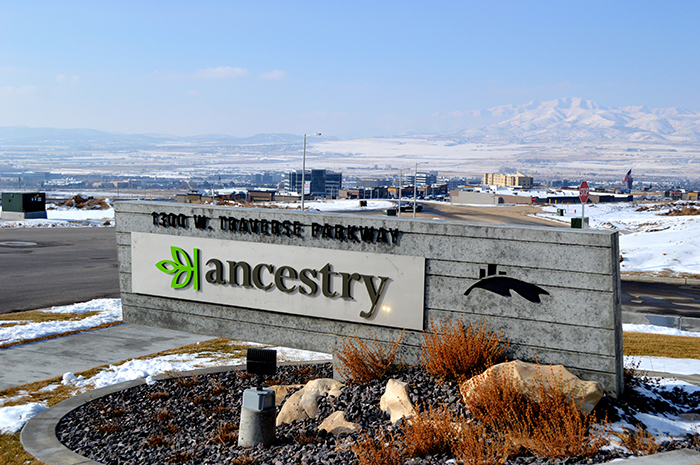 Finding ancestors through online research is a worldwide obsession, and Lehi is home to two of the biggest names in family history research.
Ancestry has offices all over the world, but their corporate headquarters is in Lehi. What started as a publishing company evolved into a genealogy research hub with 19 billion historical records from 80 different countries. Four years ago, Ancestry launched AncestryDNA, a simple test that can reveal a person's ethnic mix and ancestors they didn't know about before. DNA testing to confirm or discover information about ancestors used to be terribly expensive; out of reach for most people. Ancestry's DNA kit is $99 and takes a few weeks to get the results. In the last quarter of 2016, DNA kit sales doubled. Ancestry now has 3 million people in its database, adding a whole new avenue to uncover ancestors' stories
The new offices for FamilySearch, the Church of Jesus Christ of Latter-day Saints family history website, are under construction near Thanksgiving Point. As of December 2016, FamilySearch had 5.59 billion searchable names in their historical records.
The new newsroom for FamilySearch, media.familysearch.org, explains, "FamilySearch has a dedicated team of employees and overwhelming online support from volunteers around the world who use FamilySearch's technology to digitize and index the world's historical records." DNA testing for family history research is "outside the scope" of FamilySearch's purpose. Their focus is fostering eternal family relationships. "We believe life is better when we know whose shoulders we stand on," says FamilySearch Public Relations Manager Paul Nauta.
Recent studies conducted in Provo, Utah and Chapel Hill, North Carolina are showing that family history enthusiasts are more involved in community activities, more interested in politics and national affairs, volunteer more often at church and school, and have a higher participation rate in civic activities than those who don't do family history research. "Uncovering a strong family narrative and culture emerges when family dinnertime conversations and historical records meet," concludes a decade multi-country study by Ancestry in 2014. In a 2013 New York Times article, Bruce Feiler wrote, "The single most important thing you can do for your family may be the simplest of all: develop a strong family narrative." When people, especially youth, know the stories of their ancestors, they are more resilient and more self-confident.
FamilySearch is the creator and host of the world class genealogy conference, RootsTech, in Salt Lake from February 8 – 11. This year one of the themes of RootsTech is family history through food, with a presentation by Buddy 'Cake Boss' Valastro and several classes exploring family recipes and dinnertime stories. There is still time to register for RootsTech by going to rootstech.org.