Lehi Legislative update: State budgets passed in third week of session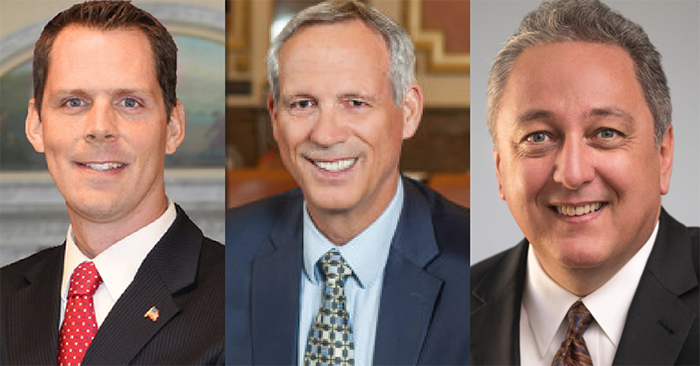 After working out the details during the first few weeks of the session, the Utah Legislature last week passed the base budgets needed for running the state. Meanwhile, Lehi's representatives made progress in shepherding their bills through the legislative process.
Representative Cory Maloy (House District 6) expressed excitement about HB 124, his bill to add several categories of law enforcement officers to the list of occupations which are covered by special legal protections as "peace officers." The bill passed its first two votes in the House and will likely have its final House vote during this week.
When the bill was first introduced, it only added constables and deputy constables. But after discussions with law enforcement agencies, Maloy saw the need to add Functional Officers, Correctional Officers and Federal Officers to the list. The bill has received support of law enforcement agencies including the Department of Public Safety.
Another of Maloy's bills, HB 259, was introduced in the House. It would clarify Utah's self-defense law to say that a person who is being attacked does not have an obligation to flee an attacker, but may stand his ground to defend it.
On a vote taken on whether to require seat beats in all school buses bought after 2017, Maloy voted "yes." After seeing the evidence collected by the bill's sponsor, Maloy felt strongly that it deserved support, but the measure failed the House vote.
Under Representative Kay Christofferson's (HD 56) HB 108, teachers in STEM fields would be offered financial incentives. "Often good teachers in these fields go and work in other places," Christofferson explained. The bill is aimed to try to make it more financially attractive for those talented in STEM fields to apply their skills to teaching. The bill has cleared the first two House votes and will likely have its final House vote this week.
Christofferson is also working out the details of HB 131, a bill which would make what he feels are important changes to the child placement law. "We're trying to work out the details so it won't cost too much," he said, explaining that he thinks it will save the state money in the long run. He said that DCFS is satisfied with the financial aspects, but the Attorney General's office is still looking at it.
A bill to repeal the requirement for annual vehicle safety inspections was voted out of the House Transportation Committee, with Christofferson supporting it.
Senator Jake Anderegg had three bills working their way through the Senate. SB 81, which would change licensing requirements for some home-based businesses; SB 163, which deals with student data protection; and SB 194, a bill to formalize the governance of Utah's citizen data warehouse, known as the State Longitudinal Data System (SLDS), were all voted out of committee.
Utah instituted the SLDS because of federal stimulus funding in 2009. Anderegg said that Utah is doing away with the SLDS and transitioning it into a system over which Utah will have more independent control. "With Trump in, we're not sure there will be any more (federal) grants anyway," he explained.
Anderegg indicated that there appears to be a lot of support for the licensure bill. He explained that SB 163 is a cleanup bill for a student privacy bill he ran last year which inadvertently disallowed public notice of high school scholars receiving a perfect score on the ACT. This bill will rectify the situation.