Roots Tech 2017 celebrates food and music as family history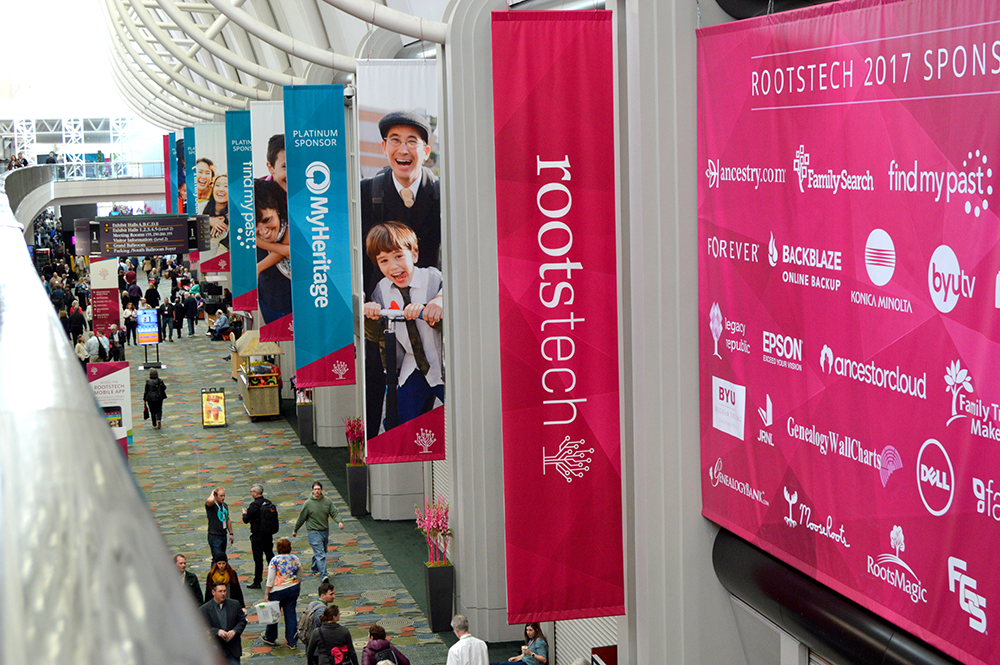 Roots Tech is the largest family history conference in the world with 30,000 participants from 43 countries. Over the course of four days last week (February 8-11), FamilySearch organized a feast of education and entertainment at the Salt Palace in Salt Lake City for genealogy enthusiasts.
Two of the big themes of Roots Tech 2017 were food and music. The kick-off concert on Thursday evening at the Conference Center featured the Mormon Tabernacle Choir, guest soloist Dallyn Vail Bayles, and Oscar "Andy" Hammerstein telling the stories of the Rogers and Hammerstein musicals. During the concert the audience watched a video presentation of the first Oscar Hammerstein, an opera-lover who tried and failed to open his own opera house in New York City. Hammerstein was quoted as saying, "There is no limit to the number of people who will stay away from a bad show." Members of the Mormon Tabernacle Choir told their family musical stories in another video presentation. One choir member with seven siblings and a mother who loved "The Sound of Music" had put on a family production of the musical with just their family.
Many businesses had booths in the Exhibit Hall, where people could test out new products, get photos with their family, or see products in person. Sonia Long, owner and manager of Restore.TV on Main Street in Lehi, had a booth displaying some of the old and damaged photos they have restored. They can even colorize old black and white or sepia-toned photos, bringing the faces of great or great great grandparents to life in a striking new way.
A big highlight of Roots Tech this year was the cake decorating contest judged by Buddy "Cake Boss" Valastro. Impressive cakes were on display for conference participants to judge and drool over. Valastro was the keynote speaker on Saturday morning. He talked about working alongside his father in the family bakery and passing on the family baking traditions and knowledge to his children. At about 4:00 on Saturday afternoon, tables outside the main stage were filled with pieces of chocolate, vanilla, and strawberry cake for participants to try.
The hall with the main stage was filled to capacity (about 10,000 people) for the Family Discovery Day Saturday keynote speakers, President Russell M. Nelson, President of the Quorum of the Twelve Apostles for the LDS Church, and Sister Wendy Nelson. The Nelsons played a "game" of Scrabble while sitting in the stage kitchen as they told family stories and challenged the audience to make a sacrifice of time to make family history research part of their life. After the Nelsons, Sheri Dew, CEO of Deseret Book, Vai Sikahema, a Philadelphia-based newscaster, and Reno Mahe, former NFL player and current assistant coach for the BYU Cougars (and Lehi resident!), took the stage to talk about their experiences with family history research and the family stories that give them strength. Mahe gave tribute to his daughter, Elsie, saying that he and his family are highly incentivized to live faithful lives knowing that she is already in heaven. "It's not just random angels watching over us, it's our family members that have gone before us."